We know what disabilities are, and I discussed invisible disabilities in, "Thrive! With Invisible Disabilities, Part One." In part two, I want to chat about some of the behaviors and concepts that will help illustrate dietary restrictions and invisible disabilities.
As a reminder, invisible disabilities are also called hidden disabilities because they are restrictions that aren't clearly visible or apparent. Food allergies and intolerances are included when we talk about invisible disabilities because, just like asthma, arthritis, and other conditions, diseases, and dysfunctions, we can't see the challenges those with invisible disabilities may be experiencing.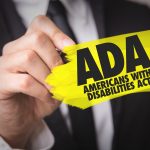 The Americans with Disabilities Act of 1990 (ADA) defines a disability as any physical or mental impairment that substantially limits one or more major life activities. And in 2008, there was an extension on the Act that includes allergies. That means food allergies and intolerances, a condition that substantially limits the ability of individuals to shop for safe food, order off of menus, and eat at events, is protected by law as an invisible disability.
Duty of Care
Food Allergy Research and Education (FARE) estimates that 15 million Americans (5 percent of the U.S.) have food allergies, nine million of whom are adults. As meetings and events planners, caterers, chefs, human resources professionals, and anyone with a job that requires menu planning and/or food service, we all have a duty of care to protect employees and attendees. For more about duty of care, please visit this post, "Dietary Needs Unlock New Level of Duty of Care."
Inclusion
Not only do we have a duty of care to provide safe access to nutritious food at events and in the workplace, we have an obligation to ensure everyone is included in all available opportunities. When someone with food allergies or intolerances ends up 
[list icon="icon: check-square-o" icon_color="#d81c5c"]
going hungry,

spending extra money and time on nearby restaurants rather than event or workplace food, or

faces the day with severe discomfort because they ingested allergens or cross-contaminated food, 


[/list]
we are eliminating them from event and workplace participation. In June of 2016, I wrote, "Meetings Industry – An Open Letter on Inclusion," which was in response to the Florida nightclub shooting that killed 49 people. The event brought up one of the first discussions that turned the inclusion-spotlight onto the meetings industry.
Covering
This concept comes in many forms. Covering at work could refer to women who hide their marital status to avoid dealing with potential employers hesitating to hire them because they might leave to have children or need to take time off for maternity leave. When it comes to dietary restrictions and invisible disabilities, covering can occur to avoid revealing their food requirements.
This can result in fewer special meal requests being picked up because attendees don't want to reveal their special needs. That affects our bottom line! Or employees may not want to have to ask their server or cafeteria employees about ingredients because it will reveal the specific of their dietary concerns. Keep in mind that because invisible disabilities are protected by the law, attendees and employees are under no obligation to reveal their medical conditions, not should they placed into a position that requires them to reveal details about their health or disability to employees.
One of many solutions to this is to use Meal Tickets. They allow discreet and safe communication with the server and are available here. I also offer buffet labels, server training, and event services, such as menu and logistics planning.
I recently contributed a chapter to the book, Humans at Work, where I discuss many of these topics. An excerpt on covering is available on my blog, "Lessons for HR Professionals: How to Spot Covering."
Bullying
While inclusion is part of our duty of care and covering is a common behavior in attendees and employees that places them and us at risk, bullying is also a common practice that is finally being addressed more openly.  
Just this year, a 13-year-old child was being bullied by fellow students at school about his dairy allergy. This isn't the only case like this. The bully exposed the boy to the allergen and it was fatal. At this point we don't need to call it bullying. We can call it manslaughter. But regardless of the name of the action, nobody should have to face discomfort, illness, or death because of lack of tolerance and understanding. Failing to provide a safe environment for both, eating and communicating, is not only a failure of our duty of care, it's a form of bullying.
I've written posts about this before. "Two Men Bullied by Coworkers for Food Allergies at Awards Dinner."
Dietary Restrictions and Invisible Disabilities
My call-to-action is that we all recognize our duty of care when it comes to dietary restrictions and invisible disabilities. We need to adopt a philosophy of inclusion, watch for covering, and create a safe place for consumption and communication.
Do you have something to add to this? Any experiences with bullying? Or were you unintentionally the bully? Looking for ways to answer my call-to-action in your own workplace or event? I'm here to help. Reach out or check out the resources I mention in this post. And tag me on social @Thrivemeetings using #Thrive! with your questions and stories about dietary restrictions and invisible disabilities.