This article originally appeared in Tradeshow News Network and Exhibit News Now when the writer, Lori Tenny, reached out to ask Tracy about how she thought food and beverage could help foster DEI. Graphics were added by Tracy for this blog post.
written by Lori Tenny
Promoting diversity, equity and inclusion (DEI) has become a vital aspect of organizing events – from hiring speakers to creating event content to securing sponsors and more. But what about designing the food and beverage offerings at events?
We checked in with Tracy Stuckrath, founder and president of thrive! meetings & events and host of the Eating at a Meeting podcast, who offered some keen insights on the importance of DEI in event catering.
Inclusivity is what inspired Stuckrath to start her business in 2010, when a personal health journey changed the course of her career.
"I was an [event professional] with food allergies, and I lost my job and knew this was what I wanted to do — educate my industry on how to feed me and the 32 million Americans with food allergies," she said.
Stuckrath has grown her business over the years to work with organizations worldwide to reduce risk, improve the employee/guest experience, enhance company culture, strengthen DEI and boost the bottom line through safe and inclusive F&B experiences where everyone feels valued.
In the first of a two-part article spotlighting Stuckrath's thoughts on the latest F&B trends in events, she shared the following three suggestions for event professionals who want to make DEI a more integral part of their culinary offerings.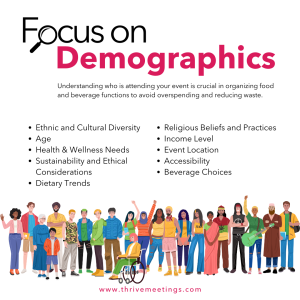 Focus on Demographics and Dietary Restrictions
A crucial step in organizing food and beverage experiences is zeroing in on attendee demographics as well as what dietary restrictions they may have, such as an allergy or intolerance to gluten, dairy, nuts, shellfish and other foods, according to Stuckrath.
"For example, someone on Facebook recently posted that she had a large contingency coming from Japan and asked what to serve them for breakfast," Stuckrath said. "It's very important to think about the diversity of your attendee base and where they are coming from, so you can incorporate the culture of who is coming to the event and the culture of where it is being held."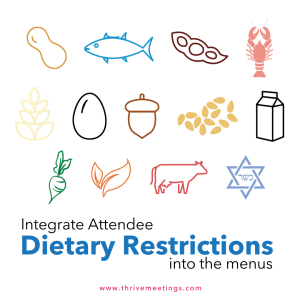 Meanwhile, food allergies fall under the Americans With Disabilities Act, which includes eating, breathing and all bodily functions as major life activities, Stuckrath added.
"So we have to provide reasonable accommodation for attendees participating in our events," she said, adding that it's a matter of collecting all the data and creating an inclusive experience with the food and beverage offerings, while labeling food accordingly so attendees are aware of the ingredients.
Be Purposeful in Sourcing Food
A big trend among consumers nowadays is being purposeful about what they eat and where it comes from, according to Stuckrath.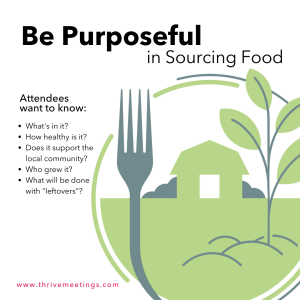 "People are really looking to know what is in their food, how healthy it is and how it is going to be more purposeful for them and the community in which they are gathering," she said. "So are you sourcing food locally and supporting the community — including from a diversity standpoint?"
To that end, Stuckrath emphasized the importance of sourcing from local vendors who are small businesses and racially diverse, such as BIPOC-owned entities, and promoting that whenever possible through menus and food labels.
"It's not just looking at the diversity of your attendees," she said. "It's looking at the diversity of your vendors."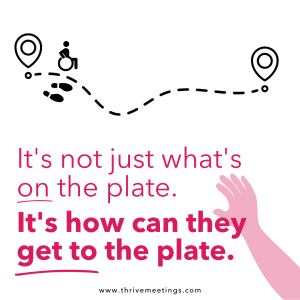 Accommodate People With Disabilities
One of the most important aspects of inclusivity when it comes to culinary experiences at events is accommodating people with disabilities or impairments, according to Stuckrath.
"It's not just what's on the plate. It's how can we get them to the plate," Stuckrath said. "When designing food and beverage functions, consider how a person utilizing a wheelchair, for example, will get to the space. Do they have to take a different route to get there, or do you provide early access for those individuals to easily find their seat?"
Another consideration is the height of buffets for people with disabilities.
"Do you need somebody to help serve one of those attendees who is visually impaired or who utilizes a wheelchair? Stuckrath said. "Do you have the staff to help support them when they're going through that buffet?"
She added, "That's a whole other aspect of DEI and food and beverage that is important but often overlooked."
Stay tuned for the second part of this Taste Trends piece, in which Stuckrath shares her thoughts on wellness and sustainability in F&B experiences, including the movement toward plant-based food and non-alcoholic beverages.