Previous EAAM Guests share their Perspective on Food & Beverage for Episode 200
Eating at a Meeting Podcast Episode #200
17 Previous Guests of Eating at a Meeting Discuss the Current State of F&B 
Join me as I celebrate Episode 200 of the Eating at a Meeting podcast with a special gathering of previous guests. What started out as Facebook Live videos in May of 2020 for the Eating at a Meeting Facebook group has become a plethora of conversations and education about food and beverage.
In this milestone event — Holy Moly! 200 episodes — 17 previous Eating at a Meeting guests have a dynamic discussion on the current state of food and beverage in creating safe, sustainable, and inclusive dining experiences for all.
Before the show, I asked them what they thought the current state of food and beverage was and to use three words to describe it as well. Check out what they had to say below.
There are so many great conversations and thoughts in the live show. Watch and listen to what I promise is an inspiring and informative podcast episode as these advocates, eaters, drinkers, CEOs, founders, manufacturers, chefs, event planners, directors of sustainability, consultants, and environmental strategists delve into the future of event dining and celebrate 200 episodes of "Eating at a Meeting."
The guests on Episode 200 are pictured on the right (from left to right, going down):
Courtney Lohmann, CMP
Rachael Riggs
Alan Kleinfeld
Doreen Cumberford
Caroline Benjamin MSOFHT
Elise Buellesbach
Molly Crouch
Heather Landex
Erin Malawer
Jennifer Squeglia
Cate Faulkner
Dave Bloom
Nina Curtis
Karla Ortiz
Jen Gilhoi
Kayla King
Sarah Matheson
For Episode 200, please share YOUR perspective on what is the current state of food and beverage in creating safe, sustainable and inclusive dining experiences.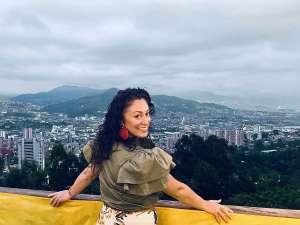 Alessia Aron, Beyond the Plate Food Tours (right; not on the show, but shared her thoughts)
chaotic, unstable, exciting
If you read my answer below, my intention isn't to come off negative or pessimistic by any means LOL I think through the uncertainty due to things like inflation and access to healthy and fresh food, there will hopefully be more people and entities that can help bridge that gap. Covid certainly didn't help and I think anyone in the food industry is struggling to make it all work – whether its staffing, cost of food, or marketing. I do my best to create a fun and inviting experience for people on the tours that let's people into that world a bit more!
Caroline Benjamin, Food Allergy Aware
Near Miss Reporting!
In allergen management there is still a way to go in the UK as it has currently dropped off the agenda for many businesses
Dave Bloom, SnackSafely.com
Must do more.
Leaves too much to be desired.
Elise Buellesbach, previously FARE
growing, hopeful, powerful
I am excited to talk about how we can make food more inclusive. During Disability Pride Month, this conversation becomes even more prevalent. Food is deeply social and meaningful for so many reasons; expanding who has access to food and the safety of food needs to be part of this conversation. Food allergies and intolerances impact an expanding population and as such the food and beverage industry must adapt.
Recently, the implementation of the FASTER Act (adding sesame as a 9th major allergen) has faced difficulties and push-back from the manufacturing industry. This tension within the food industry harms both the consumers and the industry.
Molly Crouch, Sodexo Live!
Awareness, Collaboration, Innovation
From my perspective, I believe the food and beverage industry has finally crossed the line and is open to having these necessary discussions, where just a few years ago it wasn't. Is everyone open to having these discussions – no, but is the industry as whole more open than it ever has been – yes. It's because of people like you and so many others that met the industry where it was and began engaging with them in a positive, more encouraging way. Asking them to go back to what attracted them to food and beverage in the first place – passion, brilliant flavors using fresh/local/seasonal ingredients, and innovative presentations. When you match these culinary drivers with a shift in conventional thinking from decades past, the industry is more comfortable going "back to its roots" to infuse more inclusivity, more awareness, more inspiration, and more creativity into the process. It appears that both the consumers and the suppliers are finally heading in the right direction – at the same time. Is it perfect – no, but is is leaps and bounds better than it was – yes!
Doreen Cumberford, Life in the Camel Lane
Disappointing – Uninviting – Tenuous
Very, very tenuous since Covid. Coming back to the US is pretty shocking. The servers seem to be further isolated and are either overly solicitous or strangely communicative to the point of awkwardness. I miss the easy-going nature of dining out in Mexico. Plus, in Mexico no strange stomach experiences, but in most restaurants here….very strange aftereffects in certain ethnic restaurants. I actually question the sanitation being practiced.
Nina Curtis, Plant'ish & Co. Culinary Arts
Unity, Inclusivity, Community.
I think we are making headway, slowly. There is still a lot of work to be done and many people need to come to the table to have the tough conversations in order to move forward.
Cate Faulkner, Zero Proof Collective
Learned this from your Freedom podcast……. "Lack of consideration for those with BEVERAGE INSECURITY"
Most people's beverage needs are not being met.
There are 2 reasons for this.
#1 The people that are planning events and managing venues that are not yet serving elevated nonalcoholic beverage options have not yet been motivated to do so, either by education or pressure from their guests & customers.
#2 Guests & customers are not asking often enough for NA options! Especially ones that are lower in sugar & calories. This in turn provides the needed motivation noted in #1 and for change to occur.
Everyone can help the NA Movement by asking for elevated NA options everywhere they go. Even if they don't choose to drink them at that very moment, it helps to spread the word and validate the need for NA options everywhere.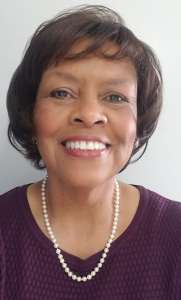 Valda Ford, ValdaFord.com (right, was not in the show, but shared her perspective for episode 200)
Hopeful, frustrated, relevant
There are some advances but they are few and far between and they are costly. It is difficult to afford the best, organic, free range versions. How can a large, low-income family afford it? As a recent mobile food truck co-owner, I have had to fight to get fresh fruits and vegetables on my menu (health department control). WHY?????????
Jen Gilhoi, Zero Proof Collective
Resistance, Alcohol-centric, Culture
Awareness around the importance of creating inclusive experiences in our social spaces is growing, although implementation is lagging. My TEDx Talk finally out 7.6!! : Why We Should Rethink Drinking Culture.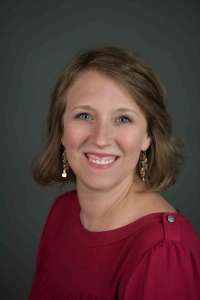 Heather Herrig, Every Last Detail (right, not on the episode, but shared her perspective for episode 200)
Collaboration, communication, consistency!
To be very honest, we still have a LONG way to go. As event professionals in a position of event management (those of us actively planning and executing events), it's really still incumbent upon us to oversee the creation of safe, sustainable and inclusive experiences. We need to know the questions to ask, the options we have to advocate for our guests, and how to ensure these plans are carried out. This is not to say that we should be disrespecting our colleagues in food/catering service, or micromanaging in any way, but we are ultimately responsible, and we need to be collaborative in this approach and know that it is critical we see it through. Our clients and guests need to know they can trust us to act in their best interests and on their behalf.
Kayla King, MyMeal
Progress, awareness, education
We have made some huge strides recently in creating a safe and inclusive environment around F&B. This is becoming more and more important to consumers and them being vocal about it has contributed to some really great change. There is still a lot of work to be done around traceability and ingredient transparency in my opinion.
Alan Kleinfeld, Arrive Conference Solutions
Growing. Manageable. Necessary
Ok, but still needs lots of work and partnerships.
Heather Landex, Inclusive Food Service
Communication Compassion & Consideration
From a European perspective, some trends such as plant-based/vegan are sky rocketing whilst confusion between lactose-free & milk-free remains. The lack of training about food allergies, intolerances & other dietary preferences across the food & hospitality industries is shockingly poor & unrelated.
Courtney Lohmann, Caretta Impact
Be flexible now.
I think we are finally seeing some momentum through change. We have needed a willingness from the planner to step outside of the F&B box and I think that movement is here. It will continue to help drive creativity and sustainability for events as a whole.
Erin Malawer, AllergyStrong
Frustrating, non-compliant, precedent-setting
I'd love to touch on the current issue regarding sesame labeling – namely, the bakeries who are adding sesame flour to their product, making them less safe for those with a sesame allergy following the FASTER Act.
Sarah Matheson, Hungry Harry's – Confidence Foods
Change in labeling laws, protracted compliance, creates uncertainity
Lots of change and we are seeing the impact of the 2022 Food Code changes starting to take effect.
Karla Ortiz, Bo.ka.do scratch kitchen
Wait and see.
There have been great advances. With that being said not all of them are good considering several factors. Such as the environmental impact, accessibility and ever changing prices. The more options available with out proper information being available to people with the need for safety and inclusivity when dining, I find it difficult to see how it can be sustainable long run.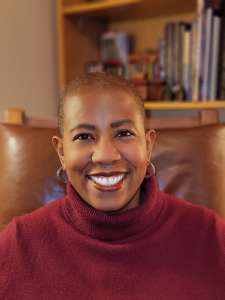 Karen Palmer, Karen Palmer Coaching LLC (right, not on show, but shared her perspective for episode 200)
Evolving toward inclusion.
Slowly improving. There are clearly many more dining options and supports available to families navigating chronic health conditions like food allergy and celiac disease than there were 20 years ago when my daughter was born. But there's still a lot of improvement needed in educating food service workers, school officials, manufacturers, and policymakers about the importance of safety and inclusivity in the realm of dining experiences. Looking forward to being a part of the solution and continuing to keep people's feet to the fire to make change!
Rachael Riggs, Maritz Global Events
Over ordering, education, impact
I am really worried about food waste. It keeps me up at night.
James Spellos, Meeting U. (not pictured, but shared her perspective for episode 200)
Improving…but not there yet
Jennifer Squeglia, RLC Events
Food connects people
I think we've come a very long way in creating memorable and safe F&B experiences for meeting attendees. Dietary and food allergy awareness and creative culinary presentations have become a significant part of event experiences.
Amanda Thomson, Thomson & Scott NOUGHTY (not pictured, but shared her perspective for episode 200)
Work in progress
Could do MUCH better!
OTHER WAYS TO ENJOY THIS POST