Not Being able to Eat Wheat or Shellfish is No Reason to be Bullied
Last week I was at an event where I witnessed two men being bullied/teased/harassed—whatever you want to call it—about their dietary need. I was stunned, embarrassed and utterly dumbfounded.
The event was an awards dinner for a corporation and one at which I was hired to manage the food and beverage and oversee the safe execution of special meals for 18 people with dietary needs (a low number considering other events I've done, but still seven percent of the group). The two men who were being bullied were Jeff who has a life-threatening allergy to wheat and Steve who has a life-threatening allergy to shellfish.
The first incident was at the reception. Steve was with two colleagues when I came up to explain to him the meal he was being served was a dual-entrée of crab cake and steak. Since he has a shellfish allergy, I explained he would just be getting the steak. I also gave him a meal card that would identify him to the waiter as a guest with a shellfish allergy that requires a special plate. One of his colleagues then quipped about the need for the special meal and joked about the need for epinephrine. I looked at the man, stunned. I have never someone being bullied so blatantly before. I asked Steve if he had EpiPens with him. When he replied no, I told him I had two pens with me in the case of an emergency.
Next, I went to find Jeff to explain that the meal served to everyone had been prepared free of gluten (wheat, rye, and barley) except for the bread basket so he could enjoy the meal safely. I also wanted to give him a meal card to identify himself to the waitress as a person with a wheat allergy. When I found him, he was already sitting at his table with seven other colleagues. He thanked me for the information and the card.
When the waitress presented him the meal, he, as any smart and diligent food allergic person would and should do, asked her to confirm his plate was free of wheat. She took the meal back to the kitchen to check. Shortly after that Jeff came to sit at the table with myself and the event staff at the back of the room. He looked very upset and when asked if he was OK, he said he didn't want to talk about it.
It was then that a gentleman dressed in black pants and a vest brought a plate to him saying he noticed that he had left his table without eating. The man wanted to make sure Jeff got his dinner. Jeff politely declined the meal, but the man insisted that he take it. Jeff declined the plate again, but the man persisted. Having just witnessed Steve being bullied, I piped in asking the man to leave and reiterated that Jeff has politely declined the meal. He went at it again! I looked at him and had to say, "we are your clients, and you should walk away." The man who had brought the plate over then looked at me and said, "I'm actually your client," while he proceeded to put on his suit coat and name badge.
I cannot begin to tell you how flabbergasted I was at that moment. Grown men being bullied by their colleagues. Jeff then explained to me and the staff at the table that he left his original table because a few people had taken it upon themselves to speak to the wait staff on his behalf about his dinner. They made a big deal about it. He also said they prodded the man who had been so persistent to continue to present Jeff with the plate, which quickly became a form of group-mocking. The next day, Jeff told me that as a senior director of his company he is embarrassed to have to manage an allergy to wheat because it is in so many foods. Being bullied about it by his colleagues adds to the difficulty and shamefulness it brings.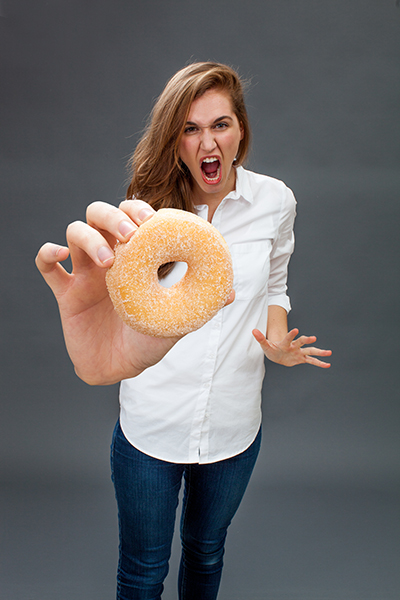 It's been almost 14 years since I was diagnosed with an allergy to yeast, which keeps me from eating yeast, sugar, vinegar, dairy, gluten and a variety of other foods. My first experience of being bullied was during a staff birthday celebration. We were having cake in the vice president's office for several of our colleagues. I chose not to eat cake because it would have made me sick. My boss' boss looked at me and said, "just eat a piece of damn cake, Tracy." I did not.
There are some who may not understand why these descriptions are a problem and for those, I suggest you visit the Workplace Bullying Institute and other sites to familiarize yourself with exactly why these scenarios are a problem. "Workplace Bullying is repeated, health-harming mistreatment of one or more persons (the targets) by one or more perpetrators. It is abusive conduct that is: threatening, humiliating, or intimidating." It also includes activities that interfere with the ability to get work done or to take part in activities that the general workforce is participating in. It also includes sabotage, which is something that occurred in the case of Jeff. In case there are any questions, verbal abuse is considered bullying.
The Solution Is Up To Each Of Us
I find it incomprehensible that adults still find ways to bully each other, but I do accept that immaturity is something we all have to face at times. What Jeff and Steve experienced was unacceptable and certainly not in keeping with our efforts at gathering people together and supporting inclusion. While meeting planners can't control how our clients may choose to sometimes conduct themselves, I challenge all my colleagues to watch for opportunities like these to hold a hard line of respect and dignity for our attendees. Don't participate and don't falter in our duty of care to those with dietary restrictions. Even if the majority of attendees or the client decision-maker tries to leave those with dietary restrictions to fend for themselves, it is our obligation, not only ethically but also according to the American with Disabilities Act, to honor the needs of all attendees.