I hate to be a downer, but when was the last time you thought about the worst case scenario at your event? Catastrophes can come in many forms: hurricanes, earthquakes, tsunamis, acts of terrorism, bombings, riots, medical pandemic, attendee accidents or death. Having procedures in place to handle situations is key to ensuring guest safety, whether you're a meeting or event planner, a travel director or representative of a corporation. It's your responsibility (it falls under your duty of care) to your attendees while at your event.
Aside from these five standard safety measure all meeting planners and travel directors can easily implement into the planning process, your event registration system and event app can and should serve as key safety tools for collecting and disseminating information from and to your guests. In this post, I'm going to address one key method of preventing catastrophe: how to use your registration system to ensure the safety of your guests as it pertains to food.
When chatting with a director of catering in Denver a few months ago, she mentioned a staff meeting she was attending where her colleagues were half-joking about all the special meal requests they had gotten that week.
One staff member stopped them and said, "We need to treat these requests as an opportunity to save someone's life." It was a vital point. Food allergies can have fatal results if even a trace amount of an allergen ends up on the wrong plate.
Let me say it again: We need to treat food-allergy requests not as an annoyance or a financial burden but as an opportunity to save a life. Your food and beverage vendors are the ones who produce and serve the food, but as the meeting planner or travel planner, you have the relationship with the guests and are the key communicator between both sides. By adding a few key questions and statements to your event registration system, you can improve guest safety without extra hassle.
Whether providing catered meals or concessions or both, your first question should pertain to guests' dietary needs, and ALL attendees should be required to answer. Instead of asking an open-ended question, use check boxes for more concise and specific answers. This allows guests to communicate clearly and it helps you save time when filtering responses and providing reports to your vendors. Here's an example I created: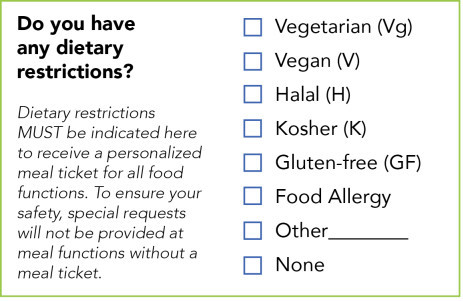 Let me elaborate on four points here.
The statement below the question ("Dietary restrictions MUST be indicated here…") stresses the importance of sharing dietary restrictions with the meeting host to ensure the guest's safety. It also explains that you will be providing meal tickets to make the process simple and foolproof.
"Food Allergy" is listed as only one box because with more than 160 foods known to cause allergic reactions, we can't possibly list them all here. Therefore, if someone selects "food allergy," you should design your registration system so that a pop-up box appears with a list of food allergies. The list below, which I created based on information gathered from the University of Nebraska Lincoln Food Allergy Research and Resource Program, includes all of the foods regulated by 18 countries around the world as the foods causing the most allergic reactions.

Note the statement below the question informing guests that you will work with your food and beverage vendors to provide a safe and delicious meal for all guests, but cannot guarantee items will not have trace amounts of an allergen. This is important to note because unless the catering company, hotel or convention center is a certified allergen- or gluten-free facility, the kitchens will never be completely free of allergens. Also important to note is the "other" option here so that guests with allergies to foods not listed can be counted.

The "other" selection in the original dietary needs question provides your guests a place to write down any other dietary needs they may have, including foods that may affect how their medicine works in body. For example, my friend has a heart condition requiring him to take blood thinners. Well, foods high in Vitamin K interact with medications that thin the blood (diminishes the effect of a blood thinner and could cause him to have a stroke), so he avoids all foods with moderate to high amounts of vitamin K, such as Swiss chard, turnip greens, kale, collard greens, spinach, Brussels sprouts, soybean oil, canola oil, green cabbage, broccoli and dry chickpeas.
And, finally, the "none" option in the original question helps alleviate the number of on-site requests by individuals who did not let you know their restrictions in advance (i.e., the "I'll have what she's having" club). If they do ask for a special meal on site, you might politely try to get them a meal that fits their need, but also show them they selected "none" on the registration form. Making the original question mandatory, will hopefully help alleviate some of these requests.
Managing attendees' dietary needs can be daunting. One planner asked me for help because 35 percent of his attendees came to him with special requests! But by starting with a carefully articulated question in attendees' registration materials, you can simplify the planning process while helping prevent food-related crises on site. It's one crucial way of ensuring the safety of your guests and avoid food allergy catastrophes at your event.
Check out a post next week on procedures to help you implement these questions on the back end.