Eating at a Meeting Podcast
Exploring how food and beverage (F&B) impacts individual experience, inclusion, sustainability, culture, community, health and wellness, laws and more.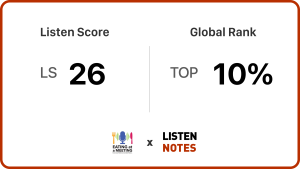 In each Eating at a Meeting episode Tracy chats with experts in all facets of food and beverage on how and why to create safe, sustainable, and inclusive food and beverage experiences through their respective lens. By sharing authentic stories that illustrate the financial, social, emotional, and mental impact food and beverage can have on individuals, organizations, and the earth, we can all gain new perspectives on the importance and vitality of food and beverage and learn how to better navigate dietary needs, palates, plates at meetings and events, food in the workplace and communities, and across the globe.
Subscribe
Listen to the podcast on your favorite podcasting platform. New episodes weekly.
In this milestone event — Holy Moly! 200 episodes — 17 previous Eating at a Meeting guests have a dynamic discussion on the current state of food and beverage in creating safe, sustainable, and inclusive dining experiences for all.