Preventing Harm is Basis of Worldwide Food Service Safety Month 
Every year since 1994, December marks Worldwide Food Service Safety Month. The annual observation was established to remind everyone, from the professional food service industry, to cooks at home around the world, that food safety is of supreme importance. Buying, storing, preparing, and serving food are the typical topics covered, but what does food safety really mean when it comes to serving custom eaters at our events? Hint: It's more than remembering to wash our hands and change aprons.
The Basics
Let's begin with the basics we expect to hear about:
Wash hands.
Don't let your servers work when they are sick.
Food should be time and temperature controlled
Cooking equipment should be cleaned and sanitized
Food must be stored in ways to that prevent cross-contamination
There's training for this, right? Most states have a Food Handler Card law designed to ensure restaurant employees receive a minimum level of training regarding food safety practices to help reduce the potential for foodborne illness. Even if it isn't required, it's just responsible to ensure all staff are trained in the basics.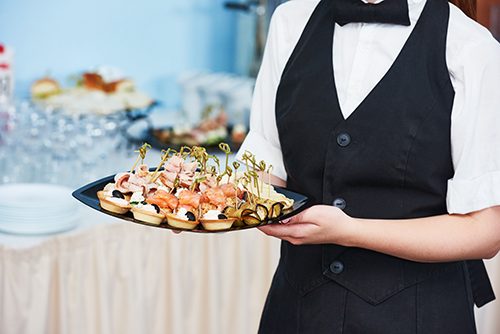 This goes for non-restaurant environments like our events and meetings. It may not be required, but by seeing to it that all staff have a basic understanding of food safety best practices we are ensuring the best possible experience for all our attendees. After all, custom eaters make up over 38% of our guests. Those with food allergies, intolerances, religious dietary restrictions, and lifestyle choices that limit food choices, are a considerable percentage of our attendees and it would be hubris to ignore them.
Level Up
While many food safety trainings cover important basics, many can overlook, or undervalue the importance of understanding and effectively communicating about special dietary needs. With increasing responsibility placed on servers, kitchen staff, and owners, this is quickly growing from important to critical. Increasingly, staff are being held accountable for food safety, ensuring it's not just the health and well-being of the guest at stake, but the very future of the event planner, restaurant owner, or chef. Make sure all staff understand the different types of dietary restrictions, can communicate effectively with each other and with customers about their requests, and be sure they understand alternatives they can provide.
Here are just a few examples of recent 2016 headlines. We can expect to see these increase in prevalence as food allergies and dietary restrictions continue to grow at an unprecedented rate:
Six Years in Prison For Restaurant Owner Due To Customer's Allergic Reaction
Peanut curry death: Restaurant owner Mohammed Zaman jailed
Family sues city after girl's peanut-allergy death at Camp Sacramento
Panera sued for serving peanut butter to child with severe allergy
While these are focused on peanut allergies, the responsibility is limited to that food. In fact, holding restaurants accountable for food allergy-related illness or death has become mainstream enough that there are now law firms specializing in the matter. Check out this article in Hotel Executive by Tyra Hilliard, PhD, CMP on the changing legal landscape of food allergies.
Cross-Contamination & Cross-Contact
This is covered in basic training and will be covered in any additional food allergy training, but it is important enough that it warrants a separate note. Cross-contamination includes more than careful food preparation. It denotes the need for everyone involved to take responsibility for the need to ensure food is stored, prepared, and served appropriately. Servers have a special responsibility because they are the final authority on whether the food will meet the customer's needs and are the final set of hands to deliver the final product to the attendee.
Food Safety Labels
Label everything. Period. There is no reason not to label everything. Label the food order form, if there is something attendees use to order their meal or meal package in advance. Label food and meals on the menu. Label any food at the buffet with the name of the food as well as any allergens.
Choose to label anything that was not prepared using strict cross-contact rules so guests can make the safest possible decision regarding their food choices. Label anything that may contain gluten and other significant sources of intolerances. Label anything that will help those with reliance on religious or lifestyle dietary restrictions, such as kosher, halal, vegetarian, and vegan. And perhaps most importantly, label anything that may contain one or more of the big eight allergens recognized by U.S. law.
The Big Eight Allergens:
Milk
Eggs
Fish (e.g., bass, flounder, cod)
Crustacean shellfish (e.g. crab, lobster, shrimp)
Tree nuts (e.g., almonds, walnuts, pecans)
Peanuts
Wheat
Soy
Meal Tickets
One of the best resources you can offer your attendees and kitchen staff are Meal Tickets. This tool can help attendees to communicate their needs with discretion and ease. They also allow the servers, chef, and other staff too quickly and easily understand the needs of the attendee without the trouble of misunderstanding or uncertainty. Reduce and eliminate the confusion and stress of meals for custom eaters and consider adding Meal Tickets to your next meeting or event.
With the U.S. meetings industry hosting more than 1.87 million conventions, conferences, congresses, trade shows and exhibitions, incentive events and corporate/business meetings annually and spending close to $54 billion on food and beverage at those events, food safety must be a top priority for meeting professionals worldwide.
Worldwide Food Service Safety Month is one of many opportunities throughout the year to audit current best practices and take food safety to the next level. Even if you have the basics down, there's always something more we can all do to ensure the safety and comfort of our attendees.
If nothing else, give those Meal Tickets a try and you'll see just how much more efficient your event runs.