The Turn-It-Teal project began in 2014 as a way to increase awareness around food allergies. Now it's a movement and it's keeping kids safe on Halloween. Every year, children across the country dress up as their favorite heroes and action figures to collect those precious sweets, door-to-door. However, there is a growing challenge these kiddos face. For many, candy is just a decadent one-night sugar coma.
For a growing number of kids, the unknowns in that handful of candy, can be life-threatening. And while overeating candy is going to lead to a stomach ache for most kids on Halloween, for this with food allergies, the discomfort is far beyond a 'normal' experience.
Instead, households are participating in Halloween in a way that's safe for more kiddos, so they can feel like superheroes, not just dress up like them. Many households will be sharing toys and prizes instead of candy and foods that may contain allergens.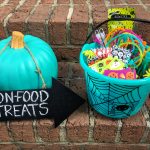 Those homes will place a teal pumpkin outside their door so parents and kids will know it's an allergy-friendly home. Stickers, spider rings, yo-yo's, and more are fun alternatives to sugar comas and potentially hazardous sweets.
What does that mean for my work? Well, I think it's time we add a few teal pumpkins to our tables. Make them into centerpieces and add them as buffet decor. Adding the turn-it-teal pumpkin movement to our tables and events will help those with allergies feel safe that their dietary needs are not only being respected, but are important enough to be part of the event display.
There is no cure for food allergies and avoiding allergens can sometimes be near impossible during the holidays. There are family gatherings, company parties, and holiday traditions centered around food. For October, let's join the turn-it teal movement by bringing those teal pumpkins to our tables at home and at our events.
Let's mainstream dietary restrictions and make inclusion a statement piece during our October and Halloween events. For those who choose to participate, send me your pictures and tag me on social! Teal pumpkins can be decorative and demonstrative of attendee safety and inclusion.  
Now, I'm off to paint my own pumpkin,