The new Food Labeling Modernization Act of 2015 is important to the food allergic community and the meetings industry
[list icon="icon: check-square-o" icon_color="#d81c5c"]
The new bill will add sesame to the U.S. top allergen list

The bill leaves out important provisions preventing cross-contact

Unpackaged foods will need to declare allergens at point-of-sale
[/list]
New legislation, introduced simultaneously to the U.S. Senate and to Congress in November 2015 has serious implications for the meetings industry and is of significant importance to the food allergic community. Named, "The Food Labeling Modernization Act of 2015," the purpose of the bill is "to amend the Federal Food, Drug, and Cosmetic Act to strengthen requirements related to nutrient information on food labels, and for other purposes."
On the surface, it looks like an act that only affects food manufacturers and requires them to update and clarify information on the nutritional facts panel on their package foods.
When you dig a bit deeper into the twelve-section act, you find that two other "intentions" of the legislation are to expand the top food allergen list and modify labeling requirements for food allergens.
Sesame Considered a Major Allergen
In section eight, sesame is added to the U.S. major food allergen list created in the Food Allergy Labeling Consumer Protection Act of 2004 (FALCPA). Joining the original list of top eight allergens regulated by the U.S. FDA—milk, eggs, fish, crustacean shellfish, tree nuts, peanuts, wheat and soybean, sesame will have to be identified on pre-packaged food ingredient labels in plain English and not be lumped in with ingredients such as, "spices" or "natural flavoring."
An estimated 500,000 people in the United States are allergic to sesame, prompting the change. At the time of FALCPA, the original eight allergens accounted for 90 percent of U.S. allergies.
Some authorities attribute the need for the sesame addition to the increasing trend to eat more exotic foods, many of which contain sesame by multiple names (e.g., tahini, benne, teel, gingelly oil, and til oil) making it difficult to identify. As a seasoning, sesame can also be found in a surprising variety of common food products such as candy, tortillas, veggie burgers, sauces, baked goods, and many gluten free foods.
Labeling Allergens of Non-Packaged Foods

Section nine of the The Food Labeling Modernization Act of 2015 mandates that "retailers" serving/selling non-packaged foods directly to consumers, including that which has not been prepared or manufactured on-site, must post signage identifying any of the top allergens in the food at the "point-of-sale" location (adjacent to the non-packaged food items).
This section of the proposed legislation is similar to the European Food Information to Consumers Regulation No. 1169/2011 (EU1169/2011), which was enacted in December 2014 and requires all food service providers—caterers, grocery stores, gas stations, hotels, convention centers—to make allergen information for non-prepacked food available to consumers at the point-of-sale.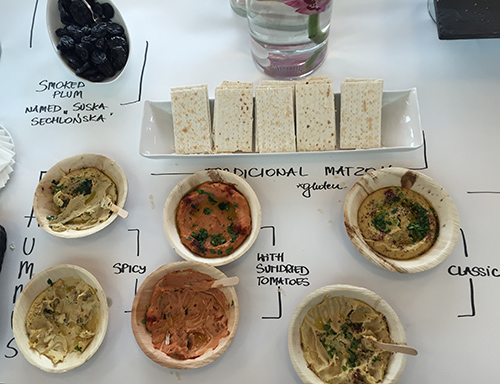 Combined, these two specific changes will affect how meeting planners and their catering partners communicate with attendees and help food allergic attendees feel a bit safer with what they are served at meetings. I thoroughly support and commend the efforts of the U.S. legislators who are sponsoring this bill. Its implementation will mandate for better and much more clear information for food allergic meeting attendees on what they are being served at corporate meetings, special events, and conventions.
What's missing in these sections of the legislation are clear definitions of "retailers" and "point-of-sale." Presently, the legislation is vague at best and minimally defines the inclusion of self service food, for example, at restaurants and similar retail food establishments. To me, the definitions should define and/or incorporate:
Retailers: establishments that serve food directly to consumers, pre-packaged and unpackaged, including foods delivered by caterers, and foods intended for supply to mass caterers. Such establishments may include, but are not limited to, gas stations, grocery stores, restaurants, recreation camps, youth sport facilities, theme parks, hotels, resorts, sports arenas, catering companies and convention and conference centers.
Point-of-Sale: where foods are offered for sale or served to the final consumer "without prepackaging, or where foods are packed on the sales premises at the consumer's request or prepacked for direct sale." Point-of-sale locations may include, but are not limited to catering menus marketed by hotels, caterers, convention, conference centers to sell their food services as well as the menus and buffet labels provided to event participants through event apps, menu cards, buffet stands and more.
One additional point I'd like to urge the legislators to consider is mandating the disclosure of potential for cross-contact in the preparation and serving of food. No hotel, convention center or caterer's facility will ever be completely allergen-free, but requiring such outlets to communicate and disclose the potential cross-contact of food ingredients used to make their menus is critical. Meeting participants have a right to know about all the allergens that might be contained in their food.
The New Food Labeling Modernization Act of 2015 is a great step in the right direction. It is a long-needed improvement on previous legislation and addresses key challenges brought on by our evolving eating preferences and dietary needs. While there are still items in need of definition and the legislation still needs to make it through the Senate and House, the very introduction of such topics are well-received and open the door for better regulation in the name of food safety and the ability of the American public to choose healthy food.