Meal Tickets Help Identify and Communicate Important Information
One of the biggest challenges meeting planners and catering managers face is the efficient accommodation of the spectrum of allergies, religious restrictions, and dietary choices of attendees. As the founder of Thrive!, Tracy Stuckrath is very familiar with the increasingly common outcry around dietary needs management,
"I wish there was a clear, organized system for identifying
and accommodating the dietary restrictions
of our attendees – without slowing down service."
In answer to this challenge, Thrive now offers standard and customized Meal Tickets!
By implementing Thrive's Meal Ticket system, dietary needs management just got easier. Through the use of diet "ID" cards, this system takes every caterer's and meeting planner's pain point and turns it into a simple, organized way to:
[list icon="icon: check-square-o" icon_color="#d81c5c"]
Clearly identify a guest's diet and associated food restrictions, as well as
To communicate important food preparation notes to catering staff.
Reduce stress of attendees, servers and catering staff
Help minimize food waste and costs
[/list]
The Meal Ticket library currently features more than 16 identification cards, each one representing food allergens (e.g., gluten, milk, peanut) or a diet associated with a particular religious or health directive (e.g., halal, vegan, vegetarian). These cards also contain informative details for catering staff to reference when uncertain about foods that may contain these allergens. Packaged cards are available by individual food item as well as combo packs.
Individual Meal Tickets are 3" x 3" cards that fit discretely into the back of a name badge for convenient access. The front of the card indicates the dietary restriction in both English and Spanish. On the back of the card, attendees can write in their name, table number, and waiter's name for simple communication and so delivery runs as smoothly as possible. When it's time to order, attendees simply pull out their card(s) identifying their dietary restriction(s) and hand it to their waiter.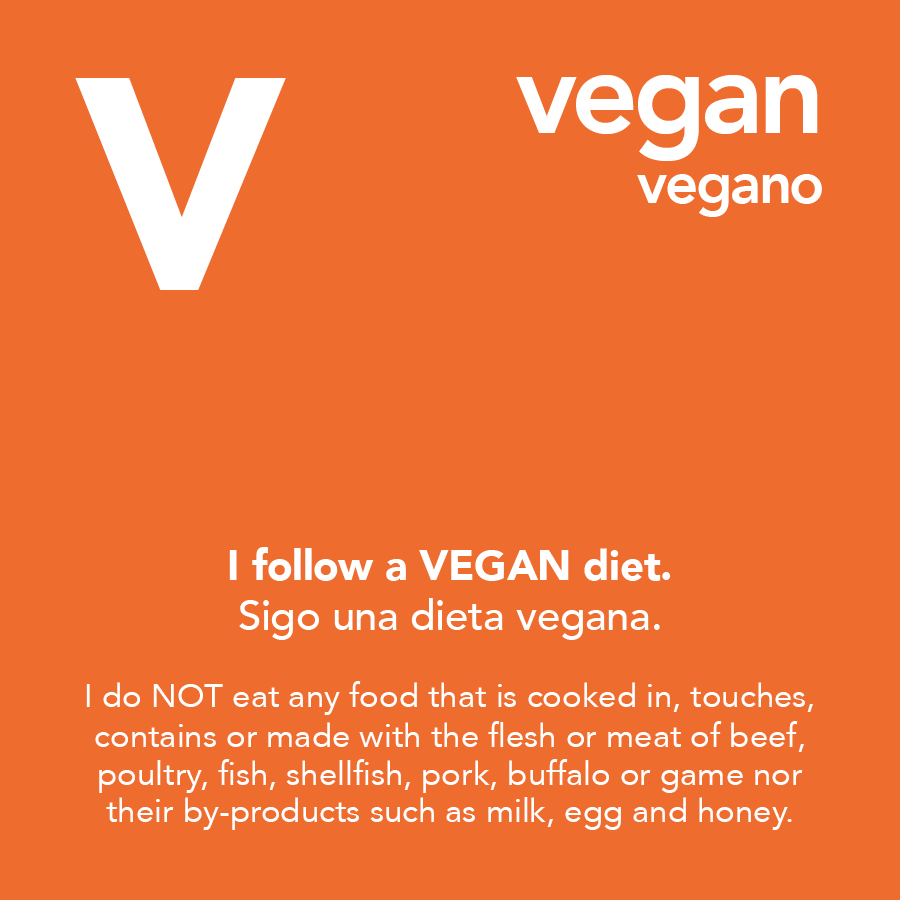 The result?
No guesswork, no staff communication breakdown, more delighted attendees and a more efficient catering operation.
Event dietary needs management can't get much easier.
With Meal Tickets from Thrive! you'll not only provide a potentially life saving service, you'll be on the cutting edge of food safety while creating efficient procedures for staff and instilling impressive confidence for both, attendees and the client.
[button url="https://www.thrivemeetings.com/store" target="blank" style="flat" background="#8ac43F" size="10″ radius="round" icon="icon: sign-out"]Order your Meal Tickets Today[/button]