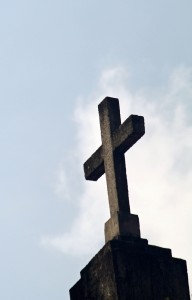 Two weeks ago the season of Lent began on Wednesday, after a traditional pancake supper the night before. During this annual ritual, millions of Christians all around the world commence a 40-day period of sacrifice, reflection and "spiritual housecleaning" in preparation for Easter.
Though the exact timing varies between sects, the liturgical season typically starts on Ash Wednesday and ends just before Easter Sunday, and is meant to represent the period Jesus wandered alone in the desert. The word Lent comes from the Anglo-Saxon work "lencten," which means spring. Similar to making New Year's resolutions, some use the time to start anew with a focus on healthy living or being a better person.
During this most sacred and spiritually powerful part of the Christian calendar, those who practice Lent use the 40 days to examine their faith and deepen their commitment to the Christian life through prayer, repentance for their sins and sacrificing luxury. Dietary restrictions that involve fasting and/or abstaining from certain foods are the most common forms of the sacrificial component of Lent, although some people choose to refrain from other habits instead or in addition.
Among the list of items off limits, at least for some of my friends this year, are bread, chocolate, coffee, caffeine, carbs, fast food, wine, meat, cooked foods, grains, swearing, negative thoughts, worry, stress, buying shoes and cancer. Others have found unconventional ways to celebrate or sacrifice in their commitment, like this list of "What to Give Up for Lent: Creative Ideas."
Historically, the dietary restrictions have varied widely between regions and Christian sects. Some follow a daylight fast or allow themselves only one meal a day, while others simply limit the food groups they consume. The concept of self-denial is the unifying theme, however, and so many of the traditional items to give up were those that added the most fat, calories or pleasure to the meal. Some of the most common patterns for Lenten sacrifice call for the avoidance of one, several or all of the following food groups:
All meat
Red meat
Desserts
Dairy
Wine and other alcohol
Eggs
As you can see from the list, these choices can make it challenging for an event planner to provide enjoyable and nutritious meals while respecting Lent sacrifices. To handle the season smoothly, try these strategies:
Offer options. Giving extra choices between entrees can help diners accommodate their individual sacrifices while allowing others to enjoy their traditional favorites.
Include vegetarian meals. Since meat is such a commonly avoided food during Lent, it makes sense to include tasty vegetarian choice that also provides protein.
Go vegan. Vegan options make it easy to let those who give up meat and/or dairy follow their special diets without complication. But, again, make sure you include a protein.
Simplify dessert. Let participants opt for a fresh fruit dessert, and consider serving dairy-based toppings on the side during this period.
Think a la carte. In Lent, it may be easiest to offer as much of an a la carte approach as possible to maximize individual choice.
It's not simple to accommodate many differing food demands, but the more flexibility you offer the better off you'll be. Diners with allergies and specific diets will thank you, as well as those who are altering their food intake for religious reasons.
For a healthy and delicious menu item to serve during Lent, check out this recipe from Kim O'Donnel's new cookbook, "The Meat Lover's Meatless Celebrations." The cookbook has more than 26 vegetarian feasts "you can really sink your teeth into." She has also labeled them with DO (dairy-optional), GF (gluten-free), Kiddo (kid-friendly), and V (Vegan). Kim has tagged the recipe below "Kiddo;" but it can be dairy-free and vegan if you omit the cheese and wheat- and gluten-free if you use gluten-free pasta shells, like these from Tinkyada or these smaller shells from Ancient Harvest.