What you can expect to see trending in group catering this year.
As someone who's always on the alert when it comes to what meeting planners will have to contend with as they build their event menus, I have been skimming through the food and beverage trends forecasts and asking some high-profile chefs what they see in store for the coming year. Here are some trends the experts say we can expect in 2020.
1. Flavors Get Funky
Glenn Corby, executive head chef at Wyboston Lakes Ltd in Raunds, Northamptonshire, UK, pinpoints a few regional cuisines he is seeing more of nowadays.
"Pacific rim flavors are very popular," he says, citing a vast array of flavors and cultures influencing everything from diverse Asian foods to traditional Hawaiian poke bowls. But it's not just about bold and spicy world flavors, he adds.
"On the flipside, European and Nordic flavors are also very popular. We are getting requests for lots of fish dishes and low-fat yogurts and cheeses such as quark and cottage cheese," he says. "They love lots of raw ready-to-eat salads and vegetables as well as healthier starches such as sweet potatoes and rice. I believe European lifestyle cuisine is becoming much sought after."
He also pinpoints Nordic pickling and curing trends, "which add distinct flavor and elements to dishes. Combine this with alcohol trends and you get gin-cured fish, which carries amazing tones of juniper alongside elegant flavors of lemon and dill."
Another cuisine on the rise is West African, in which tomato, onion, and chili pepper dishes are accented with peanuts, ginger, and lemongrass, according to a Whole Foods Market food trends prediction.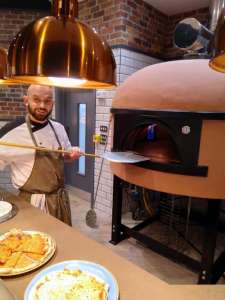 Smoky flavors also are predicted to be popular this year: "Smoking provides a certain umami needed in an increasingly plant-based food space," said Thomas Chen, chef at Tuome in New York, in this Food and Wine culinary trends article.
Hyper-regional cuisines also will be on the rise, according to the Food and Wine article. So instead of generic U.S. Southern dishes, look for Appalachian, Lowland, and Creole, says a Nashville-based chef in the article. Another regional American cuisine on the rise, according to the National Restaurant Association's Restaurant Industry 2030 report, is Native American.
Other culinary trends to keep an eye out for, according to the Kimpton Culinary + Cocktail Trends Forecast for 2020 Levantine (Israeli, Turkish, and Lebanese) cuisine, black pepper ice cream, coconut ceviche, Japanese whiskey highballs, and unusual seeds from plants including lotus, basil and water lily.
2. Diners Want Variety: Grazing Stations/Food-Market–Style Buffets
When it comes to serving styles, Corby says conference and banqueting sectors are leaning toward making all those fun world flavors accessible to a large number of people. For example, he says, "We have seen a huge rise in networking grazing stations and food market-style buffets that offer many different cuisines simultaneously, from authentic Indian and Mexican foods to comfort foods from the Americas, low and slow meats, pulled meats and BBQS.
"We actually incorporated a chargrill and authentic clay pizza oven in to our 2019 refurb so that we could produce these world foods as authentically as possible."
3. Veni, Vidi, Vegan
Corby notes that vegan foods, already hugely popular, is still on the rise. "The focus is on faux meats that feature heme, a protein-loaded molecule rich in iron with a meaty taste. The OmniPork, a plant-based protein that tastes like pork, and of course in England Quorn is still very popular."
In addition to the meat alternatives such as those offered by the above, Beyond Meat Inc. and Impossible Foods, there are other plant-based proteins such as beans, pulses, nuts and seeds that are also very popular, accompanied with a high demand for ancient grains and super grains, says Corby. "Seeds have excellent flavor raw, toasted, fried or baked, and they are excellent carriers of savory, sweet and spicy flavors."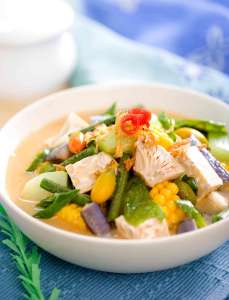 Jackfruit, which Benchmark's top F&B trends for 2020 identifies as "a force in the food industry as a meat alternative" in 2020, already is often substituted for pulled pork due to its similar texture. Corby agrees that jackfruit is very popular, though he notes that it can be difficult to source commercially.
Even dessert will be going vegan, according to Kimpton — vegan chocolate peanut butter cheesecake, anyone?
And don't think that this vegan trend is likely to just be a flash in the pan. According to the National Restaurant Association's Restaurant Industry 2030 report, we can expect plant-based proteins to continue to gain market share over the next 10 years.
4. Expect Healthier Meat Options
Those who crave meat for their protein will likely see higher quality meats, including those harvested from animals that are treated more humanely and raised free of hormones, say the chefs in the Food and Wine article.
And, according to the Whole Foods forecast, those who aren't ready to go all-in on vegan cuisine can take advantage of the trend toward mixing beef with plants such as mushrooms to provide a more eco-friendly meat-plant blend. In fact, the burger/shroom-blend proteins ranked just below plant-based proteins in the National Restaurant Association's top 2020 restaurant trends.
5. Bringing Sourcing Close to Home
"Locally sourced produce is a must in my opinion as it drives local economy and reduces your carbon footprint whilst avoiding imported produce, thus having less of an impact globally and easing customers' eco-anxiety," says Corby.
Even Japanese restaurants on the U.S. East Coast are exploring using seafood sourced locally in New England, rather than imported from Japan, according to the Food and Wine article.
"It is imperative for everyone to invest in the future of the planet and reduce the use of non-recyclable materials.
6. Sustainability Also Rises
Environmentally friendly foods, and food packaging, also will be a continuing trend, according to the chefs interviewed for the Food and Wine article. Chef Corby agrees.
"It is imperative for everyone to invest in the future of the planet and reduce the use of non-recyclable materials. We pride ourselves on being zero-to-landfill and for using eco-packaging products such as cornstarch and recycled cardboard," he says. Corby is far from alone: On the agenda for many venues, says the Kimpton forecast, is composting, zero-waste techniques, and banning single-use plastics. In fact, eco-friendly packaging was rated the hottest of the 133 survey options covered in the National Restaurant Association's 2020 Culinary Trend Forecast. While for restaurants this trend is driven by a surge in drive-through/curbside/takeout food, the NRA study said it also had to do with increasing local legislation and regulations, and with a general growth in sustainability initiatives in restaurants because it's the right thing to do. The chefs in the NRA study also gave high grades to zero-waste dishes, which repurpose scraps that otherwise would go into the trash.
In addition, says Corby, sustainability means designing menus to use items such as sustainable fish. "We brief our chefs on both the origin and the reasons why we are using lesser known ingredients so we can help to educate our customers."
"Regenerative agriculture" — which "in general describes farming and grazing practices that restore degraded soil, improve biodiversity and increase carbon capture to create long-lasting environmental benefits, such as positively impacting climate change," according to the Whole Foods Market food trends prediction, also is something we'll see more of on grocery store shelves and, most likely, also in the choices being made by meeting venue chefs.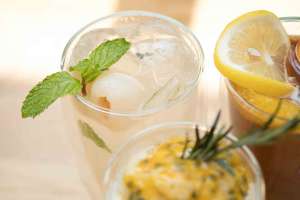 7. Drink Up: Beverages Served With, and Without, Alcohol
According to Corby, "in 2020 rum is poised to be the 'new gin' with so many styles and flavors becoming available. Our Christmas menu featured flavors of rum and brandy in our chocolate mousse and eggnog crème patisserie!" Another trending liquor is Mezcal, which is being used to reimagine traditional cocktails, according to Kimpton.
Also according to Kimpton, sour beers, hazy or juicy IPAs, and high-alcohol kombuchas will be gaining in popularity this year, as will natural and organic wines, and wines that are naturally low in alcohol.
No- and low-alcohol concepts are really coming on strong, says Corby. "At a street food exhibition recently, there were several companies advertising their low- or no-alcohol drinks. Nonalcoholic spirits also are on the way, including gin, brandy, whiskey and vodka! I tried a whiskey whilst talking with a rep and it really did taste like the real deal — it had the flavor on the palate and the warmth in your throat and chest.  I was very impressed with it." These nonalcoholic spirits enable companies to provide cocktail experiences and craft spirit demonstrations while still keeping their employees sober and attentive. As Corby points out, "It turns out to be a real fun team-building experience without the hangover!"
Some popular non-alcoholic drinks, according to Kimpton, will be coffee spritzes, cold-brew coffees, CBD coffees, botanical-infused sparkling drinks, and teas flavored with exotic fruits such as guanabana, lulo and passionfruit.
8. A New Kind of Essential Oil: CBD Infusions
Speaking of CBD: Cannabidiol, or CBD oil, is also starting to go mainstream, according to global hospitality company Benchmark's top F&B trends for 2020. With coffee shops and cafes now infusing CBD oil, the non-psychoactive compound found in marijuana, into everything from sparkling waters to coffee, tea, energy drinks, and alcoholic beverages, it's just a matter of time before it makes its way onto catering menus.
"A trend that I feel will rise to dizzying heights in 2020 is the use of CBD in food and drink," says Corby, who also saw CBD infusions everywhere during that street food exhibition he attended recently. "CBD-infused drinks are becoming very popular —they boast stress and anxiety relief and also sports and muscle recovery. While it is still controversial and so likely won't become a regular feature in conference banquets, "there are certainly other areas that will see it become readily available," he says. In restaurants, sweets laced with CBD took the highest ranks among all the dessert options in the NRA 2020 culinary trends survey.
For those who look for alternatives to coffee, "Kombucha and kelp teas are also very popular as caffeine alternatives," says Corby. "Both have huge health benefits and fantastic flavors." Kombucha also topped the NRA's non-alcoholic beverages list, followed by agua frescas, fruit and vegetable milks, oat milk, and boba and bubble teas.
9. Don't Ignore Dietary Restrictions
Dietary restrictions have been a growing challenge in the catering and banquet world and can have an impact on labor costs as well if they need to have a dedicated chef catering just for those with special needs. Corby points out that, now that it's common that 30% or more of guests have a dietary requirement, it makes sense to write "clean" menus and dishes that are allergen-free to avoid increased labor costs and to ease service times. "A majority of our vegetarian dishes are vegan or can be adapted to vegan, and we also offer a vegan gluten-free pizza cooked in a dedicated allergen friendly oven."
In addition to soy-based products, those who have sensitivities related to dairy products may be find accommodation with products that use mung bean, hempseed, pumpkin, avocado, watermelon seed, and golden chlorella.
"A majority of our vegetarian dishes are vegan or can be adapted to vegan, and we also offer a vegan gluten-free pizza cooked in a dedicated allergen friendly oven."
Attendees who need to stay gluten-free will welcome the trend toward replacing wheat-based flours with those made from cauliflower, bananas, coconut, almonds, rice, guar gum, tapioca and tigernuts, according to the Whole Foods and Kimpton forecasts. Oat and hemp milk products also are on the upswing, according to the Kimpton forecast: "Think creamy cashew cheese alfredo sauces, plant-based burgers topped vegan cheese, oat milk honey lavender lattes and vegan breakfast quesadillas filled with nut-based cheese, veggies and tofu."
But it's not enough just to have alternative dishes and ingredients. "Staff training in both front and back-of-house is imperative," says Corby. "We as a company have regular allergen training so as to avoid any incidents. Our chefs quite often speak with individuals to ensure we get it right — this high level of due diligence puts our guests at ease when booking with us."