Saving Lives, Implementing Change, & Creating a New Standard for Allergy Care

Eating at a Meeting Podcast Episode #157
Don't Delay in Saving Lives. Anaphylaxis can be Fatal.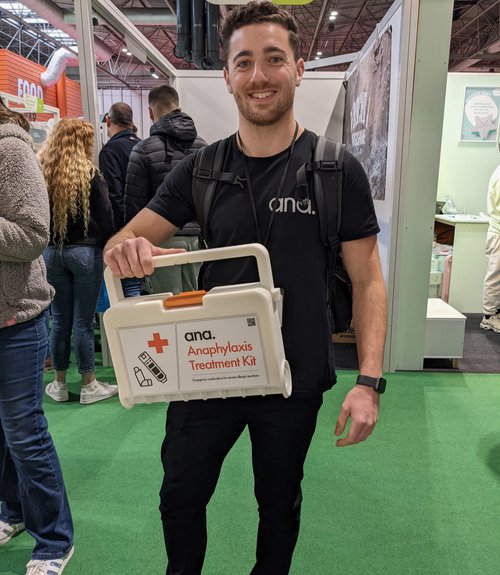 Meet the young entrepreneur — Zak Marks — who has lived with a severe nut allergy his whole life (24 years) and has created a company and product — Kitt Medical — to "save lives, implement change, and create a new standard for allergy care."
Zak and the Kitt Medical team believe that EVERY public place must be equipped with emergency anaphylaxis provisions – just like a defibrillator, but for allergies.
"Don't Delay. Anaphylaxis can be fatal." Listen as Tracy and Zak chat about how imperative adrenaline is in saving lives, how he got started, what he is most excited about by what he's doing, and how you too can help save lives.
Zak Marks
Co-Founder of Kitt Medical
What do safe, inclusive & sustainable food and beverage experiences look like to you?
As someone living with life long severe allergies I want their to be a generally higher level of allergy awareness everywhere. I want to be able to order food that is safe for me to eat, which means knowing what ingredients are in all the food I eat, having accessible treatment medication nearby as a standard, and well trained staff.
Do you have an example of a situation that negatively effected you and/or other individuals or groups' food and beverage experience?
I was on a flight and after trying to find out the ingredients to a meal I was going to eat, they couldn't safely guarantee it was fine for me so simply said 'good luck' and left me to it!
What do you wish people knew about what you do?
That it takes a personal toll being surrounded by and working in the allergy space when I live with it on a daily basis anyway.
What is a best practice you use/or have seen to create safe and inclusive F&B experiences?
Places that know all their ingredients and ask if you have allergies before you order.
Just for fun…What are your favorite food and drink?
Chicken milanese probably! And I love Trip drinks at the moment…
OTHER WAYS TO ENJOY THIS POST