Catering without Compromising Food Safety Or Quality
Eating at a Meeting Podcast Episode 62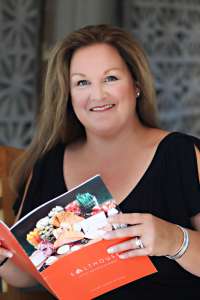 In this episode of Eating at a Meeting for Women's History Month, Tanya Gurrieri, founder of Salthouse Catering in Charleston, SC talks with Tracy about how there is no compromising when it comes to food safety or quality no matter where we are executing an event or for whom.
What do safe, inclusive & sustainable food and beverage experiences look like to you?
Right now, safe means a few things to us. No self service anything, masked servers & chefs, heightened sanitation and safety protocols. Inclusive means offering something for every diet in well marked, individual portions. We believe these trends are sustainable and as our covid numbers improve, we'll be able to reintroduce more service options and eventually lose the masks.
Do you have an example of a situation that negatively effected you and/or other individuals or groups' food and beverage experience?
This past summer, we tried to support local restaurants by ordering take out on occasion. I was surprised to find the restaurant wide open (no barriers from entering) with take out being handled inside from behind the bar by a maskless server. I was presented with a check presenter and pen that the person in front of me had just used. I was uncomfortable and haven't returned since.
What do you wish people knew about what you do?
I wish people knew how much time and effort went into making sure their catering would go smoothly. The pre-planning, prep and man power that go into a successful event are something that folks just don't understand. Also that off premise catering is a feat of magic. We effectively customize a menu for a large group of people and execute that service in a fraction of the time it would take a restaurant to serve as many people with the same standards of excellence – all in the middle of a field with everything being brought in just for that event.
What is a best practice you use/or have seen to create safe and inclusive F&B experiences?
We will not compromise food safety or quality no matter where we are executing a party. We'd rather put in the work to make sure we can finish food on site safely than carry food hot from our kitchen. Food quality is of utmost importance and we will not sacrifice quality or safety for convenience. Also, recently we've taken the time to add dietary notes to our entire selection of menus (nearly 25 pages) to show the reader what's Vegetarian, Vegan or Gluten Free.
What are 1-2 go-to resources you'd be willing to share with the listeners?
Women in F&B need to know about FAB. It's a women only food and beverage conference previously held in person – now virtual connecting women in this industry with others around the country and world.
If caterer's want to launch an online ordering platform – check out Spoonfed. Their software is more compatible with catering company's needs than door dash or other restaurant based online ordering software.
Just for fun…What is your favorite food and your favorite drink?
I love all food… so it's hard to choose, but chocolate chip cookies are pretty high on the list. My favorite drink is sparkling water – but for a cocktail, it's hard to beat Cathead Honeysuckle Vodka with soda water, ginger beer and a lime. I like to call it a Skinny Cathead Mule.
Links:
Connect with Tanya —  Website  |  Facebook  |  Instagram  |  LinkedIn
Learn from the other women making HERstory and being recognized for Women's History Month
Check out other featured guests on the Eating at a Meeting podcast
Cover image by Jenna Marie
OTHER WAYS TO ENJOY THIS POST