Meet Emily Brown, founder and CEO, Food Equality Initiative and a self-described "systems-change nerd" who is determined to ensure that all who need allergy-free food have access to it.

policy
To celebrate Women's History Month, I'm talking with some of the fabulous women who are making history today with their work within the food and beverage industry.
First up is Emily Brown, founder and CEO, Food Equality Initiative, a registered 501(c)(3) that collaborates with healthcare providers, local and national nonprofit organizations, government agencies, schools and food manufacturers to increase access to allergy-friendly and gluten-free foods to individuals who need them most. In 2015 FEI launched the nation's first allergy-friendly and gluten-free food pantry.
What inspires you to do what you do?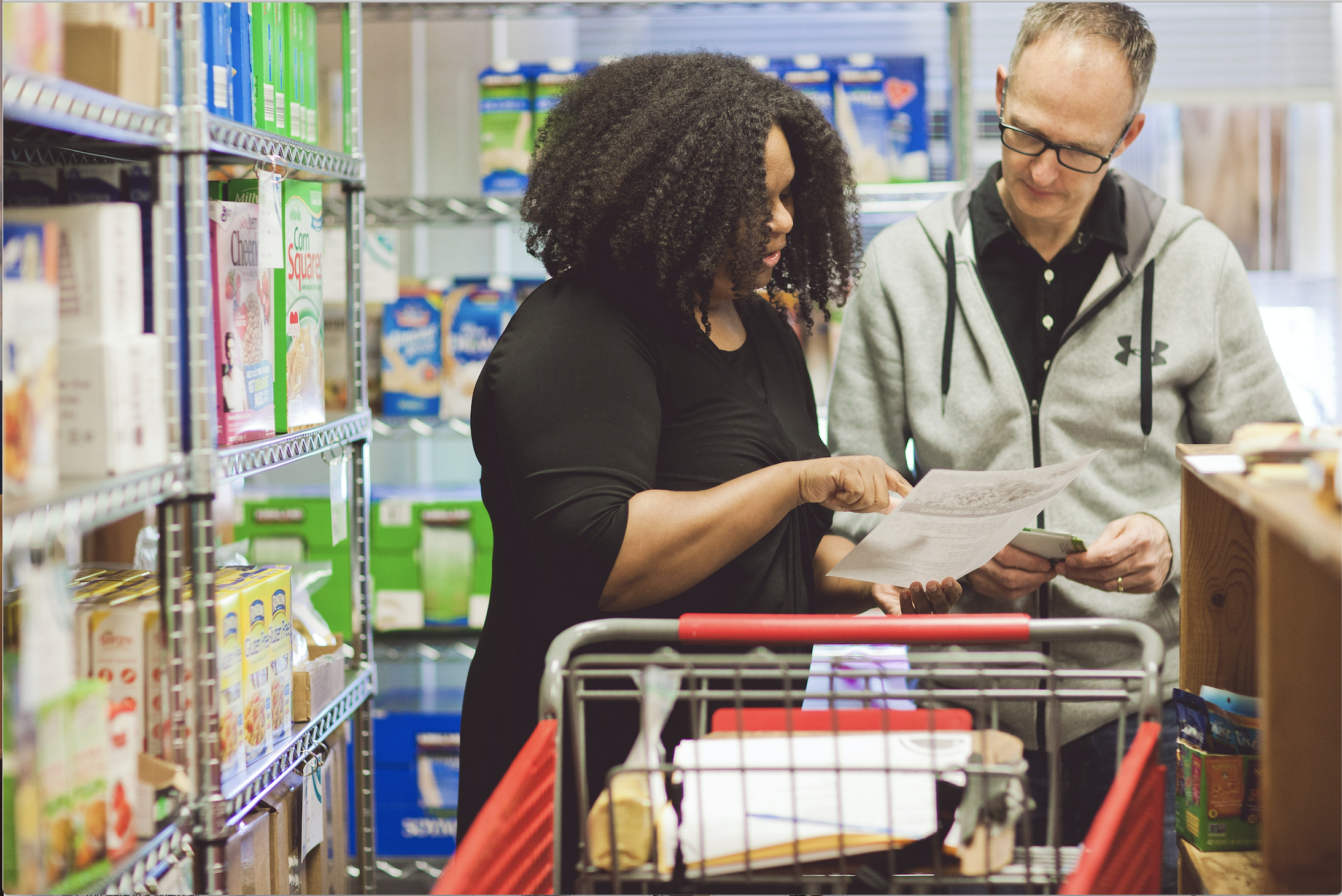 My daughters, who are now eight and six, were diagnosed as having food allergies, and as is the case with most families in our situation, it was terrifying. We saw right away that the cost of the new diet would be a challenge. We stretched our budget until it couldn't stretch any more — and I stood in line at the food pantry for two hours and by the time I got in to shop, all that was left that she could safely eat were two potatoes and a jar of salsa.
Like other families with food allergies, we had to enroll in WIC [the Special Supplemental Nutrition Program for Women, Infants, and Children, which provides federal grants to states for supplemental foods, health care referrals, and nutrition education for women and young children who are found to be at nutritional risk] to afford the foods we needed. WIC and other federal food programs are focused on providing the public health nutrients of concern, but the substitutes aren't always nutritionally similar. While WIC does provide some substitutes for those with food allergies, such as soymilk instead of dairy milk, my daughter has soy and dairy allergies, so they did not offer the foods we needed.
I'm extremely passionate about this work because I've lived it, and I think we can do better.
I started calling the local, state and national WIC offices to see if there was any way to accommodate our medically necessary dietary needs. And I knew we can't be the only family dealing with a need for food assistance due to a medical issue such as food allergies. It's a matter of coming together to accommodate the 32 million Americans who have food allergies, 6 million of whom are children.
I know what it's like to need to prepare these foods for my family when I'm living in that gap between not enough money to truly provide but also not enough to qualify for help. I also know what it's like to qualify for WIC and SNAP (Supplemental Nutrition Assistance Program) and for those programs to not be as valuable because they weren't designed to meet the needs of those with special dietary needs. I know the challenge of trying to navigate those systems and to find the resources I needed within those systems.
I'm extremely passionate about this work because I've lived it, and I think we can do better.
What is your greatest obstacle?

policy
The greatest obstacle, which is also our greatest opportunity, is awareness. There's a perception that food allergies just impact a small group of people, and if it is worth changing a federal program for just this small group. But the reality is that the group is not small, and it is growing every day. You can't effect change if people aren't aware of the problem.
It is a diversity and inclusion issue, and a serious one because it can do harm when people can't get access to the food they need. I feel privileged to do this work every day — we're helping to save lives when we serve families that come into our pantry network.
This is beginning to change over the five years since we started this work. There's more of an awareness of the intersection of food allergy and food security. If we can continue to raise awareness, we can build the broad base of support we need to make this sustainable.
This continues to be a challenge in the meetings and events industry as well, especially getting people to understand that this is a diversity and inclusion issue. However unintentionally, you are excluding people from being able to participate in food and beverage events, just as you are excluding them from being able to participate in federal food programs by not providing the food they need.
It is a diversity and inclusion issue, and a serious one because it can do harm when people can't get access to the food they need. I feel privileged to do this work every day — we're helping to save lives when we serve families that come into our pantry network. policy

How do you want to be remembered in history?
I care very deeply about not only the end goal but also the journey and the process, so I hope that I am remembered as someone who not only did good work, but someone who did it well. I hope that I am remembered as being intentional, fearless, passionate and someone who believes in the good of humanity. policy
What words of wisdom did the women in your life growing up share with you?
I come from a line of very strong women. My grandmother's mother was born into slavery — and I take strength from knowing my ancestors survived unimaginable obstacles every day in their lives, and then were able to continue to build a family of people who looked to serve others, no matter how little they had instead of focusing on the negatives in society.
I learned the value of service from the women in my family. My mother taught for 32 years and also served as a school counselor, and she was always giving to others. When things were difficult, my mother reminded me that we are survivors who can overcome seemingly insurmountable odds. That's why it hasn't been hard for me to give to others too, even when I did not have a lot of resources — I was on WIC and SNAP when I started this nonprofit, and now we have raised almost a million dollars for this community. policy
What about your work, and the food and beverage industry in general, do you look forward to most?
Making this "free-from" market segment affordable and available for the people we serve in our pantry. This is why our nonprofit advocates to change federal nutrition program policies to make it easier for these free-from companies to participate.
I also look forward to the opportunity to do work around the integration of social care into healthcare. We're working to get our program acknowledged as a covered benefit so we can have a larger budget to support brands that are committed to serving this community. That will make a huge impact: Not only will our service become a covered benefit, but we also could teach other markets how to do the same.
We're also looking to amend policy, such as the WIC program's policy that bread has to be 100% whole wheat instead of 100% whole grain, which would make it accessible to those who need to be gluten-free. We're also pushing to have more than one alternative to dairy milk in the program. There is a lot of policy work still to be done.
We're working on the new Dietary Guidelines  as well. Food allergies are on the list of conditions they are reviewing for prevalence and outcomes, but they are only considering from birth to age two, which while important is not sufficient. We gave testimony at the last public hearing, and we are encouraging individuals with food allergies to provide comments on the Guidelines, because they are the basis for all the federal nutrition programs.
One thing we're really working to understand is the prevalence of food allergies for those in the federal programs. In our local Kansas City community Head Start community, prevalence is close to 20%, but WIC, which serves the same community, reports less than 1%. So clearly there's a gap. There's no national data set they can use to make policy decisions.
There's a number of things we're working on to build the case, but it's going to take time. We did a review of the comments campaign in 2014 at the beginning of the last review of the WIC food packages (they review them every 10 years). We did have a small policy win when they acknowledged that there is no substitute for fish or for egg in the package, even though they did not accept our recommendations on what to replace them with. Now we're working with our science alliance to build the data infrastructure we need to create a policy environment where we can really move the needle.
What do you appreciate most about your work?
I love that no two days are the same — there's always something new and different. And I love that we help people. It's rewarding to know that you are changing lives with what you do every day.
I'm also a systems-change nerd, so I love that there's an opportunity to change federal nutrition programs that weren't necessarily built for people with special dietary needs.
And I also really love the people who I work with and the people we serve.
Last question: If you could have anyone over for dinner, who would you invite?
I am a huge fan of [voting rights activist and civil rights leader] Fanny Lou Hammer — I think she's a food hero too. I'd also invite Susannah Fox, who was chief technology officer of the U.S. Department of Health and Human Services during the Obama administration. She's a fascinating person who believes in the power of peers, a belief I share. And Michelle Obama, another food champion.
_____________________________
If you'd like to comment on the dietary guidelines, Emily and the Food Equality Initiative is asking people to share their food allergy stories in the comments to encourage flexibility in federal nutrition programs.
FEI is also registering individuals for our #SafeNFree SNAP Challenge that will take place in May 2020. If you register, FEI will provide a sample menu, shopping list, and recipe book to assist in the challenge. The challenge is to raise awareness of the real-life challenges of managing a special diet on SNAP.
Follow Food Equality Initiative on Social Media at
Twitter  |  Facebook |  Instagram
Listen to Tracy's conversation with Emily on the Eating at a Meeting podcast: