I'm a vodka drinker. Used to drink beer. And, since I have never been a fan of wine (I know!), so I've asked my good friend and sommelier Don Hackett to give us (you) some hints on how to successfully pair food and wine this holiday season – or any time of the year. 
When Pairing Food and Wine Decide Which is the Star: the Food or the Wine
Shopping for wines for your holiday party can present a unique challenge. Holiday spreads often offer an abundant and diverse selection of dishes and trying to find a wine that will work with all those choices isn't always an easy task. 
My first rule for pairing food and wine is to decide which is the star: the food or the wine. Most often, the focus should remain on the food. Therefore, look for a wine that will compliment, not compete with, the food. Try to stay middle of the road with your wine selections. Not too fruity, not too dry, not too big, not too light. Remember that you're also trying to please many different palates, so avoiding extremes is the safest choice.
You may conclude that the best way to please many palates is to offer many choices. I would caution against that. I have found that offering one white and one red (and perhaps a rose or a bubbly) is the best way to go. If everyone starts gravitating to one wine, everyone starts drinking that one wine and soon you'll run. Then your guests are faced with trying 'that other one' because you ran out of the 'the good wine'. Keep things simple, you've got enough going on!
Here are a few of my go-to selections during the holidays:
Red
Beaujolais
My #1 party red. Beaujolais comes from the Burgundy region in France is always made from 100% Gamay. It's a light to medium bodied red wine with good fruit and good acidity. Acid gives wine structure and acts as a palate cleanser; another benefit when serving multiple dishes. It tends to be lower in alcohol (I don't want anyone leaving my party drunk!) and isn't too expensive. Look for Beaujolais from the 2015 vintage, possibly the best in over 50 years. If the budget permits, choose wines from the villages of Moulin-a-Vent or Morgon, and absolutely NO Beaujolais Nouveau. Nouveau is a completely different animal, nothing more than glorified grape juice (I'll try to make this my only snotty-wine-guy comment for this article).
Rioja
Perhaps Spain's greatest region. Look for Rioja made from the Tempranillo grape. There are also Riojas made from Garnacha but these come from the sub-region of Rioja Baja, a less desirable area. Rioja tends to be a little lower in acid and is often blended with Mazuela (Carignan) to give it more structure. Spain continues to offer amazing value andit's easy to find good Rioja for $10 to $12. Drink up!
Barbera
The workhorse grape of Italy's Piedmont region, an area completely dedicated to great food and awesome wine. It's medium bodied, high in acid and low in tannin. You may see Barbera d'Asti and/or Barbera d'Alba in your local retailer. Go with Barbera d'Alba, it's better.
White
Chardonnay
I know it's not a terribly exciting choice but Chardonnay is one of the most diverse and food friendly whites around. I prefer ones with less oak. Look for Macon-Villages or Bourgogne Blanc from France, they are often less oaked and cleaner. Be careful with completely un-oaked Chards from California, quite often they present citrus and/or green apple flavors which aren't the most food friendly flavors and don't always please a crowd.
Pinot Grigio / Pinot Gris
Another food-friendly white. The problem is that in comes in many different styles. If you're searching for an Italian Pinot Grigio, I would search for wines made in either the Alto Adige or Friuli-Venzia regions, they offer more structure and complexity. Another great choice is Pinot Gris from Oregon. Bright, crisp and delicious. Just as an FYI, Pinot Grigio and Pinot Gris are the same grape: Grigio is Italian for 'grey' as Gris is French.
Dry Riesling
Before you start building your wall of denial, hear me out. I said DRY Riesling. Ask almost any Sommelier what they think about Riesling and they will tell you it's perhaps the best white wine to pair with food. It comes in a plethora of styles, has amazing natural acidity and rarely sees oak. A few things to look for on the label: Trocken = dry, Halbtrocken = half dry. Plus Germany has been on an amazing run for almost 15 years. Every vintage since 2001 (except 2013) has been at least 'very good', with 2009, 2010, and 2011 being excellent.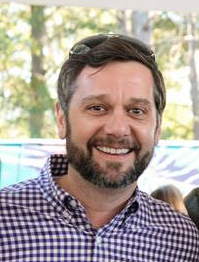 ---
Don Hackett, my go-to expert on pairing food and wine, lives in Atlanta and is a sales manager for Avant Partir, an importer of lesser-known, often–Old World boutique wines. Prior to joining Avant Partir Don managed Cook's Warehouse and Sherlock's Wine Merchant in Decatur, Ga for more than 10 years. He travels to France every year and has attended the Union de Grand Cru in Bordeaux for the last three years. With almost 20 years in the wine industry, Don truly enjoys educating others on the wonderful world of wine.