The Importance of Indigenous Food Traditions
Eating at a Meeting Podcast Episode #163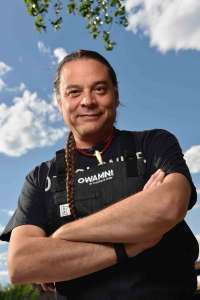 Why Native American Food Cuisine is Important 
Monday, October 10, 2022, was Indigenous Peoples Day.
To celebrate Native peoples throughout the US., Tracy chatted with Chef Sean Sherman, co-owner of the restaurant Owamni (Minneapolis, MN) and founder of "The Sioux Chef", a company dedicated to revitalizing and reclaiming Native American cuisine.
A member of the Ogalala Lakota Sioux tribe, Sherman is passionate about bringing indigenous food systems like wild food usage, land stewardship, and pre-colonial foods to the modern kitchen and dining table.
He is doing something right. In June, Owamni was named Best New Restaurant of 2022 by the James Beard Foundation, the "Oscars of food."
On the menu at Owamni are dishes that prioritize Indigenous-sourced foods native to the region. What is NOT on the menu are beef, pork, or chicken nor wheat flour, dairy, cane sugar, or black pepper — ingredients introduced to the continent after Europeans arrived. He wants to create a "decolonized dining experience" and help all of us to re-identifying with the foods native to our land.
Listen as Tracy and Sean chat for this special episode of #EatingAtAMeeting to learn about Native American food traditions that can and should have a place on our table today.
Sean Sherman
CEO & co-Founder of The Sioux Chef, the indigenous food education business and caterer. Owner of restaurant Owamni. Award-winning cookbook author, forager, and promoter of indigenous cuisine, Chef Sean Sherman, Oglala Lakota has been cooking across the US and World for the last 30 years. He grew up in South Dakota's Pine Ridge Reservation. He co-founded the indigenous food education business and caterer The Sioux Chef, as well as the nonprofit North American Traditional Indigenous Food Systems.
OTHER WAYS TO ENJOY THIS POST