Managing food allergies and other dietary needs at your events can be frustrating and intimidating, but by being SMART about it you can create a great attendee experience. Incorporate these four steps into your planning process and you could possibly win a fan for life and avoid unhappy and hungry guests.
1. Ask in advance of the event — attendees and catering partners
As planners, knowing details like dietary needs in advance makes execution so much easier and streamlines processes. But, don't limit your questions to vegan, vegetarian and kosher check boxes. Include gluten-free and the top eight food allergies—eggs, dairy, wheat, shellfish, fish, peanuts, tree nuts, soy—and add "other" with room to elaborate. Some people have multiple allergies or intolerances.
When it comes to finding catering partners, be sure to ask them about their knowledge of and ability to accommodate special dietary needs. All your preparation for guests needs won't work if your culinary partners don't know about or how to create dishes without the offensive ingredients.
2. Communicate with Attendees and all catering partners
If you take the time to ask attendees what their needs are, acknowledge you received their information and then follow-up with them explaining how you will be addressing their needs at the events. Will you be providing a card for them to present to the server? Will you labeling buffets? Will they get a separate meal?
Just as important, is communicating with your catering partners well in advance of the event. If the event is being held at multiple locations and with several catering partners, make sure they are all are aware of the dietary needs for each meal function. And, be sure they tell you how they will be addressing the needs, including what will be served to those guests and how they will avoid cross contamination.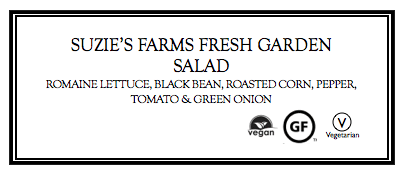 3. Label Buffets and Stations and Manage Cross Contamination
Culinary teams work off of recipes and they are creating buffet labels for the name of the food. Make sure it either includes the list of ingredients or is labeled with dietary needs – gluten-free, vegetarian, dairy free or contains nuts, soy and egg.
Cross contamination is another thing event staff needs to be conscientious of when serving guests. The typically station chef just wipes or quick rinses the pan or the blender between guests or he uses his hand to get the omelet ingredients. But, for those with food allergies, both situations can be deadly.
Have a separate station, sauté pans or blenders for those with food allergies For example, a sauté pan used only for gluten-free pasta or only for shellfish or for the breakfast smoothies, a separate blender used to make smoothies without yogurt or milk.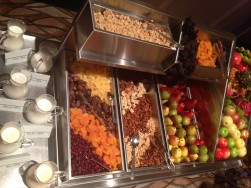 4. Ensure banquet staff know what food and beverages are being served.
As noted in the BizBash's "Checklist: 11 Questions Every Event Staffer Should Be Prepared to Answer," make sure the staff passing the trays and working stations know not only the ingredients in the food they are serving but how it was prepared. Guests with food allergies or celiac disease can get deathly ill if someone used the same cutting board or knife for the bread as they did for the fish or peanut butter pie. It's also a great way to elevate the presentation level of your service staff.