Using her Diagnosis to Help Others Eat Out Safely with the app MyMeal

Eating at a Meeting Podcast Episode #188
Kayla King's MyMeal Helps Individuals with Food Allergies or Celiac Disease Dine Out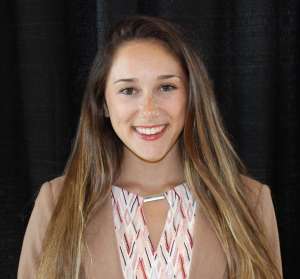 Kayla King, founder, and CEO of MyMeal, kicks off thrive! meetings & events' 4th annual Women's HERstory Month (March) series and for Food Allergy Awareness/Celiac Disease Awareness Month (May) when she joins Tracy to discuss the challenges individuals with dietary restrictions have when dining out and how the app she created to help them find safe restaurant meals.
Being diagnosed with celiac disease when she was 8, Kayla has grown up constantly thinking about food, but not in the way you might think.
Instead of being able to walk down the street and pick any random restaurant to enjoy a meal, travel places without having a plan (or a safe snack in her pocket), or be in and out of a grocery store in 5 minutes, she has to read every ingredient label, call restaurants in advance, and plan trips around places that she could acquire food.
This sparked her passion for building MyMeal, working directly with restaurants to help them become safe & accessible options for this underserved community.
Kayla King
The founder of MyMeal – an app that helps people with food restrictions find safe restaurant meals. We do this by creating all our partners a filterable allergy menu that shows customers exactly what's safe for them on the menu.
In this episode of Eating at a Meeting, Kayla shares her passion for promoting restaurants that cater to people with food restrictions and allergies, making them more accessible to others. She discusses the importance of building relationships and communication and shares her own experiences of feeling uncomfortable and anxious when restaurants cannot guarantee a safe meal. Her app, MyMeal offers filterable allergy menus as a solution in the aim of providing a safe and confident food and beverage experience for customers with different dietary restrictions.
She also sheds light on the struggles restaurants face in keeping track of allergens in third-party products that change frequently and offers suggestions on how to mitigate these issues. Additionally, she reveals her personal struggle with binge eating, which she found out through therapy was a reaction to being diagnosed with celiac disease. This episode highlights the importance of empathy and understanding, both for individuals with food restrictions and for restaurant servers.
How did you get to where you are in your career, life, and business?
When I was eight years old, I got diagnosed with a disease called Celiac. This meant that if I consumed even microscopic amounts of gluten, the part of my body responsible for absorbing nutrients would be destroyed.
Following my diagnosis, food quickly became a big part of my life. I could no longer walk down the street and pick any random restaurant, travel places without having a plan, or be in and out of a grocery store in 5 minutes.
I now had to read every ingredient label, call restaurants in advance to make sure they had safe options, and plan my trip around places where I could acquire food.
Growing up, food was something I had to constantly think about, so much so that it led to a pretty poor relationship with it. Pretty early in life, I started to overindulge at restaurants where I could eat and feel guilty about denying food when I wasn't hungry. It led to what I later realized to be a form of binge eating.
After working with a dietitian and psychologist through some of these issues later in life I realized a lot of it backtracked to my Celiac.
Eating out had always been one of the biggest triggers for my disorder because I was experiencing a classic fight-or-flight response. It was so difficult and time-consuming to find safe food when I was eating out that when I did find something safe, I felt I needed to overindulge in order to compensate for a future lack of food.
As I went to therapy and began to eat out more and more, a lot of these fears went away, but it required me to really stand up for myself and accept that I was not a burden but deserved to be nourished just like everyone else.
All of this sparked my passion to build my company MyMeal.
Since college, where I graduated with a marketing degree, I've had this idea of helping people just like me have a safe and fulfilled life. Throughout college, I had traveled to 33 countries, entered two bodybuilding competitions, got my nutrition coach certification to start coaching others, and then shortly after started working in the restaurant industry as a server & then manager.
Since this problem was so important to me, I've built my career and life experiences around becoming an expert and advocate in this field.
While we are still a very young startup, to date, we've built extremely close relationships with 50+ partner restaurants in Denver Metro, going through all their ingredients, allergen information, and kitchen practices.
Right now, there is a huge gap between consumers and restaurants, and we are here to bridge that in a way that is beneficial both to the restaurant and the people they are serving.
It's been so eye-opening and amazing to see all the restaurants that have put in that extra effort to see their consumers happy and safe, and I feel so lucky to be able to share that with the people that need it the most.
I'm excited to continue building this around Colorado and the rest of the nation.
How are you making a mark — HerStory — in the global food and beverage system to ensure it is safer, more sustainable, and inclusive?
Every 10 minutes, someone goes to the ER due to a food allergy reaction at a restaurant. Since this is so common, many people live each day with food anxiety scared that this time it's going to be them.
At MyMeal, we help people find safe restaurant meals. We give them the confidence to live a normal life. We also equip our partners with the tools & training needed to keep our community safe.
Your Greatest Career Accomplishments?
I started my career super young. When I was 10 years old I was fortunate to get cast into the Broadway in Chicago production of Billy Elliot. Our show ran for 2 years.
Since then, my largest career accomplishments have been attributed to MyMeal. I started it in my senior year of college. I have built up a loyal and engaged following on social media of a combined 10K community members. I've also been featured in Voyage Magazine and on podcasts like Feed Your Can, Beyond Celiac, and Taking Chances.
OTHER WAYS TO ENJOY THIS POST