Food Safety: A Caterer's Perspective
Eating at a Meeting Podcast Episode #161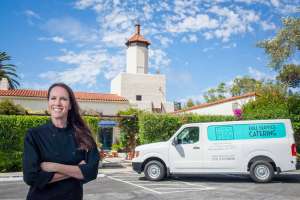 Why is Food Safety so Important? 
Megan Walker, Owner and Executive Chef of Made by Meg had me at "health inspection score." She was teaching an educational session at The Special Event back in 2017 on what food safety means and what planners need to know/ask of their caterers.
Yes!
When I surveyed #EventProfs on how often they asked their caterers about food safety practices before COVID, 70 percent of them said NEVER. While we should trust caterers to know how to manage food safety, we still must inquire about their practices.
Listen to this episode of Eating at a Meeting to get Meg's tips on what to ask food service providers about food safety, how she makes food safe, and how she gets the most out of food?
Meg Walker
What do safe, inclusive & sustainable food and beverage experiences look like to you?
Trained + certified culinary team members, safe cooking spaces with the proper equipment
Choosing sustainable practices like eliminating as many disposable dishes as possible. Recycling when possible.
Inclusive hiring practices are essential to having an engaged, happy workforce.
Do you have an example of a situation that negatively effected you and/or other individuals or groups' food and beverage experience?
Ovens that don't work. Fridges that don't turn on. Events with catering kitchens in the middle of nowhere and they want to feed guests without proper sanitation! We always make it work so the guests don't know there is anything wrong behind the scenes. That's good hospitality, People!
What do you wish people knew about what you do?
It's a 24/7, 360 degree job. Leading a company means leading your team, serving clients and thinking of the future. It takes incredible mental and emotional strength to keep forging ahead. Mental fortitude and peace is a constant goal. Excellent food is the given, everything else piles on top.
What is a best practice you use/or have seen to create safe and inclusive F&B experiences?
Invest in the proper equipment at our kitchen headquarters
Educate clients and event planners on the proper equipment needed for events
Reduce use of disposable items with transport of catering foods
Just for fun…What are your favorite food and drink?
I don't believe in Favorite Foods — I believe in having the next meal and cooking the next meal. That's my favorite.
I love a smokey yet light Pinot Noir from Santa Ynez, California.
OTHER WAYS TO ENJOY THIS POST