Robots, recyclables and ramen-flavored ice cream? Yes, 2022 will likely be a bit weird, wild, and possibly wonderful if some of these food trend predictions come true this year.
I scoured through oh so many food and beverage predictions, surveys and polls to identify 22+ trends that should be making their way into conference and convention cuisine, as well as restaurants, in 2022. Here are my top picks for 2022, along with a few of the weirder ideas I came across that may or may not trend, but sure are interesting to contemplate.
The Business of Food and Beverage
The food and beverage industry has never been an easy one, and the COVID-19 pandemic has only made a tough industry tougher. 
The robots are coming! Staffing shortages are likely to continue through 2022, according to

international food and restaurant consultants Baum + Whiteman

. To help keep up with a predicted increase in customer demand/decrease in the number of available workers, along with a lingering desire for social distancing, you'll likely see more

adoption of robots and other types of food-prep and service automation

, according to B+W, which calls this its #1 trend for 2022. As examples of robots already in play, there's

Flippy the robot flipping burgers

at 11 White Castle locations, and SavorEat's 3D-printing robot that extrudes and cooks plant-based burgers for Israel's Burgus Burger Bar (Sodexho is piloting use of the latter robot this year). Also going robot is the Spyce automated Boston restaurant, recently bought by Sweetgreen, which will use the Spyce robot to cook human-prepped ingredients into the final dishes at a rate of 350 dishes per hour.
Ghost kitchens continue to boom — maybe too quickly? B+W also predicts that

ghost kitchens

, which are basically virtual restaurants, are still getting funding at a rapid clip and could become a $1 trillion industry by the end of the decade, according to Euromonitor. Hotel giants, including SBE, are getting into the ghost restaurant scene as well, using kitchens in malls and hotels whose food businesses are still reeling from COVID declines. What remains to be seen is just how many ghost kitchens the market can bear, whether these will cut into traditional restaurant business, and how foodies will feel when they realize that their favorite restaurant on their food delivery app is really just chefs working out of a warehouse.
 Other business-related measures expected to become ubiquitous this year, according to

2022 What's Hot survey on culinary trends

by National Restaurant Association and the American Culinary Federation are menu streamlining (fewer menu items, cutting SKUs); packaging that retains temperature and food quality and is tamper-proof; and less expensive chicken cuts (thighs v. wings) and beef (chuck v. loin) on dinner menus.|
"There is a pressing need for companies to work together and with consumers to build trust in claims of zero or negative impact. It is vital to ensure universal acceptance of certifications and greater public faith in the transparency of brand actions.
Sustainability
The NRA/ACF survey identified sustainability as a key F&B trend for 2022, including an increase in sustainable (reusable, recyclable) packaging and zero waste kitchen operations. 
Back up claims with proof of sustainability. But it's not enough to just say your operation is sustainable, according to

Innova's Global Lifestyle & Attitude Survey

. "There is a pressing need for companies to work together and with consumers to build trust in claims of zero or negative impact. It is vital to ensure universal acceptance of certifications and greater public faith in the transparency of brand actions. This requires quick, clear, tangible and trusted information combined with a product life story that truly stands up to scrutiny."
Upcycling on the upswing. Consumers will be seeking brands that implement upcycling, as well as a reduction in water usage and their overall carbon footprint, according to food distributor and Certified B Corp

KeHE

. More than 6 billion pounds of produce gets tossed each year before it even leaves the farm, and food waste and loss account for 4% of U.S. greenhouse gas emissions, according to

Ecovia Intelligence

.Ecovia believes that food upcycling will increase as more consumers learn about just how much food is lost and wasted — and says that 2022 will be the year upcycled foods become more mainstream. After the Upcycled Food Association (UFA) launched a food ingredient upcycle certification last year, UFA-certified products are now coming onto the market from brands such as ReGained, TakeTwo Foods and Imperfect Foods. Even big companies like Dole are investing in upcycled food products, albeit mainly in Asia, as part of the company's goal to eliminate food waste and petroleum-based packaging by 2025.
Go local. The younger generations' interest in the sustainability and social missions of the companies behind the foods they eat also is driving more interest in locally grown foods, as is the experience with food supply chain breakdowns caused by the pandemic, according to

Food Dive

. In fact, companies are starting to use their environmental friendliness as a selling point, with some even offering to connect customers with the farm where the produce they buy was grown.

 

Pack it up (sustainably). The Gen Z focus on sustainability also will help spark new interest in sustainable food packaging. As

Pamela Riemenschneider, Retail Editor for Blue Book Services,

says

, "Expect those trends to reemerge in 2022, as Gen Z comes into greater purchase power, and people start taking a hard look at single-use plastic, and the shortcomings of municipal recycling systems again." Possible options for increased usage include paper straws, compostable trays and clamshells, compostable bags, and produce sold in bulk, she adds.
In fact, growing interest in personal health, global sustainability, and dietary variation has already led to a 59% increase in new plant-based products in just the first half of 2021. 
Plant-Based Foods
The NRA/ACF survey's placement of plant-based foods on the hot list is validated by the prognostications of many others, including the Innova survey. "From convenience foods to gastronomy, people are looking for the quality alternatives plant-based products can offer," the survey says. In fact, growing interest in personal health, global sustainability, and dietary variation has already led to a 59% increase in new plant-based products in just the first half of 2021. 
Flextarianism hits the mainstream. Look for more to come in 2022 as people become less rigid in their diets and more willing to go flexitarian in choosing to indulge in the occasional vegan or vegetarian options without having to go full-on vegan. Plant-based meat manufacturer Impossible Foods has also found that

Gen Z tends to be more likely to eat plant-based foods

, which bodes well for the sticking power of this trend.
Beyond the bun. Plant-based burgers have almost gone mainstream at this point, but now look for plant-based proteins that go beyond the bun. For example, not only has Impossible Burger rolled out its first plant-based chicken product, but the combination of chicken shortages and increasing fowl prices is driving fast-food chains like Burger King, A&W, Panda Express and more to start experimenting with offering plant-based chicken nuggets, tenders and other chicken-based dishes, says Baum + Whiteman.
Beyond the bird. But plant-based foods in 2022 will go beyond birds as well. The NRA survey found vegan bacon likely to be on more breakfast plates this year, and B+W is predicting we'll see more faux fish as well, especially since Nestle is testing a vegan shrimp product in Europe and even a vegan raw tuna is finding its way into some poke restaurants and supermarkets. Riemenschneider thinks mushrooms are going to be the umami hit of 2022, whether masquerading as scallops or forming the basis for jerky, chips and teas.

Madelyn Fernstrom, PhD

, agrees that the meaty-textured mushroom will continue to grow in popularity as a swap for meat proteins.
The Innova survey found that consumer preferences range beyond just plant-based foods that mimic meat, fish and dairy to choices that can stand on their own merits as well. Look for more ready-to-eat meats, sugar replacements and new categories driven by innovations in food technology, according to the KeHE trends report.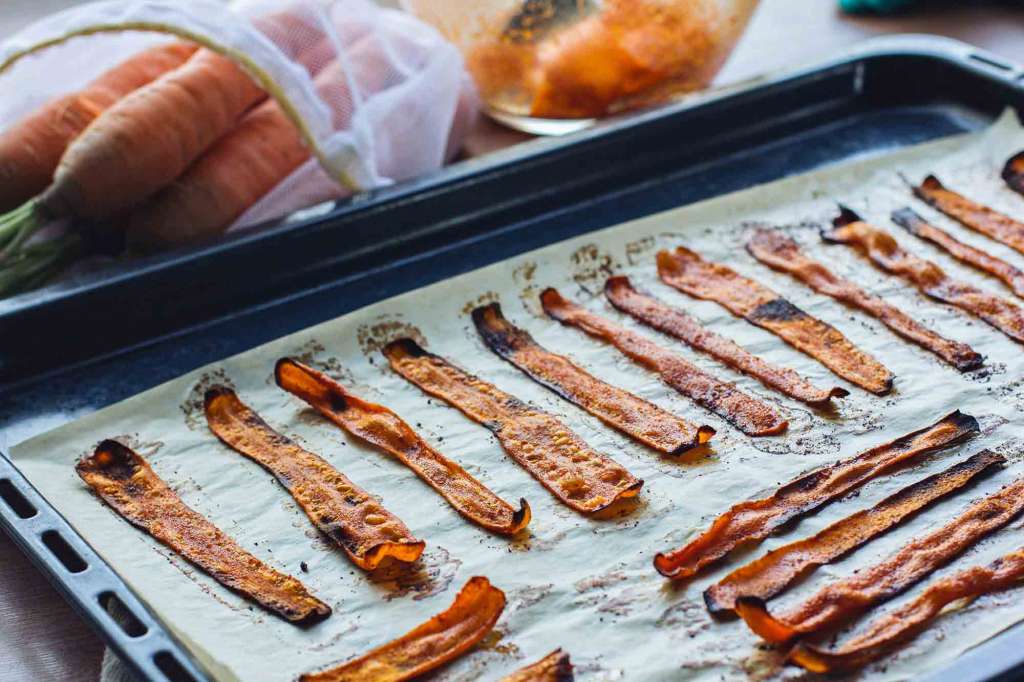 Comfort Foods
NRA also identified a rise in the popularity of comfort foods in 2022, which over the course of the pandemic has only grown. In fact, according to a One Poll and Farm Rich study, two out of every three Americans hunkered down with their favorite comfort foods after COVID-19 began, and 69% say they plan to keep on snacking on nostalgia and comfort foods like baked goods, ice cream, donuts and cupcakes post-pandemic.
Pizza isn't just for pies. What could be more comforting than pizza? According to

Comax Flavors

' 2022 Flavor Trends, 82% of U.S. consumers named pizza as their top comfort food. Now those pizza savory flavors will be coming to a variety of snacks, crackers, seasonings, coatings and sauces, according to Comax.
"As we move into 2022, natural and organic, specialty and fresh products will continue to outpace conventional products in growth rates—and we see no end in sight," said Brandon Barnholt, president and chief executive officer at KeHE Distributors in introducing the KeHE top 10 F&B macro trends for 2022.
The wild success of the 2018 movie "Crazy Rich Asians" has caused many in the U.S. to become intrigued with all things Singaporean, including the Singaporean curry noodle dish laksa
Global Fare and Flavors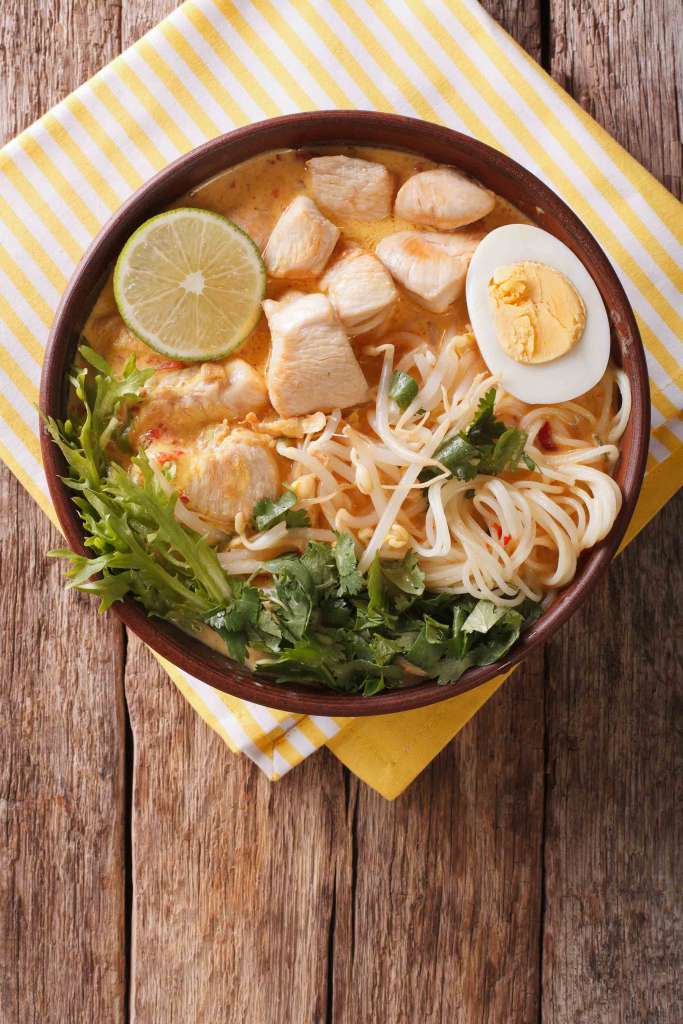 Asian everything. The wild success of the 2018 movie "Crazy Rich Asians" has caused many in the U.S. to become intrigued with all things Singaporean, including the Singaporean curry noodle dish laksa, which to AF&Co. and Carbonate believe will be the "hottest dish of the year." Other Southeast Asian cuisine also will be increasingly popular, including that from Vietnam and the Philippines, so look to see more Jasmine rice, garlic, ginger, sesame seeds, chilies, dried onions and soy proteins on the menu in 2022. The consulting companies also expect to see Japanese-style dry-aged fish showing up on more U.S. menus this year.
South American influences. South America also will be increasingly influencing flavors in the U.S. this year, particularly the cuisines hailing from Argentina, Brazil and Chile, as well as Caribbean flavors from Puerto Rico, Cuba and Dominica, according to NRA. In fact, AF&Co and Carbonate named the Caribbean's food stylings to be "the cuisine of the year," so look for more conch fritters, goat stew, mofongo and callaloo on the menu in 2022.
Chile goes crunch. Among the many global flavors to look for in 2022 will be something called Chile Crunch, a spicy Szechuan chili flake/fried/garlic, fermented soybean/sesame seed and umami amalgamation B+W predicts will take the world by storm this year. The company also says that flavors from Filipino, Thai, Korean, Indian, Haitian and Brazilian cuisines will go mainstream.

 

Korean corn dogs heating up. Among the Korean delicacies on the rise is the Korean corn dog, also known as K-Dogs, which are hot dogs (or fish) on a stick, coated in a usually non-corn-based batter, then dipped in "a range of wackadoodle coatings" that range from ramen noodles to Froot Loops and Flamin' Cheetos and drizzled with an equally eclectic range of sauces, according to B&W.

Korean Egg Drop sandwiches

, as featured on the Netflix drama "Hospital Playlist," also could be wending their way to an outlet near you soon.
Healthy and Immune-Boosting Foods
Gut checks. Interest in gut and digestive health has gone mainstream now, so expect to see not just probiotics — already a $61.1 billion market — but also prebiotics and postbiotics, according to Comax Flavors. Postbiotics have increased almost 1,300% since 2000, according to Lumina Intelligence. Expect to see biome-friendly ingredients showing up in everything from beverages (alcoholic and non), beverage syrups, plant-based and dairy products, baked goods and nutritional and performance foods.

 

Form follows functional. In addition to pro, pre and postbiotics, look for other "functional" ingredients to become more common this year, including adaptogens, nootropics and CBD, says

Food Dive

. Look for adaptogens to be incorporated into everything from coffees and teas to energy bars and chocolate. Even big companies like PepsiCo are getting into the scene — PepsiCo recently

launched its Driftwell functional water product

, as well as Soulboost to help with mental stamina. CBD will also be more commonly available in sparkling water, beer, coffee, cocktails, and even snacks and desserts such as jelly beans, according to Food Dive and the NRA survey.
Boost those immune systems. Immunity-boosting and reduced-sugar snacks and ingredients, identified as a growth area by NRA, also are on the radar for

Madelyn Fernstrom, PhD

. She anticipates seeing more berries, whether fresh, frozen or dried, on the menu, along with fermented foods, spices, cruciferous vegetables, nuts and seeds, and citrus fruits.
Oat alternatives. While oats will still be a thing in 2022, watch for new alternatives to gain ground, including pistachio, hemp, barley and seeds, according to the KeHE study.
Seeds of success. One unusual ingredient that

Madelyn Fernstrom, PhD

, predicts will becoming more common on menus is water lily seeds. While they don't have much taste of their own, these nutrient-loaded, waistline-friendly seeds can be infused with savory or sweet spicing to provide a tasty source of essential amino acid protein.
While milks made from cashews and pistachio are still a happening thing, potato milk is getting a fair amount of attention these days
A Toast to Beverage Trends
Nut milks still popular, but potatoes may be getting into the act. While milks made from cashews and pistachio are still a happening thing, potato milk is getting a fair amount of attention these days as well, according to

Paste Magazine

. What's not to like? It's dairy-free, low in sugar and saturated fats, and takes less land to cultivate than oats, another popular milk substitute.
Look for more low-alcohol products to hit the shelves — London researchers IWSR are projecting a 31% growth this year as people become more mindful about their eating and drinking after a couple of years of COVID binging.

 

And look for alcohol to be infused with usually non-alcoholic beverages. In addition to more organic and biodynamic wines, B+W predicts we'll see teas packaged with beer-strength alcohol, as well as "hard kombucha" in liquor stores.
Beer gets fruit infusions. Also look for an offshoot of the recent sour beer trend in the form of beer mixed with fruit purees added after the first fermentation, says consulting firms AF&Co and Carbonate. And it could get even weirder: exhibit #1 being the PB&J Slushy beer from 450 North Brewing Company, made with blackberry, banana, grape, peanut butter and marshmallow.
Strange But Trendy
Speaking of weird, here are a few of the more unusual F&B trends I found:
• Upscale potato chips (unexpected ingredients and globally inspired spicing such as furikake, za-atar) (NRA)
• Hibiscus may be moving beyond the tea tray and into a variety of other foods and drink, including flavored waters, jams and syrups, and nuts and onions, according to Paste Magazine.
• Also look for ice cream to go a little far afield, says B+W. You may think the Kraft mac-and-cheese/Van Leeuwen ice cream mashup was weird, now we have Harlem's Sugar Hill Creamery's ramen-flavored ice cream, complete with miso, pickled ginger and yzu, as well as a cheddar-sour-cream-potato-chip-ice cream that comes with optional Siberian caviar at the Heritage restaurant and Caviar Bar in Chicago, according to B+W.
What are some of the top F&B trends you think we'll be seeing on hotel and convention center catering menus?