Engaging Kids in Eating Fruits & Vegetables – Women's History Month Celebration
Eating at a Meeting Podcast Episode 59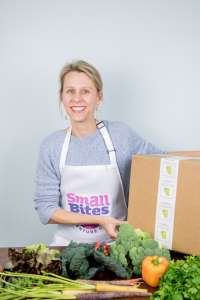 The Women Behind the Small Bites Adventure Club
While they are helping kids take small bites, Judith Winfrey, Erin Croom, Jenna Mobley, and Asata Reid are taking big bites in helping change the fact that nine out of 10 kids don't eat enough vegetables, according to the US Centers for Disease Control and marketing companies spend $1.8 BILLION marketing junk food to kids as young as 2.
As a farmer, farm to school program educators, and a chef they are committed to combating this issue by creating meaningful, turn-key resources that are accessible, impactful and fun with the Small Bites Adventure Club.
Having spent a decade traveling classroom to classroom, school to school, educating kids (and teachers) about how and why to eat fresh fruits and vegetables, they now run Small Bites Adventure Club, a monthly subscription kit program, that makes it easy for grown-ups to introduce fruits and veggies to kids, and a fun way to highlight the real heroes in our community — our farmers!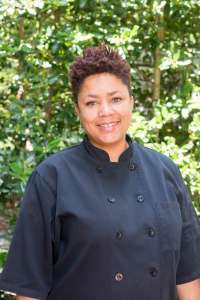 Continuing the focus on Women's History Month, in this episode, learn from co-founder and CEO Erin Croom and Chef Educator Asata Reid about how they are creating HERstory by educating kids and adults on the fun behind eating fruits and vegetables.
How did you get here?
Erin: After spending a decade Georgia Organics as the Farm to School director, I founded this business with 3 friends – Judith, Asata, and Jenna. We wanted to create something that made it easy for grown-ups to introduce fruits and veggies to kids, and a fun way to highlight the real heroes in our community- our farmers!
We've all worked together for about 10 years. And our work basically consisted of packing our cars full of cooking materials, tools, curriculum, and food and shlepping it around from school to school. It was always a hit, but I thought- how can we make this easier for us and the teachers?
So, about 4 years ago, we took everything we learned and put it into a box. We piloted out a kit at a local school. It was an instant hit, and we had a $30,000 order right off the bat! Since then, we've reached over 2,000 students across GA and the US!
How are you making a mark — HerStory — in the global food and beverage system to ensure it is safer, more sustainable and inclusive?
Asata: EVERY child deserves to know what food is, where it comes from and how to nutritiously enjoy it. EVERY child should have access to the type of education that empowers them to make health choices that will impact them for the rest of their lives and future generations. Small Bites kits are painstakingly designed to reach and teach children where they are and enrich their lives with this type of critical information through fun and experiential learning.
Erin: We at Small Bites Adventure Club are committed to combatting this issue by creating meaningful, turn-key resources that are accessible, impactful and fun! The United States does not have a rich tradition of investing in prevention, no does it really reward those of us who are committed to being innovative in the field of prevention.
However, we know when kids have an opportunity to see, try, and taste fruits and vegetables- they will not only eat those foods, they will LOVE them for a lifetime.
Moreover, our business really believes that children should just enjoy food- and see it more than just nutrients or fuel.
We want to create a space for them where they can create memories, life skills and confidence.
What is Your Greatest Career Accomplishments?
Asata: Reaching the numbers of children and families, at home and in the classroom, in both rural and urban settings is very rewarding. Food is a common denominator – we all gotta eat!- and the Small Bites kits have shown me that food is also a powerful tool for education, personal exploration and community appreciation.
Erin: First, We kept our business churning during a global pandemic! Our only clients before March 13 were schools, clubs and child care programs.
We are so excited to launch Farm to Home Explorer Kits in January, and we LOVE shipping these to kiddos all over GA and the U.S.. We've got a national distribution partner with Daymaker, and we've committed to donate 1,000 kits with the help of the community to HealthMPowers, a local non-profit.
Secondly, I'm also just really proud of our team and the products we create. We work really hard to create thoughtful, meaningful activities and videos that resonate with children and their grown-ups. We purchase from local farmers- over 50% of our products feature black and brown farmers and women. This representation is so important, since we want our end user- the kid to be able to see someone that looks like, and for them to imagine themselves being a chef or a farmer!
Links:
Connect with Erin & Asata —  Website  |  Facebook  |  Instagram  |  Twitter  |  LinkedIn (Erin)  |  YouTube
Learn from the other woman making HERstory in food and beverage
Check out other featured guests on the Eating at a Meeting podcast
Cover 📷   @kateblohm
OTHER WAYS TO ENJOY THIS POST