History Lessons & Cocktails — A Woman Making HERstory
Eating at a Meeting Podcast Episode 57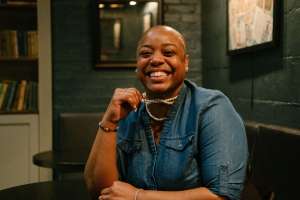 A bartender who gives history lessons with every cocktail she serves? You bet! Her name is Tiffanie Barriere, aka "The Drinking Coach" and her main goal is education, service, and fun with every pour.
Her history lessons pay homage to her ancestors, culture, and family, as well to the labor of the Black women before her who shaped the modern-day hospitality industry. Her cocktails are inspired by history, designed from the heart, and connect culinary and farm culture with spirits.
Listen as the Tastemakers of the South award-winner, former beverage director of the "Best Airport Bar in the World," and a bartender's bartender on how she is making HERstory as an influencer and educator talks about "grass to glass," how she was be remembered in history and what her grandmother taught her about life.
How did you get here?
I come from a great family who has a cocktail with most meals. I carried that into my adulthood and became a bartender early in age. Currently I make a point to add black history and the importance of black lives in hospitality to American culture to every workshop.
How are you making a mark — HerStory — in the global food and beverage system to ensure it is safer, more sustainable and inclusive?
We must always give back to the soil that gave to us. I make a point to use all parts of my produce for juicing, reusing or composting.
Links:
Connect with Tiffanie —  Website  |  Facebook  |  Instagram  |  Twitter
Cover image by Tiffanie Barriere – read her history lesson with this cocktail
Check out other featured guests on the Eating at a Meeting podcast
Learn from the other women who are making history in food and beverage
OTHER WAYS TO ENJOY THIS POST