Elevating Food Allergy Safety
Eating at a Meeting Podcast Episode 53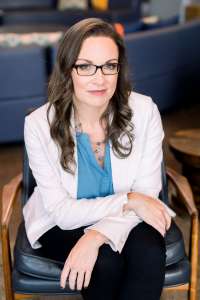 Shandee Chernow has taken her knowledge and personal experience with life-threatening food allergies to create a business that is revolutionizing dining for allergy sufferers and restaurant owners that highlights the need for better food allergy safety.
In this episode, as founder and CEO of CertiStar, Shandee shares her story, including a traumatic reaction, explains the anxiety and frustration that comes with eating out with a life-threatening food allergy and how technology can help both restaurant owners and food allergic guests feel safer in the dining experience.
What do safe, inclusive & sustainable food and beverage experiences look like to you?
Food and beverage experiences should be the same for every diner. Food allergic people should not have to have a spotlight shining upon them or have to spend inordinate time with the restaurant staff to figure out what's safe. The relationships between the diners should be the focus of conversation and time, not food allergies.
Do you have an example of a situation that negatively effected you and/or other individuals or groups' food and beverage experience?
There are too many to list here, particularly around work meetings and meals.
What do you wish people knew about what you do?
I wish people would understand that we make dining out easier for both sides. We make it easier for the restaurant to serve food allergic people. We make it easier for food allergic people to communicate with the restaurant.
What is a best practice you use/or have seen to create safe and inclusive F&B experiences?
That food allergies are not a choice. I always ask that people not exaggerate preferences into allergies and that people with allergies don't minimize their reactions so as to be less of a pain.
Links:
Connect with Shandee —  Website  |  Facebook  |  Instagram  |  Twitter  |  LinkedIn
Check out other featured guests on the Eating at a Meeting podcast
OTHER WAYS TO ENJOY THIS POST