Ever since my first lick of ice cream, it has been an endless love story. Trading my toy out for ice cream at Chick-fil-a was the easiest decision I ever had to make. I spent every spring, summer, fall, and winter craving ice cream when I was happy, sad and anywhere in between. After giving up dairy, I thought my long and faithful love story with ice cream had come crashing to an end, but I soon realized how many other options I have.
The first destination on my road to discovering dairy-free ice cream options landed with the classic sorbet. This dairy- and nut-free option is also free of most common allergens while maintaining a delicious taste. Sorbet has sat back seat to ice cream for years, but at almost nearly any ice cream store you can find sorbet. It's very sweet, so it easily curbs any sweet tooth. While it might not be quite as creamy as regular ice cream, it's a great way to satiate your sugar cravings and quench your thirst at the same time.
One of the things that made me fall in love with ice cream is its creamy texture that melts in my mouth. Although sorbet may not feature this, there are numerous vegan, soy, nut and coconut-based ice creams that provide the same creamy texture and offer the same variety of flavors — chocolate, fruit, cookie, caramel and more.
What's awesome about all these new options, these new "alternative" ice creams and desserts have made their way not only to the ice cream display on the storefront but into grocery stores too. Many name brand ice cream store chains also sell pints and tubs of ice creams in stores so you will be able to find dairy-free ice cream from Haagen-Dazs and Ben & Jerry's. However, there are also numerous other brands that sell dairy free ice creams in stores that aren't quite as well-known, such as Outshine, Coconut Bliss, Tofutti, and SO Delicious. You can experiment with all of these different brands and flavors to find which one hits the spot when you are sitting at home.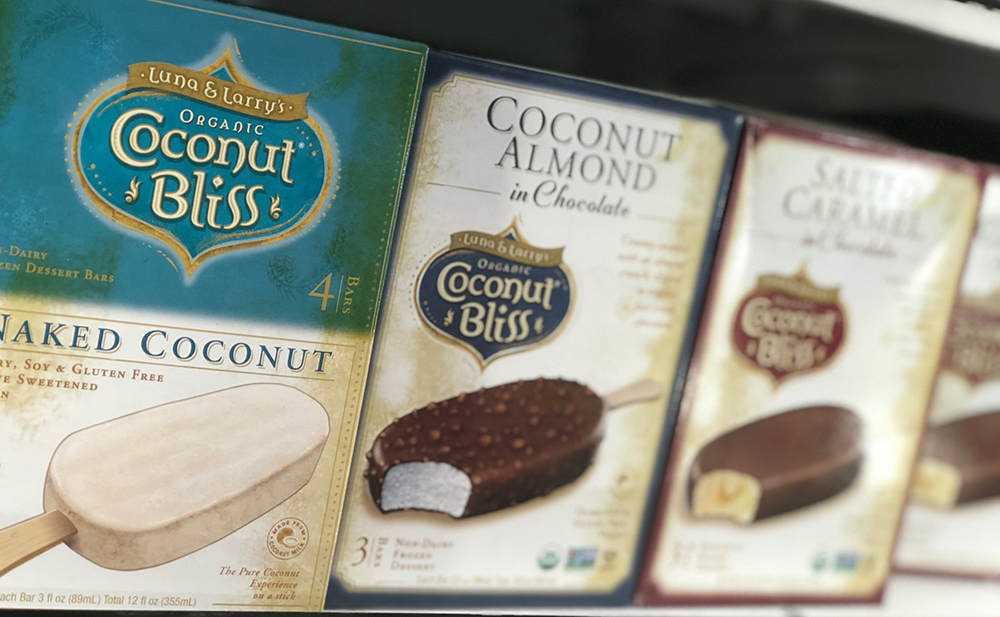 In the past eight months since I have gone dairy free, I have discovered numerous alternatives. There are now vegan ice creams, cashew ice creams, coconut ice creams, and even a to-die-for non-dairy, chocolate salted fudge truffle ice cream from Haagen-Dazs. The truth is that it has now become much easier for people who are allergic to dairy or who simply choose to refrain from it, like me, to find delicious alternatives to their favored dessert. You no longer need to give up a little bit of heaven in order to eat safely and maintain your diet choices. The wonderful world of dairy-free ice cream has only begun.
Haagen-Dazs Non Dairy Flavors [list icon="icon: check-square-o" icon_color="#d81c5c"]
Chocolate salted fudge truffle

Coconut Caramel

Coconut Cookies and Creme – Trio Crispy Layers

Crunchy Peanut Butter – Trio Crispy Layers

Mocha Chocolate Cookie

Peanut Butter Chocolate Fudge

Mango Sorbet

Peach Sorbet

Lemon Sorbet

Raspberry Sorbet
[/list]
Ben & Jerry's Non-Dairy Flavors
[list icon="icon: check-square-o" icon_color="#d81c5c"]
Cinnamon Buns

Peanut Butter Half Baked

Caramel Almond Brittle

Cherry Garcia

Chocolate Fudge Brownie

Chunky Monkey

Coconut Seven Layer Bar

Coffee Caramel Fudge

P.B. & Cookies
[/list]
Berry Blend

Strawberry Banana

Sunrise Blend

Tropical Blend
[/list]
All of this company's products are dairy-free. They create cashew milk, coconut milk, almond milk, and soy milk desserts. They also create many other dairy-free products such as creamers and yogurt alternatives.
I grew up avoiding a large quantity of dairy, for it had always aggravated my stomach, but it wasn't until I had a hard time breathing during exercise that I gave up all dairy. There have been studies that show dairy can cause inflammation, so I believed by eliminating dairy from my diet it might reduce inflammation in my lungs. Not too long afterward, I also gave up gluten for the same reason. Although I came to learn that my difficulty breathing came from something called vocal cord dysfunction not asthma or inflammation in my lungs, I continued to follow a gluten and dairy free diet. I found that my energy was more consistent. I no longer felt like I went through random spikes and falls in energy. It helped my mood, and I felt more level emotionally. I had fewer stomach aches and nausea. All around, this new dairy and gluten and dairy free diet worked perfectly for me as an athlete. I have now been following this diet for close to eight months. This new diet has made me more passionate about awareness of allergens in the workplace and restaurants, the field my aunt works in, as I have seen first hand how hard it can be to order from a menu, and I am not allergic. I want people with all allergies and preferences to feel safe and comfortable with their diet, whether they are in the workplace or at a restaurant, or looking around a grocery store. There should be yummy food out there for everybody.
---
Ellie Stuckrath is currently a senior in high school who is an avid reader and a soccer player. She is getting ready to play collegiate soccer at Bowling Green State University to study geology.