From employee picnics and business lunches to association conferences and corporate conventions, food-allergic employees and event participants have a lot to navigate when at work or business and social functions .
As professional meeting professionals, we have a duty of care at all times. People must be able to trust us with their health and safety while they are at the meetings and events we plan. To justify that trust, we must make the care of our event participants, supplier partners, exhibitors, speakers, sponsors and staff our first concern, treating them as individuals and respecting their dignity and their needs. That includes ensuring our food-allergic event participants are prepared and served food that, to the best our ability, meets their needs.
I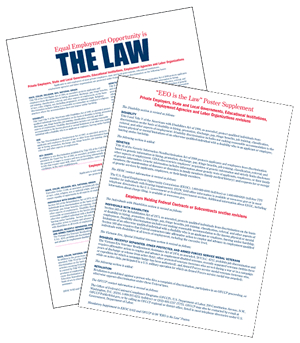 n 2008, "eating" as well as a list of bodily functions were added to the Americans with Disabilities Amendments Act of 2008 as "major life activities."  That means a food allergy (or other conditions that impel an individual to each a specific way to maintain their health) may now be considered a disability under current federal laws, such as Section 504 of the Rehabilitation Act of 1973, Title I of the Americans with Disabilities Act of 1990 (ADA), and the ADA Amendment Act of 2008.
It also means that if an event is either mandatory or considered a benefit of employment—manager's meeting, sales conference, family picnic, holiday celebration—and/or it is held at a place of public accommodation—hotel, convention center, park—we need to provide meal(s) that accommodates their needs.
Here are eight ways to meet our attendee's needs.

Ensure your event registration process provides for clear identification of needs and explains the process your attendees will experience at your event—will they be getting meal tickets, how food will be labeled, who is their onsite contact at the event.
Communicate the needs of your attendees to your food and beverage partners well in advance (more than a week) of the event so they can properly prepare to meet the needs. They may even be able to plan your entire menu without a specific food allergen.

Provide refrigerators in their rooms free of charge, if needed to store food or medication. Food allergic people always travel with foods they know they can eat just in case the meeting or event does not accommodate them. But this does not mean they should rely on only that food.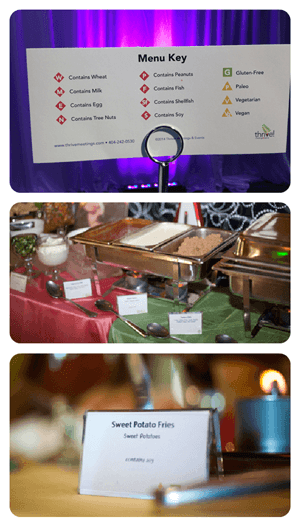 Be transparent about the food you're serving. Labeling buffets and/or menus with allergens will decrease attendee anxiety and help ensure their safety and can remind other participants that food allergens are present and alert them to be cautious about cross-contact.
Communicate with your chefs and banquet captains so everyone understands what ingredients are in the food being served and how to provide alternatives.

Be familiar with your event venue's emergency procedures. Ask your food-allergic participants for their emergency action plans so that you, your staff and your vendors know what to do in case of emergency.

Develop a plan for communicating with your F&B partners as well as your attendees about issues that might affect their participation in the event. Will there be off-site events that limit catering opportunities? Does the event location limit options?
Create standard operating procedures for allergy safety. These might  include training sessions on food allergies and how to spot the signs of allergic reaction, incorporating signage onto buffets, and defining actions if others participants or staff inhibit your efforts to provide meals  that accommodate food allergies (e.g., tampering with food, or eating food that contains an employee's allergen in a meeting).
As event planners who maintain exemplary standards of professional conduct at all times and encourage the integration of ethics into all aspects what we do, ensuring our food allergic guests are safe and provided meals that are of equal value and quality is just part of that standard excellence.