When we're planning events, we think carefully about the color and texture of the décor, presentations and tablescapes, but how much attention do we pay to the color of the food we serve? Did you ever think that colorful food choices could be used for decor or to make your meals pop?
Karin Hosenfeld, RD, LD, a dietitian in private practice in Dallas says "studies have shown that people eat the same 20 foods or so over and over." I think this theory translate to events as well. How many times have you seen the same continental breakfasts – pastries, fruit tray — break options that include candy bars, popcorn, pretzels; and reception menu items of spanakopita, stuffed mushrooms and chicken skewers?
Whether designing the room or the plate, the colors can affect how we behave, react and even eat. By understanding the benefits of the natural colors of food, we can enhance our participant's health while adding some flair to the room for no extra fee.
The following color palate showcase the health benefits as well as the food options for each:
Light Green/White
Benefits: Protects the eyes and fights cancer-causing agents.
Options: broccoli sprouts, Brussels sprouts, cabbage, cauliflower, turnips
What to serve: Roasted Brussels sprouts and cauliflower
White
Benefits: Boosts immunity, lowers cholesterol and controls blood pressure.
Options: garlic, leeks, onions and shallots
What to serve: roasted garlic
Orange
Benefits: Keeps eyes, bones and immune system healthy and protects against cancer.
Options: carrots, mango, pumpkin, sweet potatoes
What to serve: gluten-free pumpkin donuts, carrot soup, and sweet potato cornbread.
Orange/Yellow
Benefits: Helps prevent heart disease, some cancers and vision loss.
Options: apricots, cantaloupe, oranges, papaya, tangerines, winter squash
What to serve: freshly squeezed juices.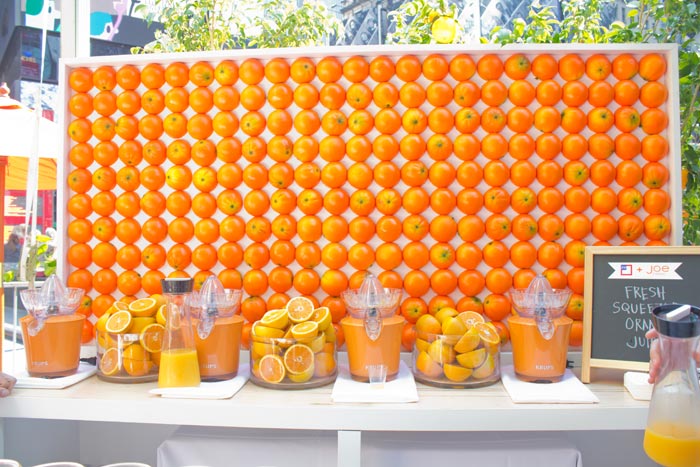 Red
Benefits: Reduces the risk of cancer and heart disease.
Options: pink grapefruit, watermelon, tomatoes, red peppers
What to serve: pink grapefruit and watermelon for breakfast, tomato and watermelon gazpacho for lunch, fresh sweet pepper and tomato salsa for breaks and roasted tomatoes as a side dish at dinner.
Blue & Purple
Benefits: Promotes circulation.
Options: blueberries, blackberries, purple cabbage, eggplant, purple grapes
What to serve: blackberries and blueberries smoothies, fresh cabbage coleslaw for lunch, roasted eggplant lasagna, purple grapes
Ditch the water bottles and soda for some citrus or blueberry or blackberry-infused water. Not only can you cut costs, you're creating a pretty buffet and providing Vitamin C without a lot of effort.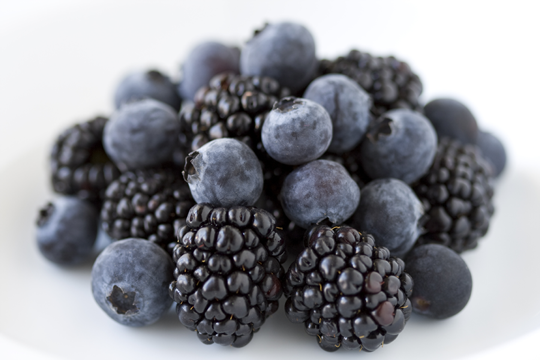 Yellow/Green
Benefits: 
Options: Artichoke, Corn, Lettuce, Summer squash, Wax beans, Arugula, Chard, Collards, Mustard greens, Turnip greens
What to serve: sautéed greens, roasted artichokes
Dark Green
Benefits: Lowers risk of cataracts and macular degeneration.
Options: Avocados, broccoli, collard greens, cucumbers, spinach, zucchini, kale, kiwis, green bell peppers, and cabbage, asparagus, zucchini, green beans
What to serve: freshly made guacamole, tomato, avocado & mango salad, crudité with hummus.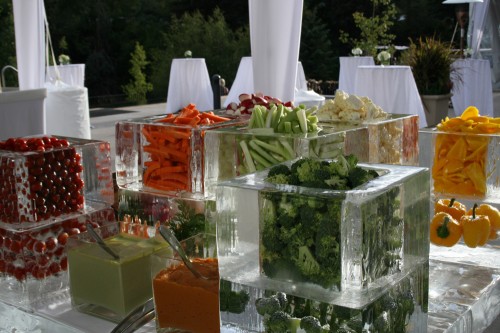 If you don't see many colorful foods offered on the menu, ask the chef what you can do to add more color with fresh, locally grown fruits and vegetables.
And know, you don't have to completely overhaul your menus overnight. Make little changes with each meal and each event. You're participants will feel so much better for it. And, you'll have happier healthier guests.