This is the first in a series of posts on evaluating hotel banquet menus for event attendees with dietary needs.
If you've done your due diligence and asked your guests if they have dietary needs, great job! – but that's only half the battle. Trying to figure out what to serve everyone when you have guests with food allergies, celiac disease or diabetes, others who are vegan, vegetarians or raw and yet others with cultural or religious beliefs that require a specific diet can be daunting.
Allergens are often disguised even in well-labeled banquet menus, and just because you've offered something for everyone to eat doesn't mean their nutritional needs will be satisfied. This process is a bigger challenge if you don't have any special dietary needs of your own and aren't versed in the specificities of each need.
Over the next few weeks, I'm going to go evaluate banquet menus from across the globe to point out where allergens hide, menu items that religious diets "don't" accept and lifestyle choices options that can and cannot be met with the standard menu. The catering menus I've selected are from random hotels across the country and my analysis is no way a judgment of their quality, only a means to illustrate how to read and order from menus for your guests.
Food Allergens in a standard Breakfast menu
The first menu under review is the Breakfast Buffet catering menu from the Hotel del Coronado in San Diego, CA. and we'll be looking at if from the perspective of guests with food allergens and other medical conditions.
Let's first go through the two menu options for the top eight food allergens that cause 90% of all allergic reactions — wheat (W), milk (M), eggs (E), soy (S), shellfish (SF), fish (F), tree nuts (T) and peanuts (P). These are tagged with PINK letters.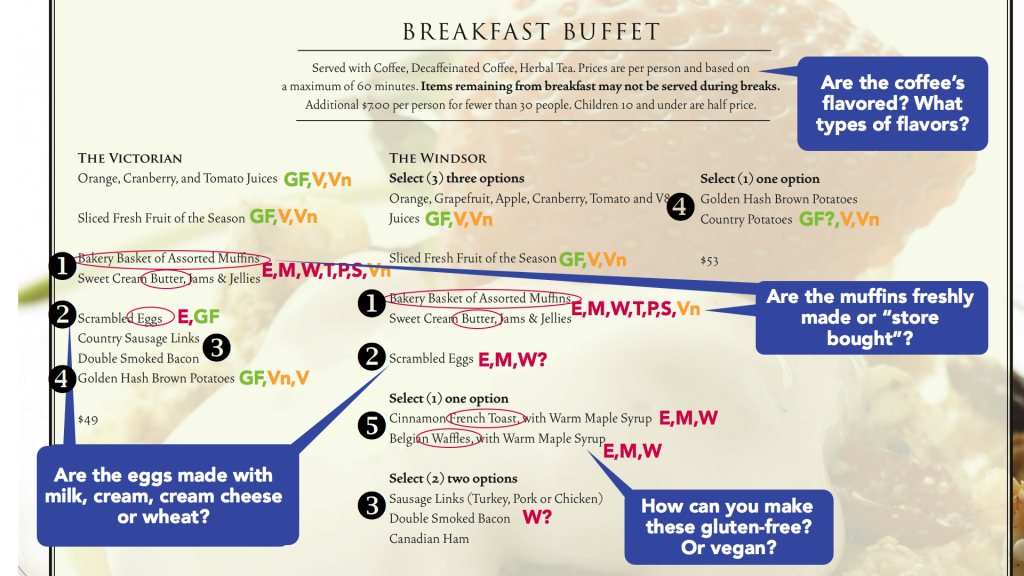 The bakery baskets of assorted muffins have at least three (eggs, milk, wheat) and possibly six (those plus soy, tree nuts, peanuts) of the top eight allergens, depending on how and where they are made. Take this banana muffin mix by General Mills sold to food service establishments. It contains wheat, milk, eggs and soy. And, although it does not list nuts as an ingredient, the picture features a walnut next the muffin.
Also note that I've not tagged these Vegan (V) options because if they are made with eggs or sweetened with honey, they are not animal-free. Yes, most vegans do not eat honey (more on that in the next post). And is the butter served on the side? Butter is not an option for milk-allergic (or vegan) guests.

Scrambled eggs (E). Not only are eggs one of the most common allergens by themselves, some establishments use other allergens to enhance their flavor. Did the chef add sour cream (M), milk (M) or even flour (W) to the eggs to fluff them up? If so, you've just added one or two additional allergens. If wheat was used, you also just eliminated your gluten-free and celiac guests from being able to eat them as well.

Sausage is usually free of the top allergens, but it can't hurt to ask for the ingredient list. Bacon is also usually free of allergens and gluten (G). Of course, sausage and bacon are obviously not proteins that vegetarian, vegan, kosher and halal guests can touch!
When making Cinnamon French Toast (W, S, E, M), the bread is typically dipped in a mixture of eggs (E) and milk (M) before being placed on the griddle. The typical batter for waffles includes wheat flour (W), eggs (E) and milk (M).

Country Potatoes. How were these prepared? What spices were used to enhance the potatoes? Some spices are milled in with flour; other pre-mixed spices may contain gluten.
Therefore, if a guest had a wheat, egg, soy or milk allergy, their only safe bets on either menu would be the juices, the fruit slices, and the sausage, bacon and ham.
Medical Conditions
For those whose medical conditions, like diabetes or celiac disease, require special diets, the discussion changes a bit. Diabetics benefit from a higher fiber and low fat, salt and sugar menu. Based on the menu above, they could have the fresh fruit slices (unless the juice is freshly squeezed, it has added sugar), scrambled eggs (can you also do scrambled egg whites), and the potatoes. With the muffins, could you also serve whole wheat toast? What about adding some oatmeal (certified gluten-free, of course) or whole grain cereal with fresh berries?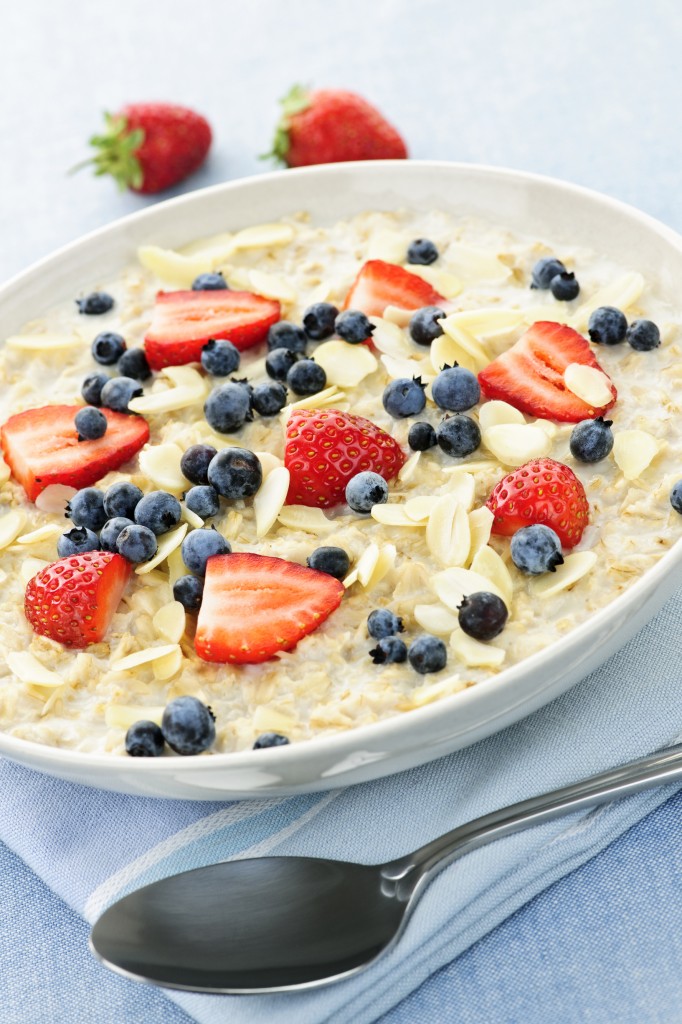 Celiacs (gluten-sensitive) cannot eat anything with wheat, rye or barley, and in most cases oats, because they are typically processed on the same equipment as wheat products and are cross-contaminated. Based on general, no-frills ingredients only, on the above menu, the celiac (G) would be able to eat the juice, fruit, sausage, potatoes, bacon and ham. The eggs are questionable depending on how they are made. Unless the French toast, muffins and waffle are made with gluten-free flours, these are definitely not options for a gluten-free guest.
Summary
Assuming you ask the chef about ingredients, this menu could be fine for guests with allergies. For gluten-free guests, too, although adding gluten-free baked goods or using a gluten-free batter will put a smile on their faces. For diabetics, adding oatmeal and/or whole wheat toast would be beneficial.
Do you have any other suggestions for the menu? Until next week, when I review a breakfast menu for diets related to lifestyle preferences.