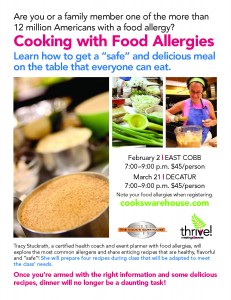 Are you adjusting to an allergen-free or gluten-free lifestyle? Have you been recently diagnosed with a medical condition that requires a new diet? Are you hosting a party and want your friends with allergies to enjoy your food too?
Most importantly, are you looking for something good to eat that meets your dietary needs and those of your family and friends?
There's a class for that! On March 21, 2012 at The Cook's Warehouse in Decatur, Tracy Stuckrath, an event planner with food allergies, will be teaching "Cooking with Food Allergies" class.
In class, you'll not only enjoy a delicious four-course meal that meets the needs of everyone in class, including you, but you'll also learn how to recognize, shop for, and prepare the food that will keep you, your family and friends safe, healthy, and satisfied.
Cost to attend is $45 per person. Advance registration is recommended so Tracy can plan a menu that meets everyone's needs.