Less Is Yes: Surprising and Delighting Guests with Non-Alcoholic Beverages
Eating at a Meeting Podcast Episode #181
Non-alcoholic Beverages are Incredible Tool for Anybody at Sometimes

We learned earlier in January how the non-alcoholic beverage market is growing rapidly not just for #DryJanuary but overall and throughout the year. One wine store owner I talked to last month said that 38% of people of drinking age are choosing not to consume alcohol or are consuming LESS of it.
That is actually why Lauren Chitwood and her two co-founders created the non-alcoholic brand Spiritless. They were three young mothers with eight kids between them who were/are driven entrepreneurs and passionate social drinkers who enjoyed an evening cocktail to wind down from their day.
Just like the majority of consumers buying their alcohol-free spirits and ready-to-drink (RTD) non-alcoholic canned cocktails, they were "feeling the strain of weekday drinks at work dinners, added calories, and sluggish mornings after a few glasses."
Join Lauren and Tracy for #EatingAtAMeeting LIVE as they chat about how they started the business, their experience as female founders in the spirits industry, and how low and non-alcoholic beverages are an incredible tool for drinkers and non-drinkers alike.
Lauren Chitwood
Co-Founder and CEO of Spiritless.
What do safe, sustainable, and inclusive food and beverage experiences look like to you?
All of these words have many different meanings that could be laid into them. At its core, I love hospitality, I love welcoming people, and I love being able to surprise and delight guests. It's what I've done one way or another throughout my entire career. When I think of safe dining experiences, at its core for me that's what Spiritless has always been about — To be able to put something in someone's hand that they are going to enjoy and allows them to make a good choice for them depending on what choice they are making for the evening.
Do you have an example of a situation that negatively affected you and other individuals or groups' food and beverage experience?
If you are at all a consumer of hospitality we all have moments or memories that weren't ideal in many ways but one of the things as a host I learned trying to provide exceptional hospitality experiences is that oftentimes the most constrained guest makes a lot of the picking or selection– where do we dine, what do we eat, etc. Because people try to accommodate the vegan or non-drinker in the group, often times people hold themselves to that common denominator to be most accommodating. If I could remember or think of a time that's been least pleasurable it's when we struggle to find options to put in someone's glass or on someone's plate that they could enjoy when we have a larger dining experience. I always hate to be in that spot where someone's not getting what they need.
What is a best practice you use/or have seen to create safe, sustainable, and inclusive F&B experiences?
One of my favorite things that I've seen accounts doing with Spiritless is on their drink menus they are doing normal regular cocktail menus and instead of calling out a whole non-alcoholic cocktail section or putting a mocktail at bottom of the coke section, they just but an asterisk that says any of these drinks can be made non-alcoholic. To me, that was so exciting and so inclusive and also so sustainable. You're using space wisely on menus and you're allowing everyone to have all those same things just in the way that they want them.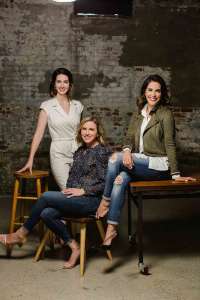 What do you wish people knew about what you do?
I wish people knew that this product is a product for drinkers and non-drinkers alike. The data shows us that. We're seeing every day that the majority of our consumers are sober sometimes, not sober daily. There's still a huge cohort of people that still haven't stepped into the non-alcoholic space only because they think this is a product for non-drinkers or people in recovery where really it's actually the exact opposite. It's just an incredible tool for truly anybody at sometimes.
Just for fun…What are your favorite food and drink?
I love deep intense flavors and as of late, I've been on a major Persian food kick. I'm started to dabble and cook more of it at home. The more you learn about history, Persia was such an incredible epicenter for different iterations for the food we all love and enjoy. I'm deep into Persian food these days and of course, am trying to find how to find a great Spiritless cocktail on some menu somewhere in the US. It's on the top of my list in the drink department.
OTHER WAYS TO ENJOY THIS POST