How to Expand Your Food Choices When Living With Diabetes
Eating at a Meeting Podcast Episode #174
She is NOT the Food Police

Do you ever feel deprived about food?
With a chronic disease such as diabetes, you have to avoid specific foods to avoid reactions. While that may seem simple, there is nothing simple about it.
It takes a lot of diligence to watch everything you eat (quality and quantity), constantly read ingredient labels, and ask questions of servers and chefs about what's in the menu item. What about relying on someone else to choose what you'll be eating when attending a meeting or event?
Deprivation can be felt not just with the food itself, but also with the loss of control over what to eat.
That's where Registered Dietitian and Certified Diabetes Educator Julie Cunningham, MPH, RDN, LDN, CDCES, IBCLC comes in. She works with her clients to EXPAND their food choices, not contract them. She wants them to enjoy as many different foods as they possibly can, without experiencing complications of diabetes.
Listen as Tracy and Julie discuss why she decided to specialize in diabetes, the main message she hopes people understand through her book "30 Days to Tame Type 2 Diabetes," and how to help event attendees with diabetes — how about everyone — enjoy a meal without feeling deprived or worried.
Julie Cunningham
Julie Cunningham is a Registered Dietitian (RN) and Certified Diabetes Educator. She sees clients with diabetes individually in person and online, and she also offers courses for people with diabetes and pre-diabetes who prefer to learn to manage their health at home, at their own pace.
.
What do safe, sustainable, and inclusive food and beverage experiences look like to you?
For me, providing safe and inclusive foods and beverages means there is always an appropriate choice available no matter what a person's health status might be. So, there are a wide variety of choices for different dietary needs, and those choices are clearly labeled from both an allergy standpoint and from a nutrition facts perspective, thus allowing a person to decide whether or not consuming a food is going to work for their health. As far as sustainability, for me that means eating less meat, and eating locally grown food whenever possible.
Do you have an example of a situation that negatively affected you and other individuals or groups' food and beverage experience?
I'm often at meetings full of dietitians or diabetes educators, and often those meetings are sponsored by food companies aimed at reducing calories. There's nothing wrong with that; many people need to reduce calories, but I happen to be a person who gets migraines and my migraines are triggered by artificial sweeteners. So, if I've definitely been to meetings where all the beverage choices contain aspartame, or where all the snacks are artificially sweetened. A migraine isn't life-threatening like a food allergy might be, but it's not much fun. So, I sometimes end up going a little hungry or thirsty, or using my break time to go pay for something I really can eat without worrying about it.
What is a best practice you use/or have seen to create safe, sustainable, and inclusive F&B experiences?
When I worked a small hospital several years ago, the wellness committee decided to undertake a project. All the cafeteria's recipes were analyzed so that nutrition information and ingredients were clearly posted for every single menu item served. It made deciding what to eat much easier for my clients with diabetes, because they could rely on that carbohydrate count rather than making a ballpark estimate.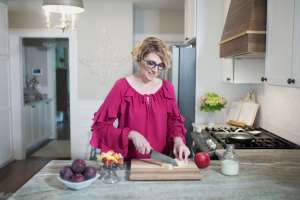 What do you wish people knew about what you do?
I wish people knew that I'm not the food police. I work to expand my clients' food choices, not to contract it. I want my clients to enjoy as many different foods as they possibly can, without experiencing complications of diabetes. Sometimes that means changing what they eat, but often it also means working with their physician to come up with a different plan for their medications.
Just for fun…What are your favorite food and drink?
My favorite food is a spicy Thai veggie stir-fry with ginger from a local restaurant in Hendersonville. It's addictive!
I drink water almost exclusively, but if I were going to drink something else it would be a cold apple cider slushy. You can get one every Labor Day weekend at the Hendersonville Apple Festival.
OTHER WAYS TO ENJOY THIS POST