Farm to Fire — Farm to Table Catering Using Open Fire Cooking

Eating at a Meeting Podcast Episode 152
The Art of Open Fire Cooking
Brandon Snook, pictured here with his grandma Ceese, is owner and chef of Hudson Valley BBQ Company. Brandon takes great pride in using locally sourced ingredients from the Hudson Valley so he can make almost all of the items offered on his catering menu from scratch on event day.
Having grown up in the cattle country of Montana, there was always locally sourced food on his family table and every night, the family sat down to a freshly made farm-to-table meal made from recipes passed down from generation to generation. Another thing he prides himself on offering his wedding clients.
Listen as Tracy talks to Brandon about the art of open fire cooking, which he feels is imperative, land stewardship, and the state of catering. They delve into so much more as well.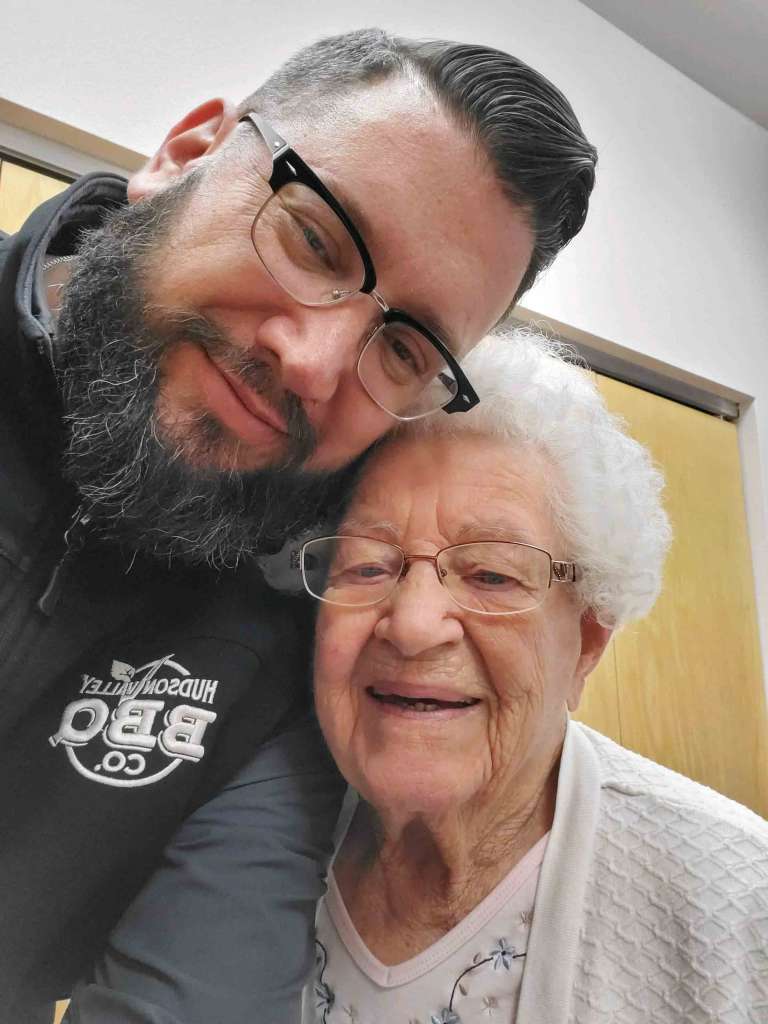 What do safe, inclusive & sustainable food and beverage experiences look like to you?
Locally sourced is the first step of the process. Doing business locally is helpful, but just the first step. One piece that often gets overlooked in my humble opinion is what happens between the farm and the table. Too many catering teams know all the shortcuts to cook food at their place and transport it for service. Taking the trouble to source properly is then wrecked by not honoring any of the food. Cooking food onsite is imperative in my opinion. The art of open fire cooking has been passed down for so many generations and every culture has open fire cooking. We just tie that into our work because we feel it is the best way to cook food. The guests see all of their food being cooked in front of them. An amazing experience at a wedding or party. And the farmers that sacrificed growing the vegetables or nurturing an animal would want that setup. Afterwards, we take most of the leftovers to a local farm and their hogs eat it. After all our dogs get a to go bag of course.
Do you have an example of a situation that negatively effected you and/or other individuals or groups' food and beverage experience?
Not really. Lot of learning experiences, but for the most part, we have a great network in the Hudson Valley of NY. Locally sourcing products is more common than ever and a great chef network that really supports each other. I just get frustrated with where the hospitality world is going with cutting so many corners on making food.
What do you wish people knew about what you do?
Just how lucky I am. We have a staff that works so hard out in the sun each weekend. We have a great network of farmers that raise great products. Growing up on a ranch in Montana, I saw how it took a village to get an animal to market or a crop in the ground. And we get to celebrate weddings each weekend. Our work is brutal tough, from chopping wood to standing in front of a fire in 95 degree weather, but we never have to work in a restaurant.

What is a best practice you use/or have seen to create safe and inclusive F&B experiences?
Listening to the couples/clients. We are still in the hospitality business to help make each event great and we are still hired to feed people. Each menu is 100% customized just for them. we ask them to send over menu ideas from their favorite date night restaurants or family recipes and that is how we build out menus. Being shown how to make a recipe from someone's grandmother that learned it from someone's grandmother kind of stuff. Amazing to pass on knowledge and celebrate at the same time.
Just for fun…What are your favorite food and drink?
Foods – Always a good steak and for some reason Korean Food is my go to if I see it
Drinks – Iced Tea for N/A and I have fallen in love with brown gin. I drink scotch after events when I get home. A glass to unwind while I put my feet up to rest.
OTHER WAYS TO ENJOY THIS POST