The Voice of Bees & Pollinators in Detroit
Eating at a Meeting Podcast Episode #148
Pollination is one of Nature's Marvels and One of the Starring Roles is Filled by Bees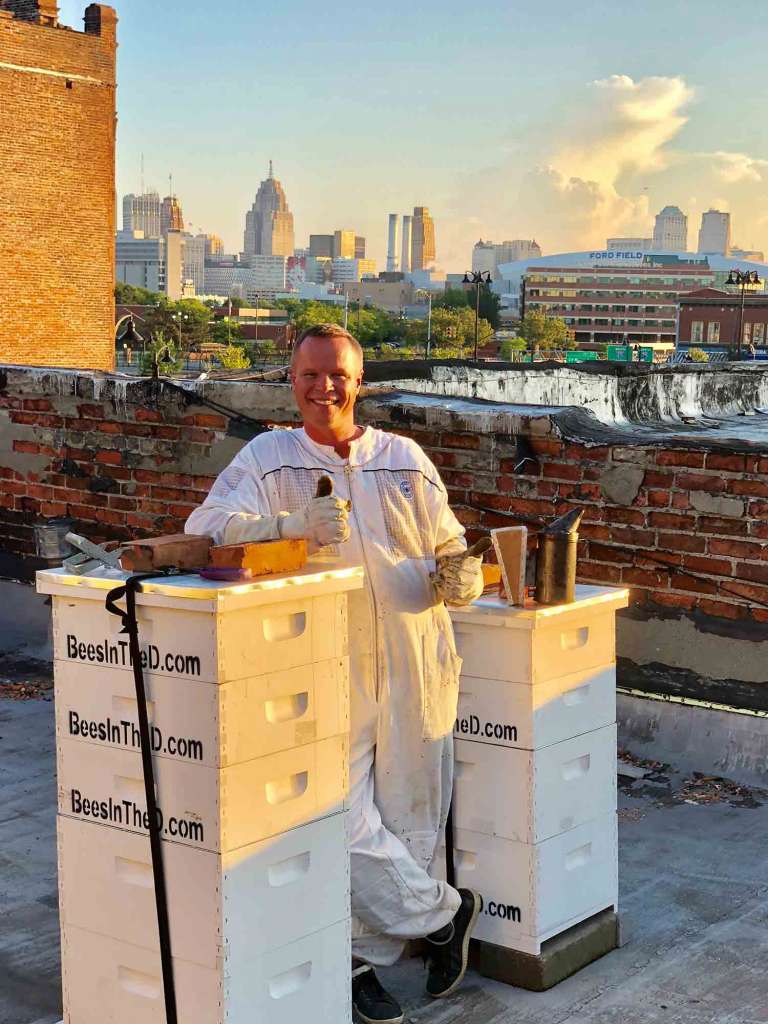 Brian Peterson is a 5th grade teacher, a beekeeper, and gardener. On this episode of Eating at a Meeting LIVE he's going to share how and why pollinators are so important to the food and beverage industry and meetings.
As founder of the nonprofit Bees in the D, he's aiming to bring back Michigan's declining pollinator population and educating us all on the complexities and importance of bees and pollinators to not only our food industry but our ecosystem as a whole.
Join Tracy and Brian, as they discuss how most of our food sources can be traced back to pollination, the mission of Bees in the D and how is that mission being fulfilled.
Brian Peterson
Brian Peterson is a 5th grade teacher, has received numerous awards including, The Presidential Award for Excellence, MSTA Elementary Teacher of the Year, named Crain's Notable LGBTQ Business Leader, and founded Bees in the D, that will be breaking ground for a Michigan Pollinator Center.
What do safe, inclusive & sustainable food and beverage experiences look like to you?
A safe, inclusive and sustainable food experience starts at the root of the source. Most of our food sources can be traced back to pollination. Pollination is one of nature's marvels and one of the starring roles is filled by bees. It is important that we keep the environment of these stars pesticide free not only for their health but for the health of all consumers.
Do you have an example of a situation that negatively effected you and/or other individuals or groups' food and beverage experience?
With pollinators being the base of the food industry it is always heartbreaking to see how humans can have a direct and negative impact on the process. We have witnessed the poisoning and death of bees and their hives due to people using insecticides and pesticides. Humans use a variety of ways to combat insects that are considered pests but fail to realize their actions can also have a fatal result for the insects that are considered beneficial.
What do you wish people knew about what you do?
Quite honestly it is not about me wishing people knew about what I do, but rather what bees do! For this reason, as an educator, it is important that I have the privilege to be a voice for the bees and our pollinators. People have misconceptions and lack of understanding about the complexities and importance of bees to not only our food industry but our ecosystem as a whole.
What is a best practice you use/or have seen to create safe and inclusive F&B experiences?
Bees in the D is very fortunate to have a variety of partners including those that are directly related to the food and beverage industry. The beehives we provide on the rooftops of hotels, breweries, restaurants, and distilleries not only allow for greater populations of these important pollinators but also provide the best resources of local honey to be used for their products and menu items.
Just for fun…What are your favorite food and drink?
My answer is not original but I do love a delicious thin and crispy pizza! As far as drinks I love the multitude of flavored waters.
Links:
Connect with Brian —  Website  |  LinkedIn  |  Instagram  |  Facebook
Check out other featured guests on the Eating at a Meeting podcast
Eating at a Meeting is part of the Nitty Grits Podcast Network.
OTHER WAYS TO ENJOY THIS POST