Rescuing Farm Produce from Going to Waste to Get it to Families in Need
Eating at a Meeting Podcast Episode 60

Gleaning Food from the Farm to Feed those in Need
After 20 years owning and running her own farm-to-table restaurants in Sonoma County, Chef Duskie Estes is now running Farm to Pantry, taking her dedication to sourcing food ethically and advocating for small farmers to fighting food insecurity by distributing nutrient-rich foods to those in need.
This episode of Eating at a Meeting is part of thrive! meetings & events celebration of Women's History Month, honoring women who are doing amazing things in food and beverage. Learn how Duskie is making HERstory by gleaning food from the farm to reduce food waste while also feeding those in her community who need it most.
What inspired/instigated you to do what you do?
An Easy Bake Oven and the desire to make my grandpa happy
As chefs we are givers, trying to make people happy. So for me when I had my restaurant that was showing up for my community – supporting nonprofit events, cooking for firefighters and evacuees in our every year fires. In the pandemic, I was afraid to be in a tight- quartered kitchen with wanting to support my older parents. I went out on a glean with Farm to Pantry at Front Porch Farm in Healdsburg, CA and loved giving of my physical labor for others and the gratification as immediate just like in restaurants. And the gratitude rocks. I get to be Robin Hood on the daily.
In what ways are you using the power of food to empower communities and connect others?
I'm connecting farmers, property owners, volunteers, and families in need to make sure everyone has access to good food. Fruits & vegetables into the boxes & bags at food pantries and food banks while also saving the environment from greenhouse gas emissions created by food waste at the same time!
How do you want to be remembered in history?
A good partner to my husband and a good mom to my kids.
A person that walked the walk and had integrity of word – for me that is my commitment to ethical purchasing. My money is my power.
On the daily, gave back to leave this a better place – I'm a big fan of random acts of kindness
What has been important to you as a woman in the F&B industry?
The support system. I love when women help women rather than view them as competitive. I love my women chef pals in Sonoma county: Chef Crista Luedtke of Boon, Chef Domenica Catelli of Catelli's, Chef Liza Hinman of The Spinster Sisters, Chef Elizabeth Falkner in Los Angeles, Chef Amanda Freitag in New York, and Chef Tanya Holland in Oakland. A bunch of us rode 300 miles together for Chef's Cycle to raise money for No Kid Hungry. I never could have done that without them
We still do not have enough access to capital or media spotlight.
What words of wisdom did your mother/grandmothers/aunts share with you?
Work your fanny off. Women have to be a million times better to land the same opportunities as men.
Who has significantly influenced your life?
Tom Douglas & Eric Tanaka taught me about ethical purchasing and being a good employer and person in community
Katherine Miller & Kris Moon at the James Beard Foundation taught me how to use my voice to make the change I seek.
Obviously, my parents and husband who instilled in that I should fight for what you believe in. They met organizing the Mississippi Summer.
My husband is a renaissance man – he can do everything: tan hides, make salumi, ice cream, pasta, jam… and he has the most patience of anyone on earth.
What are five things do you appreciate about what you do?
Immediate gratification – good food access for all
Connection to source/farmers
Craft – art of combination of taste, plate, source
Building teams – more than parts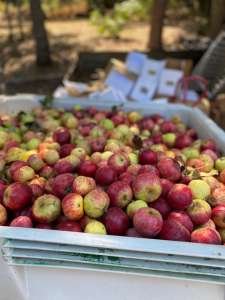 What has been your greatest obstacle?
Work/family balance – impossible in restaurants to be there for both. I felt like I sucked at everything
Loss of restaurant
Getting people to understand the long term cost of cheap food
Who have been your role models? What about them do you admire?
Lou Preston – an amazing farmer, pulled up vineyard for diversity of agriculture. Makes incredible wine, hard cider, olive oil, bread.
Katherine Miller, James Beard Foundation
John Stewart, my husband
Eric Tanaka of Tom Douglas restaurants in Seattle
What have you sacrificed (both personally and professionally) at each stage of your career?
Being with my kids in the way I wanted
Not having more kids
What is your favorite food and why?
Goat Cheese, arugula, salt, pork, meyer lemon
If you could have anyone in the world over for dinner, who would you choose?
Michelle Obama or Kamala Harris – I'm a big fan
Links:
Connect with Fran —  Website  |  Facebook  |  Instagram  |  Twitter  |  LinkedIn
Learn from the other woman making HERstory in food and beverage
Check out other featured guests on the Eating at a Meeting podcast
OTHER WAYS TO ENJOY THIS POST