Vegan Desserts: Marrying Healthy Eating with Sumptuous Tastes
Eating at a Meeting Podcast Episode 41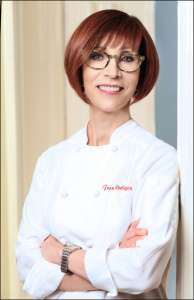 Vegan desserts at event usually amount to a bowl of berries. And, usually most desserts at events usually leave some guests with a desire to have their cake, but having to walk away without eating it too.
Apparently, the pastry chefs at those events have not met or taken one of Chef Fran Costigan's Vegan Pastry classes. She feels that everyone's sweet tooth, including those who are lactose intolerant, vegan, reducing cholesterol, or simply prefer healthy, natural ingredients without sacrificing taste, should be satisfied.
In this episode internationally renowned authority on vegan desserts, Chef Fran Costigan chats with Tracy about how to include everyone at the dessert table easily and unapologetically deliciously.
What do safe, inclusive & sustainable food and beverage experiences look like to you?
Access to good clean food is everyone's right. It is s not a privilege. Food waste is a sin. Today we have to make sure that food is safe for the exponentially growing population with dietary considerations.
Do you have an example of a situation that negatively effected you and/or other individuals or groups' food and beverage experience?
When I go to a conference for example and there are no viable vegan options, and this has happened at professional events, it feels as if it is 30 years ago. Both alcoholic and nonalcoholic beverages must be offered. At the least, not catering to people's dietary considerations is annoying, at worst it can be a matter of life and death. Plant based foods are inclusive, not exclusive.
What do you wish people knew about what you do?
I was the mother of preteens when I went to culinary school. I loved my work as a pastry chef but increasing digestive upsets and fatigue meant I had to leave. I studied the connection between food and health and eliminated dairy and all animal foods from my diet. I felt great and never looked back. As a grandmother, I take zero meds.I take seriously the wide-ranging allergens that the exponentially growing population of people are experiencing. My recipes are all vegan, can be soy, nut, gluten-free as needed but the fact that they are unapologetically delicious means that everyone can eat together.
What is a best practice you use/or have seen to create safe and inclusive F&B experiences?
Make and serve variety of foods that are safe for most dietary considerations. The food must be delicious and attractive. When it comes to celiac, a dedicated facility is a must.
Links:
Connect with Fran —  Website  |  Facebook  |  Instagram  |  Twitter  |  LinkedIn  |  Pinterest
Check out other featured guests on the Eating at a Meeting podcast
Cover image – Bittersweet Cashew Cream Truffle Squares by Fran Costigan
OTHER WAYS TO ENJOY THIS POST