The Disability Diplomat
Eating at a Meeting Podcast Episode 36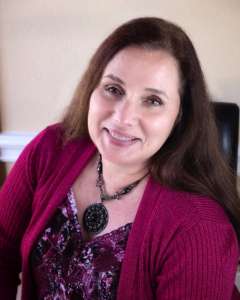 Donna Mack is a speaker, trainer, consultant, and (in her words) "always the last one chosen for Pictionary." She brings a lifetime of disability customer experience that has resulted in more than 35 years of training, presenting, and consulting on disability access and inclusion. She served on ADA Access Committees for both AT&T Stadium and Globe Life Field, and has planned and hosted local, regional, and national events specific to the disability community.
What do safe, inclusive & sustainable food and beverage experiences look like to you?
Safe, inclusive, and sustainable food and beverage experiences are those in which staff are informed about the dietary/nutritional, accessibility, and social needs of meeting participants. They also need to be available to put this knowledge to work by providing information regarding food prep and the like, to meeting participants, as well as to assist with the access needs of attendees. (This could come in the form of helping attendees who are blind or visually impaired by offering to walk with them through a buffet line, and potentially carrying their plate and guiding or directing them to an empty seat.
Do you have an example of a situation that negatively effected you and/or other individuals or groups' food and beverage experience?
(Pre-guide dog) As a teenager, I attended a large, casual function where a hot lunch was served on (heavier) paper plates. I was holding my plate in one hand (because I was either using my cane to maneuver through the line, or holding the arm of a fellow attendee/guide). The weight of the food caused the plate to give way and spill. Adult Me would've asked for help early on, but NOT super embarrassed teenage Me.
What do you wish people knew about what you do?
I wish more people understood that we will ALL acquire some form of disability…if we don't DIE first! By investing in disability access and inclusion today, we're investing in our own futures and the futures of those we love.
What is a best practice you use/or have seen to create safe and inclusive F&B experiences?
Providing covered containers for transportation of hot liquids, such as drinks and soups.
Links:
Connect with Fran —  Website  |  Facebook  |  LinkedIn
Check out other featured guests on the Eating at a Meeting podcast
OTHER WAYS TO ENJOY THIS POST