World Wildlife Fund Hotel Kitchen Program offers Guidance on how to reduce, recycle and repurpose throughout the event food chain
Why would the World Wildlife Fund, get involved in what happens in hotel kitchens? After all, WWF is all about protecting species and habitats and natural resources conservation, not bagels, brioche, and breakfast buffets. But when you consider that World Wildlife Fund also aims to transform markets and policies to reduce the impact of the production and consumption of commodities, it starts to make sense.
In the U.S. alone, we waste or lose 30% to 40% of all the food we produce, and 40% of that waste is coming from customer-facing businesses like hotels, says the WWF. And when we waste the food, we also waste everything that went into producing the food, including clearing land to be used for agriculture or grazing, the largest driver of biodiversity loss on earth, according to the Convention on Biological Diversity.
As Pete Pearson, WWF's senior director, food loss and waste, points out, "The tradeoff for all this food waste, ultimately, will be no Amazon rainforest, no African lions, no more Great Plains in the U.S. Is this the tradeoff we want to leave as our legacy?" Pearson, who spent 10 years working as sustainability director in charge of trying to get the 2,000 stores of one of the major U.S. supermarket chains to reduce, donate, and compost food waste, understands all too well the challenges involved.
"We have gotten comfortable with the idea that waste is an inherent part of delivering to customer expectations, but we don't have that luxury when food is the single biggest engine driving biodiversity loss, loss of land, loss of water, and increased carbon emissions," he says, adding that more than 70% of biodiversity loss is estimated to be linked to food production and agriculture.
Enter Hotel Kitchen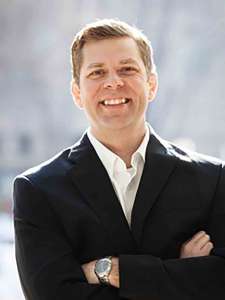 Pete joined the World Wildlife Fund in 2015 to develop a blueprint for tackling the issue of food waste from hotels and other customer-facing industries, such as hotels and supermarkets. With U.S. hotels serving $35 billion in catering and banquets every year, it seemed a good place to start.
One of the first projects they tackled was what is now known as Hotel Kitchen, a hands-on, practical guide to how hotels can reduce food waste, recycle what they can, and repurpose what can't be eliminated or reused. Developed in partnership with the American Hotel and Lodging Association and supported by the Rockefeller Foundation, Pete and his team worked with 10 hotels that were willing to serve as demonstration sites to test the best ways to go about reducing food waste. Oh, and not so coincidentally, also lower costs for food and food-waste hauling, better engage staff (90% said they wanted to do something about food waste), and enhance their sustainability credentials with their meeting planner partners.
There is a tremendous wealth of resources available at HotelKitchen.org, from the toolkit itself, to case studies, to creating a culture that is committed to reducing, and better managing, food waste. There's even a whole free training video series hotels can use to train their staff in best practices, and the program is being expanded globally, with projects currently underway in Ecuador, Greece and China, and making the toolkit available worldwide by translating the materials for the non-English–speaking world.
But We Need Our Bulging Buffets
But even with all these resources at hand, uptake is slower than hoped for, he says, in large part because venues — and planners — are still leery that somehow reducing food waste will somehow take away from the experience attendees and other customers have come to expect. Is it really a good buffet if it doesn't have a leaning tower of pizza or a giant mound of meats? Yes, it will change the visual aesthetics of the meal, but Pete looks at it more as a creative challenge than a limitation — how to make it visually beautiful without those piles of food, much of which likely will end up in the landfill.
It's not as hard as one might think. He cites a Hotel Kitchen workshop they did in a hotel that at the time basically did nothing in terms of food waste reduction and excess food donation. "I took the whole workshop out to the buffet we had for lunch and said, 'Look at this huge plate of sandwiches that no one is going to eat. How could we do this differently?' We figured out some options in about 10 minutes. It just takes a little work."
But he recognizes that taking on a little more work may not look too enticing to your typical overtasked hotel executive chef and her staff. "I have such respect and empathy going into every conversation," he says. "But sometimes you can find that one person who gets it and wants to do it."
Planners Can Make Shift Happen
Meeting professionals, he says, are key to the future of venue food waste management. "You are the intermediary between the hotels and the public. You represent a shift in momentum." In fact, he is looking to put together a small focus group of meeting planners to talk about the best ways to change the narrative without upsetting people. "I'm not advocating putting up pictures of the burning Amazon forest and saying, 'Better clean your plate,' but we need to find a way to dance along the line to get people to think about and appreciate the impact of food on the environment, and how to not create waste in the process." (If you are interested in being part of that conversation, let me know and I'll give him your contact information.)
"We need to ask more questions, to put more pressure on the system as a whole," he says. "Ask how any leftover food we have prepared can be packaged and go to feed people in the community, at a minimum. This issue of donating still comes up all the time —the hotel community will push back on the planners, saying that it's not possible, it's illegal, that they don't have the means to do it.
"I say, if the MGM in Las Vegas can donate thousands of meals every day, it is legal and it is possible. It just takes some will and a community that is invested in seeing everybody do it."
And it does take a community, he adds. It's great if one hotel wants to develop a food waste prevention and mitigation program, but it's even better if that hotel can also influence 10 nearby hotels (or restaurants, or supermarkets) to do the same. "Once you get the community involved, it scales much better, and the impact is huge."
One piece of work in the U.S. he finds encouraging is the Pacific Coast Collaborative, in which California, Oregon and Washington states, along with British Columbia, have committed to the United Nations' Sustainable Development goal of reducing food loss and waste as a means of mitigating hunger as part of their goal to build the low-carbon economy of the future.
"Now that the states have committed to this goal, we need to recruit the private sector to measure and record food waste on an annual basis so we can see the progress over time as we move toward the 2030 end date. "This is going to require everyone in the value chain to be bold. Not just hotels, but also grocery stores, restaurants, farmers, and food manufacturers.
"Let's get the West Coast to be our shining example of how to get this done."