Feeding Employees at Work: An Opportunity to Enhance Well-being
As a meeting planner, I have a duty of care to ensure that the food I order for an event is delicious and safe for all participants. Every good meeting planner, CEO, and human resources professional understands that fostering a safe and inclusive workplace is good business—but in some cases, it is also the law. And, if you didn't know it before, the law includes food and beverage served in the workplace.
Food Allergy Research and Education (FARE) estimates that 15 million Americans (5 percent of the U.S.) have food allergies, nine million of whom are adults. The prevalence of celiac disease is estimated to be as high as one in every 133 individuals (1 percent or 2.5 – 3 million people) in the United States with only 17 percent of those individuals having been diagnosed.
You might not think that's a lot, but consider that six percent of YOUR workforce either has food allergies and/or celiac disease. Also, you might not think that food allergies or celiac disease in the workplace are an issue. Consider where you find food in the workplace. It's more than just conferences, special events, and incentive trips. In fact, those are just a fraction of where employees come into contact and consume foods and beverages while on the job:
[list icon="icon: check-square-o" icon_color="#d81c5c"]
Staff meetings
Company picnics
Holiday parties
Birthday celebrations
Vending machines
Corporate cafeterias
Company stores
Staff kitchens
Employee refrigerators
[/list]
[list icon="icon: check-square-o" icon_color="#d81c5c"]
Recruiting events
Cooking Classes
Board Retreats
Sales conferences
Awards banquets
Fundraisers
CSR activities
Incentive trips
[/list]
It's a lot, right? Can you think of more? I listed these for three primary reasons. First, because in each of these circumstances, your organization can be held liable if an employee gets sick—even if he brings his own food or if the event is held at an off-site location. Second, because with prudence, forethought, and guidelines, you can create safe food environments in the workplace—and, by extension, improve the lives of your employees. And third, it is both Food Allergy Awareness Month (#FAAM17) and Celiac Disease Awareness Month (#CDAM17). What better time (than always) to educate and advocate for your employees with these potentially life-threatening dietary needs.
How can you be Liable?
The Rehabilitation Act of 1973 prevents discrimination on the basis of disability in programs and organizations that receive federal funding. The Americans with Disabilities Act of 1990 (ADA) was passed as an effort to expand the anti-discrimination protection to the private sector. While these laws were traditionally not interpreted to consider food allergies or other dietary needs as a disability, in 2008 that changed.
In that year, the ADA was amended (ADAAA) and the law redefined to dramatically expand the definition of "disability" by modifying key terms. The list of "major life activities" was expanded to include, but not be limited to: caring for oneself, performing manual tasks, seeing, hearing, eating, sleeping, walking, standing, lifting, bending, speaking, breathing, learning, reading, concentrating, thinking, communicating, and working. The law also incorporated "major bodily functions," which include, but are not limited to: the functions of the immune system, digestive, bowel, bladder, neurological, brain, respiratory, circulatory, endocrine, and reproductive functions.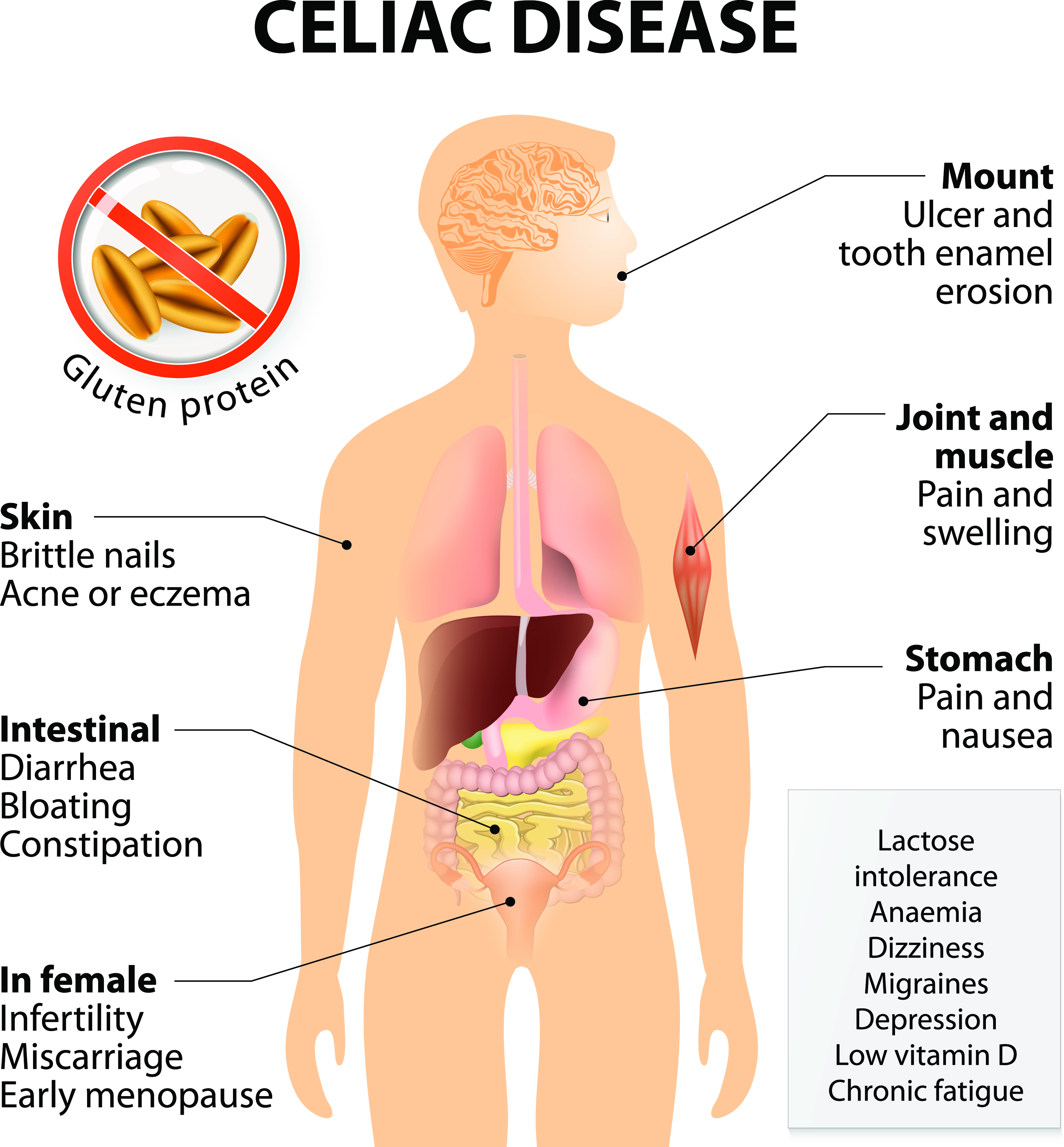 Did you notice that "eating," "breathing," "immune" system and "digestive" functions are included in the amended law? Only a few of the bodily functions and major life activities affected by food allergies and celiac disease.
By expanding the definition of a disability, the ADAAA has had a powerful impact on organizations. Not only is there a greater risk of negligence liability regarding food allergies and celiac disease in the workplace, but discrimination based on dietary needs can take the form of harassment, bullying, threats, and retaliation by co-workers and companies themselves. This is all on top of the possibility that an organization may simply be ignoring employee needs when providing food and beverage in corporate cafeterias, vending machines, and at company meetings and events.
Food Allergies and Celiac Disease Affect Employee Well-being
When attending a meeting, event, or outing with food, employees who maintain special diets because of food allergies or celiac disease do not have the same sense of "food freedom" as other employees. They are often faced with a very limited selection of food options.
Hayley, who has celiac disease and an allergy to tree nuts, says her conditions "take away that carefree approach to eating and the sense of food adventure I wish I could have." Even a decade later, she finds herself suffering from something akin to grief, related to food, which hits her every so often.
At staff meetings when someone apologizes for not remembering to provide gluten-free options for Kate who has also has celiac disease, she feels slighted and isolated. Typically she wouldn't be upset for not having an option to eat, but when someone reminds her that they knew about her need, but brought nothing for her they have almost purposefully spurned her.
Kathy finds it disrespectful when co-workers respond with daft comments like, "Oh, that's why you are so skinny," when they notice she is not eating the cake or donuts offered on the buffet because she is gluten-free. She blames it on a lack of understanding that she has a medically necessitated need to avoid gluten, garlic, and onion.
Jen's CEO makes fun of her and her gluten-free diet in front of other co-workers and questions her ability to do her job if she cannot taste the food she is ordering for events.
Alex lost two weeks of work over a three month period because she was hospitalized for allergic reactions to shellfish that occurred at work, even after she had informed her boss and HR manager. They elected to ignore her allergies and the mandate from the Massachusetts Commission Against Discrimination.
On the other hand, Carol remembers an event she attended in London where the hotel catering team totally made her feel a part of the company event instead of the "odd one out." She said, "when we went to High Tea, all the food that came out looked the same. The only difference was that mine was actually gluten-free, including the bread and the desserts! And at breakfast, they came out with gluten-free toast for me. At dinner, whatever meal I wanted was prepared gluten-free. My own breads and desserts came out – no fuss – just as part of the dining experience. This was such an enjoyable eating and work experience for me."
And Hayley says her co-workers have been wonderful—really putting in an effort to ensure there are safe options for her. Their consideration and care for my well-being were immediately apparent when she started working at her office.
How to Create Safe and Inclusive Food Environments
Recognizing and appreciating the dietary needs of employees with food allergies and celiac disease can help employers provide food and beverages that are not just healthy, but safe and inclusive… attributes critical for well-being.
[list icon="icon: check-square-o" icon_color="#d81c5c"]
Label menu items with allergens. At a minimum ID the top eight allergens (wheat, soy, egg, milk, tree nuts, peanuts, fish, shellfish). If you know there are other foods employees are allergic to, ID them as well.
Ensure the cafeteria staff are trained and follow food safety practices.
Provide gluten- and allergen-free options in vending machines.
Establish food-safety guidelines in employee kitchens.
Offer lunch-and-learns for employees so they can be better informed about food allergies and celiac disease.
Ensure menus for meetings and events have quality offerings and plenty of options for the food allergic and celiac employees.
[/list]
When employers provide workplace accommodations for people with food allergies and celiac disease they create environments that emphasizes employee well-being, authenticity, and inclusiveness, showing employees they are supported and appreciated.
If you're an HR manager or well-being officer looking for help with the daunting task of implementing food and beverage best practices, Tracy can help. Hire Thrive! for menu planning and for consulting on food safety, labels, compliance, lunch-and-learn leadership. Our expertise and experience spans a decade of event planning and worldwide educational speaking events on current topics in food and beverage, dietary needs, food safety, cooking classes, and more.