Five Ideas for Frightfully Festive Cocktail Hour Fare
Halloween parties are a fun opportunity to get creative while maintaining that special balance between making everything look creepy and delicious at the same time. It's almost an art form and the catering craft has certainly seen its share of epic wins and brutal scares.
One thing that shouldn't be scary on Halloween is knowing whether the food is safe to eat. Anyone with food allergies can attest to the difficulties inherent in eating at parties. Add to that the additional vigilance needed when meals are disguised for a theme and it can often be difficult to even recognize what a dish is, much less what's in it.
Here are a few fun Halloween themed dishes from around the web and a few pointers on how to help custom eaters navigate your haunted helpings of snacks, dips, desserts, and boozy brews.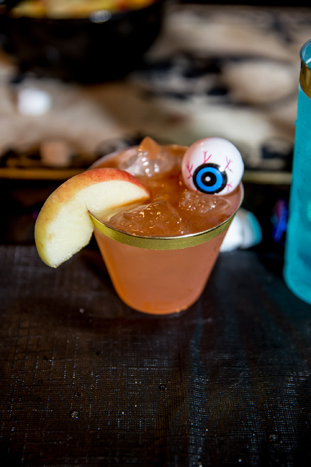 BREWS & POTIONS
Check out the Grave Digger from Park City for your cocktail hour. It's citrus vodka, sour apple schnapps, lime juice, bitter, and ginger beer with a killer eye ball ping pong ball!
Or to satiate those with the Autumn pumpkin drink fetish, the Sugar Factory American Brassiere's Pumpkin Souffle Martini can be a show stopper. Stoli vanilla vodka and Godiva white chocolate liqueur garnished with pumpkin pie spice, whipped cream, and pumpkin-spice-flavored Hershey's Kisses. Yes, there really is a pumpkin-spice version of everything and Hershey's Kisses are no different. (contains milk)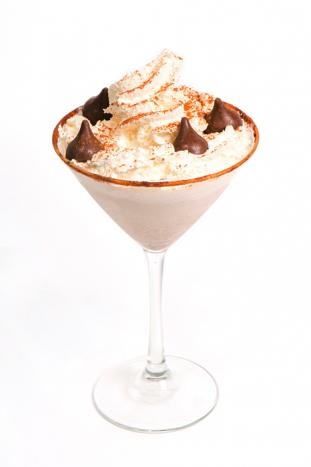 Pro tip: Drinks are just as concerning for custom eaters as the food. In some bars and restaurants, drink menus include the ingredients to give the guest an idea of what they may want to order. Others do not. So, be devilishly good and include all the ingredients and garnishes on the menu or at least include allergens. Something like whipped cream or surprise Hershey Kisses, can add to the drink's flair, but for those with a milk allergy, it's a spooky reminder that the devil really is in the details. 
SPOOKY SNACKS
How about some pumpkin bruschetta from ABC's, The Chew as an appetizer? It's healthy. It's delicious. And it's fun. (contains wheat and dairy). To make it allergy-friendly, use gluten-free bread and/or vegan cheese. 
New York catering company, Elegant Affairs, creates these mac-n-cheese muffins topped with mini spiders. (contains wheat and dairy) Gluten-free macaroni could easily be used in this recipe to make them both wheat- and gluten-free treats. 
The same, Elegant Affairs, also offers Butternut Squash Soup. That's butternut squash served over savory pumpkin and curry flan in pumpkin bowls. (contains dairy and egg) For those with egg allergy, serve the soup without the flan.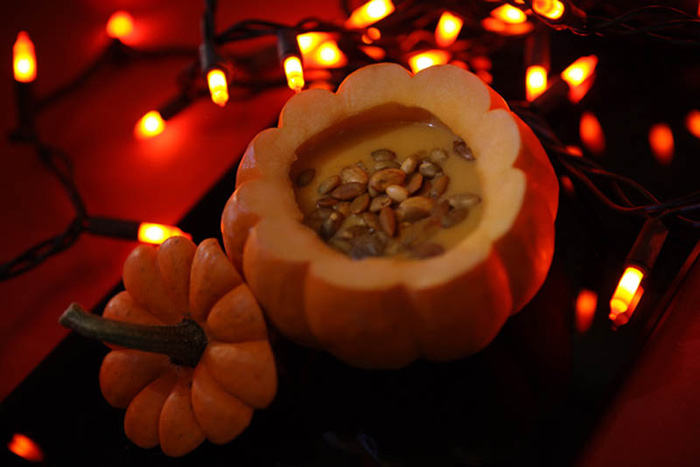 If you want recipes that are already free of specific items, check out this "ghoulishly good dairy-free" list of treats by Alisa Fleming of Go Dairy Free. Or this list of "Scary Good Allergy-Friendly Halloween Recipes" from Enjoy Life Foods, which produces snacks completely free of all top eight allergens. Allergic Living magazine also has a list of food allergy-friendly candies.

Pro tip: Label your dishes. Labels can be small, creative, and festive. Just make sure the labels are there. You don't need to list all of the ingredients, but do include any of the top eight allergens and mark items as "gluten-free," "vegetarian," and more. Concentrate on the top eight allergens as well as any dietary requirements you are aware of from people attending the event.
Pro Tip: Make sure any staff are fully aware of the menu and can answer questions from custom eaters about the ingredients and food preparation process or make sure you have someone onsite who can answer questions.
Pro Tip: Whenever possible, switch out staples for allergen-free options. For example, use gluten-free bread and double check that the balsamic glaze is gluten-free as well. Make sure your vinegar is truly based on apple cider, rather than grains containing gluten (larger bottles of some vinegars are made with wheat and not apples). Expect questions and always double check. It's those finishing touches that can be frightful pain points for those with dietary restrictions.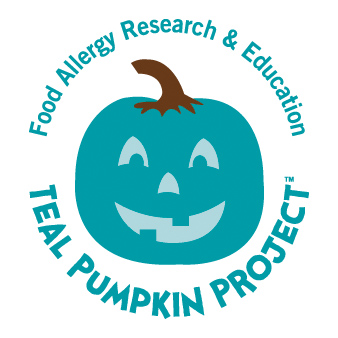 And as a final fun word of advice, consider adding teal pumpkins to the table where there are allergy-friendly foods. The Teal pumpkin project has become a nation-wide movement and gets bigger with every passing Halloween. Homes with non-food giveaways for trick-or-treaters, such as stickers, toys, and small treasures mark their allergy-friendly approach with a teal pumpkin. Even though you are serving food, the teal pumpkin is fast becoming an icon for all things allergy-friendly. Consider helping the project gain momentum with teal pumpkins or the teal pumpkin seal on labels.