Last month I had the pleasure of speaking at the inaugural DMC Network Exchange event held at the Sheraton Hacienda del Mar Golf Resort in Los Cabos, Mexico. What an amazing experience! Who knew that the desert can go all the way to the ocean – crazy gorgeous.
For two days and three nights, the staff at Terramar, one of the DMC Networks members, delivered unparalleled service with their creativity and skill in managing events for groups coming to the area, even with an impending hurricane threatening to dampen the trip.
Let's not focus on that. A few highlights from the event, especially the food.
On the first night, we had a marvelous dinner at Esperanza, An Auberge Resort along the coast.
You can see the table settings in the center and left in the photo above. The stage, center of the picture, was host to local fire dancers, My favorites of the food was this watermelon salad.
Day two was filled with great eduction and an evening at a private home where we were served fresh juice drinks upon arrival (my favorite was the green cucumber and lime drink), watched three flavors of fresh ice cream being made, ate cheese and crackers which were displayed in the private wine cellar overlooking the ocean and enjoyed a multi-course buffet dinner served poolside.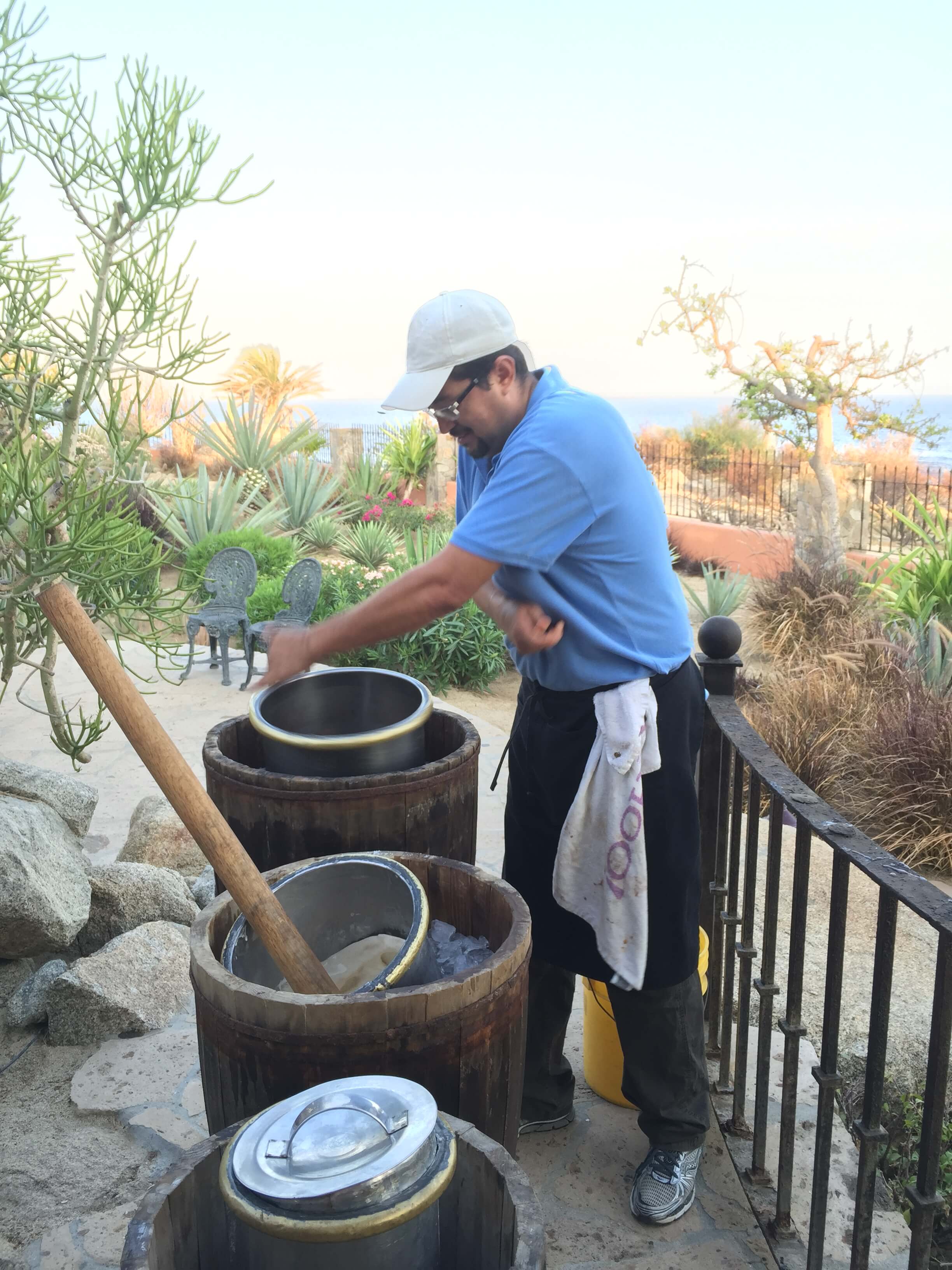 The third and final night was also spectacular. The Hilton Los Cabos, while still under construction after the 2014 hurricane, was our host. The DMC Network event was the first held since the hurricane. Wow! They pulled out all the punches for us.
On hand were the general manager and more than 30 staff members working the event. What I found to be the most heartwarming aspect of the event was to learn that the banquet staff working the event were also the individuals who are rebuilding the hotel. What do I mean?
Well, the construction company hired to restore the hotel after the hurricane recruited the hotel staff—waiters, housekeepers, sales staff, bellmen and more—to be part of the crew to actually reconstruct the hotel. It was a very humbling moment to hear the pride in their voices and see the excitement in their eyes presenting us with their hard work and dedication to the hotel.