A few weeks ago I was quite busy going back and forth across the country attending an event, speaking at two conferences and spending a few days in Denver visiting my brother and his family so I could see my niece Abby in a local play.
If you know me at all, you know my two nieces and nephew—Abby, Ellie and Will—are my three favorite people in the world. You can't find three more adorable, lovable, smart and talented young individuals. I love spending time with them, talking, listening, sharing and just hanging out.
They've known about my food allergies since they could talk. They are my biggest fans with my company, enforcers of what I can and cannot eat (Ellie especially) and serve as guinea pigs for trying new foods.
Being the guinea pig is not necessarily the best thing when trying new foods. They are the first to tell me it's gross. But, it's fantastic when I make something they love and repeatedly ask for. Guacamole and roasted Brussels sprouts are two those things that come to mind. But, what's even better is when I realize I've influenced them without really trying. Those few days last month, I was pleasantly surprised three times:
One morning before school, Will saw me prepping to make scrambled eggs for his mom and me. He asked if I was adding all my "normal spices and ingredients" (garlic, spinach, red peppers, any vegetable I can find in the refrigerator). I said yes, but immediately asked if he wanted me to make him some without those items. He replied, "No, I like it that way." I can't tell you how happy that made me. Especially when this past summer, while on vacation with the whole family, his dad, my brother, said not to add all that stuff because he kids won't eat it.
Another day, when they were at school I had bought Against the Grain Gourmet's gluten and yeast-free pesto pizza from Whole Foods to make myself for lunch. Before cooking it, and to make it healthier, I threw some chopped kale and red peppers on it. I didn't eat the entire thing, so when Ellie and Will got home, scampering for something to eat, Ellie asked if she could eat the leftovers. Will said no thanks until he saw Ellie enjoying it and I told him, they had eaten it before. He grabbed a piece and said, "This is good." Their mom has since purchased the pizzas and they had their own pizza making dinner.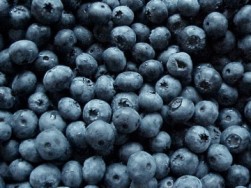 The third instance involves a quinoa porridge recipe I found a few years ago in a health magazine. Because I can no longer eat the homemade cinnamon rolls my mom makes for Christmas morning, I decided to make some quinoa porridge. To this day, Ellie and Abby ask me to make it for them when I'm visiting., although we each like it different ways. Abby does just cinnamon. Ellie wants it with cinnamon, blueberries and apples. I eat it as Ellie does, but with some toasted walnuts tossed in.
On this past visit, Abby again, asked for me to make her some, even pulling it out of the cabinet for me. Ellie didn't ask for any, but did remind her mom that she and I would be having quinoa porridge instead of the cinnamon rolls for Christmas breakfast.
I'm not going to take all the credit for their interest in eating or trying new foods, since their mom works hard to get them to eat as healthy as possible with their crazy schedules, but I will take some of it.
More than anything, I just love smiling when they ask for healthier options without any prodding.