Some foods may trigger pollen allergy symptoms
Spring is here a bit early this year. Personally, I'm not complaining because I love driving my Mini Cooper convertible with the top down. But for some, this early record-breaking warm weather, has caused trees, flowers and other plants to bloom earlier than usual and triggered their allergies—Atlanta experienced a record-high pollen count of just under 9,400 last week. And, with this year's allergy season projected to be lengthy and more severe than ever, runny noses, itchy eyes and ringing ears will be aggravating everyone longer.
If you have pollen allergies, you may not be aware that some foods might trigger your symptoms. In fact, up to 70% of the more than 60 million American nasal allergy sufferers experience cross-reactions after eating certain foods. In most instances, it'sfresh fruit, certain seeds and nuts, and raw, uncooked vegetables that cause the reactions.
Have you ever noticed that your throat becomes itchy or tingly after eating an apple or celery? Or that the roof of your mouth is scratchy? Or that your eyes are watery or itchy?
This reaction, which can happen immediately or more than an hour later, is called Oral Allergy Syndrome (OAS). This cross-reactivity happens when the immune system confuses the proteins in the food with the protein in the pollen and causes an allergic reaction or makes your symptoms worse. This can happen any time of the year, but is most prevalent during pollen season.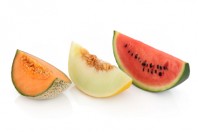 Which foods should you avoid?
It depends on your pollen allergy, but most of the foods that cause a pollen-like allergic reaction are usually consumed in the fresh or raw state. Cooking the food changes its composition, so it may also change the properties that trigger a reaction, making it edible and non-reactive for you.
If you're allergic to Birch Pollen, you should avoid:
Almonds
Apples
Apricots
Avocado
Banana
Carrots
Celery
Cherries
Chicory

Coriander
Fennel
Fig
Hazelnuts
Kiwi
Nectarine
Parsley
Parsnips
Peaches

Pears
Peppers
Plums
Potatoes
Prunes
Soy
Strawberry
Wheat
If you're allergic to Ragweed pollen, avoid:
Artichoke
Bananas
Cantaloupe
Chamomile tea
Dandelions
Echinacea tea

Cucumber
Green Pepper
Hibiscus tea
Honey (wildflower)
Honeydew

Paprika
Tomatoes
Sunflower seeds/oil
Watermelon
Zucchini
If you're allergic to Grasses, avoid:
If you're allergic to Mugwort pollen, avoid:
Anise seeds
Apples
Caraway seeds
Carrots

Celery
Coriander
Fennel
Kiwi

Parsley
Peanuts
Peppers
Sunflower
If you're allergic to Alder pollen, avoid:
Almonds
Apples
Celery
Cherries

Parsley
Strawberries
Raspberries
Additionally, cross-reactivity (not OAS) can occur between latex allergies and the following foods:
Avocado
Banana
Bell Pepper
Celery

Chestnut
Kiwi
Mango
Melon

Papaya
Passion Fruit
Potato
Tomato
Some hay fever/pollen allergy sufferers are lucky not to experience adverse reactions from any or all of these foods. However, with any food, always pay attention to what you're eating and how it makes you feel, especially during pollen season.