The Stories You Hear
It seems like every time I tell someone I'm an event planner with food allergies and a mission to educate the hospitality industry on how to accommodate dietary needs at events, I get stories from that person about how they or someone they know have special dietary needs as well. This is then usually followed by more stories on how they can't eat at events. This amazes me. It's kind of the like the six degrees of Kevin Bacon phenomena but with food allergies, intolerances or preferences.
A perfect example was over the holidays when I was visiting my family in Denver. I decided to attend the local International Special Events Society (ISES) meeting to network and meet some new people. As I was checking in and introducing myself at the registration desk I met David Lambert and his wife Anne who own AllWell Rents.
After I introduced myself and explained why I was in town David explained that his wife has food allergies as well. "Good luck getting something to eat tonight," he said, "She usually has a hard time."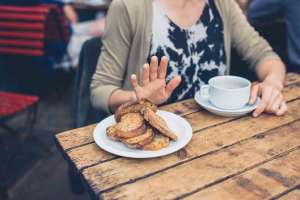 As we wandered into the event, I asked Anne about her allergies. She said she was recently diagnosed with gluten intolerance (needs to avoid wheat, rye and barley) and has had an allergy to MSG, which she has known about for years. We talked about how no one really knows what or where MSG (Monosodium glutamate) is in food anymore since it's hidden in processed foods as "flavorings" and how she usually grabs a bite before events to ensure she gets something to eat.
Later in the evening, I walked up to a group of people who all happened to be photographers. After introducing myself, I got a "Wow, what a great idea. Can you focus on feeding brides and grooms at weddings? We need them to look 'nourished' and 'healthy' for the photos." To be honest, in figuring how to "make the world healthier one event at a time," it never really occurred to me that photographers would care about how nourished their subjects would be.
It was pretty funny and interesting listening to their stories about brides to be and how food or the lack of it can affect their photo shoots. One even mentioned trying to set up a meeting with a new client about her wedding. When he suggested Panera Bread because it had coffee and free Wi-Fi, she said no because her celiac disease or wheat allergy (he wasn't sure) is so severe that walking into the restaurant causes an allergic reaction due to the flour particles from the fresh bread floating in the air.
In all my planning and brainstorming for thrive! I've thought about how nourishing guests would help them learn better and provide a better ROI for the host, but I had not considered weddings or other social events. This just goes to show that every group environment has the potential to impact people with dietary needs and either make a good impression or bad. It's up to the host to make the choice.