A Catch of a Chef
Eating at a Meeting Podcast Episode 109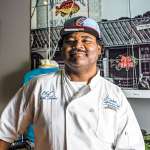 Tracy had the opportunity to interview Chef Keith Rhodes of Catch restaurant (Wilmington, NC) for a MeetingsToday article I wrote on the Cuisine of the Coastal Carolinas earlier this year. His knowledge of and ideology behind cooking fresh, healthy seasonal meals and living a sustainable lifestyle comes from his deep roots to the Carolina coastal community.
While he supporting local purveyors, fishermen, and farmers, he also is committed to giving back and serving his local community. Listen in as Tracy continues her conversation Chef Rhodes about sustainable, health coastal cuisine, while also touching on the fact he also has diabetes.
Links:
Connect with Chef Rhodes —  Website  |  Facebook  |  Instagram  |  Twitter
Check out other featured guests on the Eating at a Meeting podcast
Eating at a Meeting is part of the Nitty Grits Podcasts network.
OTHER WAYS TO ENJOY THIS POST