A hotel chef spills the beans on how meeting and event planners can accommodate the ever-increasing requests for vegetarian/vegan options.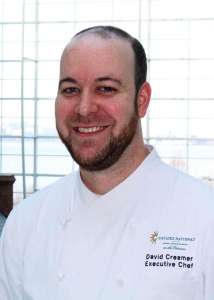 While the number of Americans who identify themselves as vegetarian or vegan remained relatively stable at 5 percent and 3 percent, respectively as of 2018 — about the same percentages as was the case in 2012, according to a recent Gallup poll — you wouldn't be able to tell by the number of meeting and event professionals being asked to provide plant-based option for their group food and beverage functions. That may be because, while they may not be committed whole hog to the idea (so to speak), they are incorporating more animal product alternatives into their diets now than ever. vegetarian/vegan
In fact, says David Creamer, director, food and beverage with the JW Marriott Washington, D.C., 10 years ago, vegetarian and vegan requests were typically sporadic one-offs for his meeting and event clients. "Now it is a typical ask for meeting planners and others navigating special events." And not just for specially prepared meals, but also for plant-based offerings in buffet/function menus, plated meals and receptions, he adds.
But don't settle for a generic "Chef's Choice of Vegetarian Meal," Creamer advises. Today, venues should at least have a few options of chef-crafted, tasty, nourishing, mindful culinary experiences readily available.
"But don't settle for a generic "Chef's Choice of Vegetarian Meal"
We had the opportunity to ask him more about what he's seeing, hearing, and experiencing when it comes to vegetarian and vegan options for group events — and what advice he has for meeting professionals when it comes to planning meals for their vegetarian and vegan guests.
What kinds of questions should meeting and event professionals ask their venue chefs when it comes to special dietary requests, specifically vegetarian/vegan?
I would suggest they ask the following:
Ask for sample menus, along with some of the dishes and buffets offerings they have previously served.
Request that these items are included in all meal tastings.
Ask how special meals are handled prior to the event, as well as the day of the event.
Ask the venue to provide specific production numbers. For example, if the venue typically makes 2 percent of the guaranteed meals vegetarian, does this come off the top of your totals? Or is this gratis from the venue to ensure smoother service? Or will this be added to your bill depending on final service counts?
Ask your venue about the volume of planted-based or plant-centric meals they are serving. Ask if they have vegetarian menus available, and what is their most popular vegetarian signature dish. These will give you a good measure of their fluency in vegetarian cookery and knowledge/experience.
What are some challenges in providing what vegetarian/vegan meeting attendees want and/or need?
Flavors, seasoning and cooking technique are table stakes at this point — the challenges tend to be more focused on providing a nutritious, balanced meal.
Vegetarian dishes should be balanced and properly portioned just as any other menu item would be. How much protein is the plate providing? How many carbs are on the plate? Is the vegetarian/vegan item just a processed substitute or are they creating an actual, well-thought-out dish? Does what's at the center of the plate make sense regionally? Seasonally? While chefs shouldn't struggle with cooking, at times they do struggle with creativity and execution.
And remember, "vegetarian" or "vegan" doesn't mean nothing can be fried, or that it can only be pasta-based, or just be vegetables on a plate.
What dishes have you found to be popular among vegetarian/vegan meeting attendees?
It really runs the gamut, depending on the event's theme and/or the attendee demographic. We tend to do a lot of fun food that just happens to be plant-based — flavors and deliciousness are paramount!
A few of our most popular vegetarian/vegan dishes include:
Organic Power Bowl: local baby greens, citrus-oregano vinaigrette, avocado, quinoa, miso-roasted foraged mushrooms, oven-dried tomatoes, sweet potato, and cauliflower puree
House Rainbow Chard Falafel: heirloom tomatoes, cucumber, olives, crispy chickpeas, Tuscan kale, pickled onion, herbs
Asparagus & Mint Tabbouleh: tomato, parsley, spring peas, citrus
Masala Tofu: spiced eggplant caponata, saffron basmati, cilantro
Carrot & Potato Enchiladas: sofrito, smoked tomatillo salsa
Roasted Ratatouille: quinoa and barley "meatballs," squash noodles
Rainbow Vegetable Salad: toasted quinoa, chipotle-miso-adobo dressing, greens and shoots, lime radish, baby carrots and cauliflower
Beet Gnocchi: walnut-sage oil, roasted fennel, parsnip puree
Penang Curried Dal: baby French beans, crispy okra, onions, tamarind
What else should meeting planners know when talking about vegetarian and vegan requests with their venue chef?
Ask where the food is coming from, and what vendors/farm partners the venue connects with. And ask to see/taste/review all vegetarian items.
If the venue is handing you something that doesn't sound tasty, it probably isn't — and if you can find 10 better-sounding dishes doing a quick Google search, the chef has a problem. Also understand that "vegetarian" doesn't mean "cheaper": There is a lot of research, development, and labor going into creating this custom experience for your clients.
If you want to hear more from Chef Creamer,  listen to the panel discussion I moderated back in May 2019 for Freeman's Brand Experience Lab: Food Trends: "How to Blend Trends, Diets and Sustainability for Delicious Experiences".