Food Safety is a Necessity for
Meeting Professionals
In the last few months there seems to be a plethora of headlines announcing food safety issues related to crackers, meat, cheese, cucumbers, lettuce and more. Who would have thought that headlines like these would be of concern for a meeting professional or even a corporate event and that we'd need to create a food safety checklist?
"Pepperidge Farm Issues Goldfish Recall"
"The Shady Business of Food Fraud"
"Ritz cracker Products Recalled Because of Salmonella in Whey"
"Multistate Outbreak of E. coli O157:H7 Infections Linked to Romaine Lettuce"
Safety and security of event participants is of paramount concern for meeting professionals today. From data protection to mass shootings and terrorist attacks to wildfires and earthquakes, meeting professionals have a lot of safety issues to consider when planning events.
For that reason, food and beverage should be added to the list of safety issues to consider — Listeria, Salmonella, Cyclospora and E-coli, as well as the rise of individuals with food allergies and medically-necessary diets, and the $50 billion annual food fraud industry, food safety must be factored into a security plan for any event.
Typical meeting agendas involve a mixture of on- and off-site catered functions provided by a number of food service providers who offer food and beverage in a variety of indoor and outdoor environments and which consume a large amount of the event budget. This food and beverage management – food safety — an extremely important factor to consider in event security.
So what do you ask your food service partners — hotels, convention centers, caterers, restaurants — about food safety to protect your event and your attendees? First of all, start with the following questions on this food safety checklist to initiate the conversation with each of your food service providers.
Trainings, Inspections & Certifications
What is your current health inspection score? When was it last reviewed?
How many members of your culinary team hold a Food/Hygiene Certification?
What number of members on your culinary team are Certified Food Handlers?
How many of your culinary team have taken and passed the ServSafe Food Allergen training program or a similar program?
Food Sourcing & Transparency
Where does your meat come from?
Where does your fish and seafood come from? Does it have gill tags to ensure authenticity?
Who sources your poultry?
How do you handle food recalls? Who oversees the response?
What farmers and local purveyors do you have relationships with in the region?
What certifications do you abide by when purchasing food to ensure the food is authentic — Protected Designation of Origin (PDO), GlobalG.A.P®?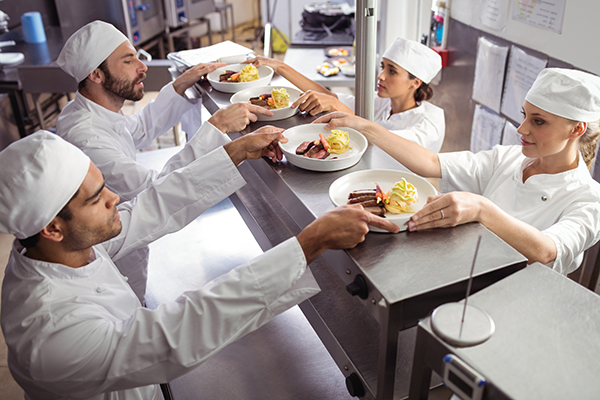 Food Preparation
How do you manage and prepare special dietary need – food allergies, religious-based — meals in the kitchen?
Do you have allergy- and dietary needs-friendly menus already noted and on file?
Who on your staff knows the ingredients in the food being served?

Who will be our point person?
Will this person be onsite with us for all meal functions?

How is the chef to work with in creating customized menus?

Is s/he flexible and capable to do so?
Can they use the accommodations to create a menu for all?
Is he chef willing to talk to specific attendees if needed to work within their parameters?

If you order speciality items for special meals how do you receive, store and label the items when then come into the kitchen?
Is there a separate preparation area and utensils in the kitchen for preparing specialty meals?

If not, how do they manage cross-contact?

How are speciality meals communicated to the kitchen and front of house staff?
What is your process to label and distribute special meals so they do not come into contact with other meals?
How are special meals noted on banquet event orders?

Is it chef's special or spelled out?
Food Service
How does your front of house staff manage and serve special dietary need – food allergies, religious-based — meals?
How do you label food on buffets and passed hors d'oeuvres?

Does it include ingredients and/or note the allergens?
Who is responsible for creating the labels?

Is there one point of contact for guests with special meals?
Are servers trained on what is being served?
How/where do servers pick up specialty meals?
Emergency Response
Do you have emergency medical team onsite?

Do they stock epinephrine?
What type of medical treatments can they provide?

Who on your staff responds to and oversees medical emergencies?
If you do not have have EMT onsite, how close is the EMT and what is the typical response time?
Besides having a lot on their plate in designing and executing meetings and implementing new security protocols, meeting planners should consider adding food safety as a potential threat needed to be included as a standard. Similarly, it should be added as element of the overall risk management strategy to reduce undesirable legal and negligence liabilities that can result.
Do you have your own food safety checklist? Are there questions we missed? Please share so that we can all learn and adapt to keep our meetings and participants safe.