Helping People Achieve Financial Independence Through Food
Eating at a Meeting Podcast Episode 61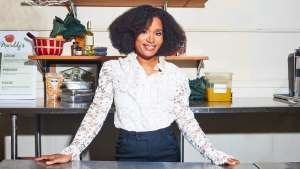 When she lost her family-owned pizza shop in a rapidly gentrifying community due to rent hikes and the threat of displacement, she bought a boarded up building in a nearby neighborhood and created Marddy's, a food incubator with a mission to preserve and promote culinary culture.
By providing local food entrepreneurs who are people of color, women and other marginalized populations a licensed facility for cooks to prepare and distribute their offerings Marddy's is empowering economic inclusion, business development and growth opportunities.
In this episode Tracy and Keitra….
What do you do?
I help people achieve financial independence through food!
How are you making a mark — HerStory — in the global food and beverage system to ensure it is safer, more sustainable and inclusive?
Marddy's is really more of an incubator. We have helped to support and launch many businesses that probably wouldn't have succeeded without us. We have managed to remain value focused and still make money. Our vendors reflect our belief in equity and the right to be self determining.
What are Your Greatest Career Accomplishments?
Purchasing a building before the speculators and gentrifying investors. And, being featured on NPR — 3 times!
What is your favorite food?
Sweet Potato Pie
If you could have anyone in the world over for dinner, who would you choose?
My grandmother.
Links:
Connect with Keitra —  Website  |  Facebook  |  Instagram  |  Shop at Marddy's
Check out Keitra in Bon Appetite
Learn from the other woman making HERstory in food and beverage
Check out other featured guests on the Eating at a Meeting podcast
OTHER WAYS TO ENJOY THIS POST