How the owner of a conference center in Sweden overcame crazy odds to build a sustainable, allergy-friendly, welcoming space for business and beyond.
Lotta Boman has never been afraid of a tough challenge, an attitude that has served her well over her professional career in hospitality and tourism. After co-owning one venue with a business partner starting in 2007, three years later they bought the Sigtunahöjden Hotel & Conference in Sigtuna, Sweden. Her partner ran the first venue, and Lotta took over as CEO of the Sigtunahöjden.
"My life's path led me here, and though it was a big risk, I was ready for it," she says. "This could be something really good — let's go and see what happens." She brought in her former food and beverage manager from the other property to serve as her general manager, and she worked hard over the next three years to bring her vision for the center to life, to find the right staff and interior design as she renovated the property. "We had invested in staff, in renovations, and in bookings, and 2013 was set to be our first wow year."
My life's path led me here, and though it was a big risk, I was ready for it. This could be something really good — let's go and see what happens.
Then a fire broke out in the main building and all she had worked for the past three years literally went up in smoke overnight. Fortunately, she had insurance that paid for the necessary rebuilding, and they were able to reopen within nine months. In 2017, Lotta and her business partner decided to part ways, with each taking the venue they had been in charge of. She now is the owner (with her husband, an airline pilot, though he's not involved in the day-to-day operations) of the Sigtunahöjden Hotel, with all the risks, responsibilities, and rewards that brings solely on her shoulders.
Your center is known for its sustainability practices. Was that one of your goals when you first purchased the property?
This venue has received the Nordic Swan Ecolabel since 1999, so it has always been a part of it. The Swan includes an audit to ensure that the products we use, such as laundry detergents, meet sustainability and safety requirements. It also has to do with things like how much water and electricity we use.
Sigtunahöjden also is a part of Sustainable Destination, the sustainability network of hotels and conference centers within Destination Sigtuna that formed to talk about sustainability in a different way —while the Ecolabel is a good thing, it's not so exciting to talk about how we use less water in our toilets. We wanted to find things we could do together to decrease food waste and better support our community, even as we remain competitors.
Someone read about how palm trees in Borneo and Sumatra were being cut down to provide palm oil for products like the chocolate spread Nutella. Those forests are the home to endangered orangutans, and these practices were threatening them with extinction. So the first thing we decided to do was to remove Nutella from our breakfast buffets. We put a sign on the buffet explaining why we weren't serving Nutella to educate our guests as well.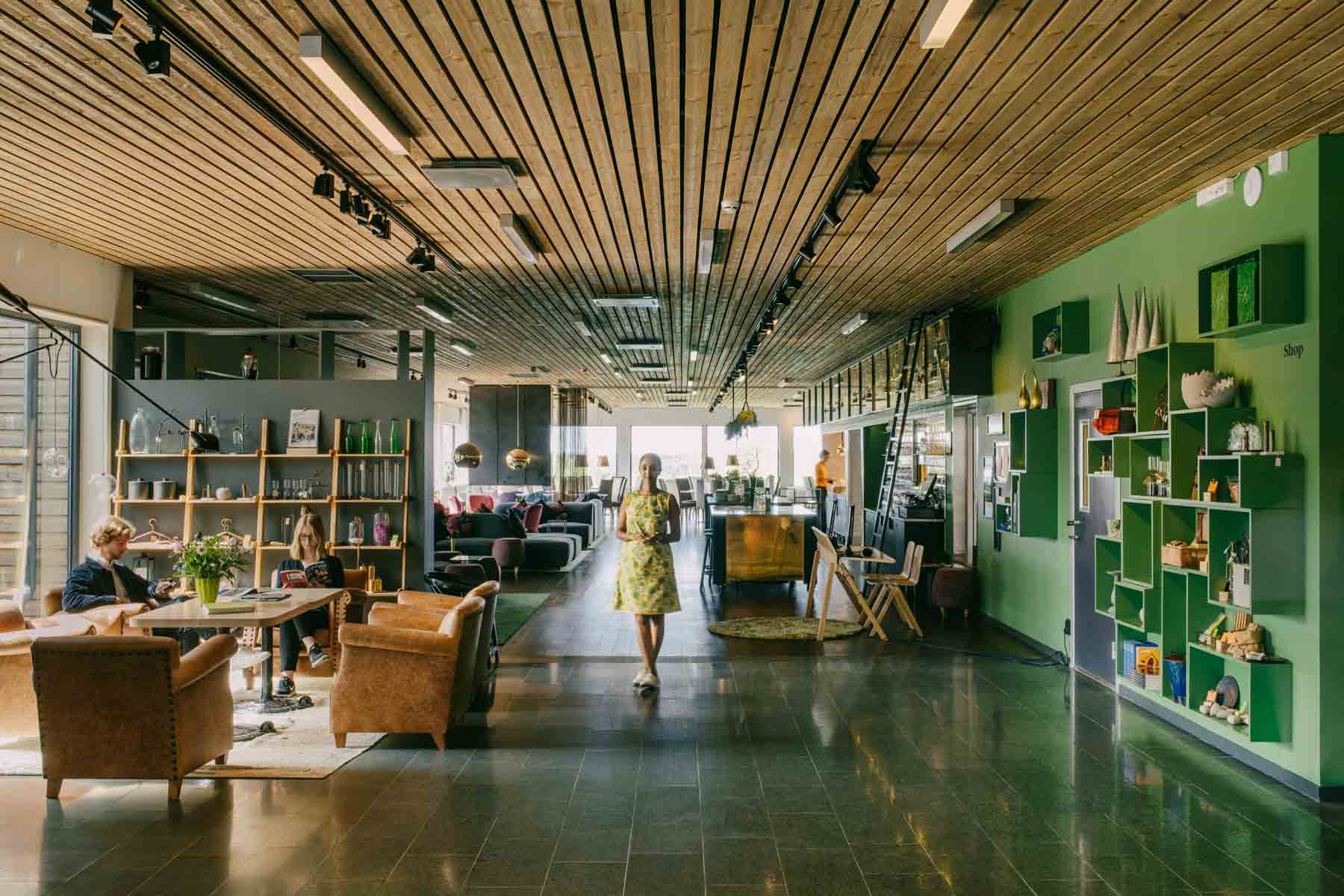 What's next? We know that bees are in danger now, so what could we do to help protect the bees and increase pollination? So we all put up beehives on our properties, and we harvest 50 kilos of honey every year, which we sell in our little hotel shop. Then we developed recipes for egg-laying hens so they could be repurposed as food after they are no longer able to lay eggs, instead of having them just be thrown away.
We decided as a group to dedicate an entire month to sustainability, and since November can be a dull month in Sweden, we decided to start something we call Green November. I wanted to do something fun to kick it off, to give it a spark of joy (apologies to Marie Kondo). So we started Green Club Night — complete with menus featuring recovered foods and a cover band that plays reused music! I found a shop in Stockholm where a woman makes dresses out of old curtains and tablecloths. I told her about Green Club Night, and she agreed to lend some dresses for my staff and I to wear.
When people kept asking about the dresses, it dawned on me that sustainability has to be both simple and visible so you can talk about what you are doing. The dresses were our hallelujah moment.
For the past six years, every woman on the staff goes to that same shop, which makes dresses to their individual fit and taste that they wear all summer as their uniform. The guys were jealous, so now they get a shirt made by the same person as well.
Everything we sell at our shop has something to do with sustainability, is produced locally, or has a charitable component.

How do your sustainability goals affect your food and beverage?
We also talk a lot in our network about how to reduce food waste. For years we have put the vegetables at the start of the buffet and proteins at the end, and we serve on 23-cm-wide plates, which is the perfect size to discourage people from loading too much food on them. We also don't use huge platters to display the food on our buffets, where you put out tons of food just to make it look rich and generous but end up throwing much of it away. Our staff has to reload the smaller plates more often, but it reduces food waste.
We prioritize buying everything we can locally and try to buy as much organic produce as possible — more than half of what we serve is KRAV-certified organic. It would be higher, but we haven't found an organic wine producer that can supply as much as we need for our large groups. We use every part of the animal in cooking so nothing goes to waste. We also in 2018 reduced the amount of meat we serve and increased the vegetarian options.
What has been your biggest obstacle?
This coronavirus pandemic is a big challenge for all of us. We are still providing take-out meals for local senior citizens and people temporarily working from home, and the restaurant is still open for dine-in meals with appropriate social distancing and precautions in place, but I'm not sure how much longer we can go without having to lay off more staff.
You can prepare and build strength financially, and we did, because when you work with restaurants and hotels, anything can happen. It could be a fire. It could be water leaks. It could be a lightning strike. But when those things happen, you know what to do. When the hotel burned down, we knew we had to rebuild it.
"Walk fast and look happy." If you walk fast and look happy, no matter what you feel inside you look like you have everything under control even if it does not feel that way. Everything will be fine.
But when all of your bookings go away for an indefinite time, you can't build a buffer for that. I've always preached sustainability and being a healthy, stable company, and it's hard when something outside of my control sets my agenda.
We have never been challenged like this. And no one knows how it will end. It makes you think about what you do in a more existential way, perhaps. What kind of a world do we have when this is over? What kind of world do we want to have?
What are you most thankful for?
I have a wonderful team. Everyone stands up for everyone else and we all support each other.
I also have enjoyed my IACC membership [Lotta also serves as vice president on the IACC board of directors] where I am able to meet colleagues from abroad. It can be lonely to be an entrepreneur, and this is another arena where I can listen and share with others who do the work that I do.
What have you learned from the women in your family?
My dad's mom broke with her husband and left Germany in 1939, just before the war broke out, taking her five young kids back to Sweden. My challenges are nothing in comparison!
She also had a saying that I use as my mantra, "Walk fast and look happy." If you walk fast and look happy, no matter what you feel inside you look like you have everything under control even if it does not feel that way. Everything will be fine.
What's your favorite food or beverage?
My favorite food is anything we serve here at Sigtunahöjden. I love the food here! And I love red wine from Washington state.
If you could invite anyone over for dinner, who would you invite and why?
Jane Fonda. She is my inspiration in being a hardworking woman for so long as well as an activist, and fitness guru. She was fighting for the environment in Washington before most people, and she even went to jail. I would like to talk with her about her courage and hear about her life choices.
How to find Lotta & Sigtunahöjden
LinkedIn — Lotta Giesenfeld Boman
Instagram — Sigtunahöjden
Facebook — Sigtunahöjden – Hotell & Konferens
Twitter — Sigtunahojden
Website — Sigtunahöjden