Superfoods Food Trends
Yes, it's already that time of year. What are the coming 2018 food trends and how can we prepare for an amazing new year filled with the latest, the best, the most delicious dining delectables? For this piece, what are the 2018 superfood food trend predictions?
Well, as someone who fills her days educating professionals from many industries on dietary restrictions, food and beverage laws, and the latest menu planning faux pas, I spend quite a bit of time staying on top of the absolute latest conversations, headlines, and solutions.
All that time and focus means I tend to have the latest statistics, which means I also have a handle on trends – food trends. I wear many hats throughout the year. For this series on 2018 food trends, I'm wearing my food futurist hat, and in this piece, I'm covering superfoods food trends.
Every year, there's some new set of superfoods that chefs and other artists tweak, twist, and tamper with to create culinary masterpieces that serve our health and our desire for tasty tapenades.
Kelp
There was some attention on kelp as a superfood in 2017, but 2018 is when this 'vitamin sea' will gain traction. We've seen an increase in kelp vitamins and powders. And kelp sheets for sushi and for snacking had a nice boost in revenue as they expanded beyond ethnic grocery stores and the shelves of health food markets. We even saw kelp added to salads in strips as tortilla strip stand-ins.
This will be the year we see people adopting and adapting kelp into more of a stand-alone food or snack in the consumer's mind.  It won't just be a healthy replacement for tortilla strips and a salad add-on. It won't just be that we see standard dishes like soup and sushi on the rise. There will be plenty of that, but we'll also see things like kelp jerky, seaweed stews, and kelp burgers. And of course, any time a food is edging into the spotlight, we see the emergence of gourmet versions – but that's a trend to watch for in late 2018-2019 as kelp finds its identity.
Peas
There were many who claimed 2017 would be the year of the pea. It didn't take off as quickly as people had hoped, but its benefits and value to our meals (other than sitting on the opposite side of the mashed potato wall that keeps them from touching the rest of the meal) is seeing continued growth. we don't often think of a standard green veggie as a superfood, but this made my list as a 2018 superfood food trend because we've already been aware of this veggie's benefits, it's just time for it's day in the sun. 
They are packed with vitamins. They can be eaten raw, steamed, mushy, and dried and crisped. We are already seeing them get powdered and bottled as supplements and healthy drink additives. Also worthy of more than a footnote, peas are considered hypoallergenic. That means they are safe for those with food allergies. By themselves, they are free-from proteins and other allergens that cause reactions. superfoods food trends
Mushrooms
In general, mushrooms are amazing. They are found in endless varieties and can serve endless purposes. We see them as vitamins, supplements, soups, sauces, meaty main courses, and hearty sides. As far as superfood food trend predictions go, they have been on our radar for some time.
Now that they've been established as healthy, hearty, and easy to source, we'll see the next logical step take its place in 2018. Growth in the gourmet market is almost a sure thing. And they'll be creatively added to menus to pique curiosity and impress the cuisine connoisseurs. Think mushroom muffins, flours, and ice creams. It's also telling that 'mushroom' has already been designated 2018's major color trend – perhaps showing that mushrooms are on our minds. superfood food trends
Purple Yams & Pink Pineapples
In 2017 we saw in increase in vegan and vegetarian main courses. Part of that meant we were investing colorful plates – intentionally choosing veggies and fruits for their multicolor beauty and health benefits. That trend will continue its upward trajectory, however, some veggies are getting special attention.
Dark purples and reds will have an important place in 2018, but it needs to go beyond basic beets. We always like to see an exotic twist or a little flare when we tackle trend spin-offs. As new-ish fruits and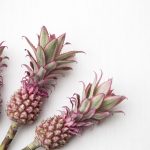 veggies act as the spin-off episode of the vegan/veggie trend, dark, healthy carbs and sugars, such as purple yams and pink pineapples will make their way into the spotlight.
Superfoods are just one of many food trends I'll be discussing during our end of year approach to 2018. Stay tuned for more food trends to build into our menus and feasts. What are your 2018 superfoods food trends predictions?
Part Two of my Food Trends Series: Cheers! Drink Trends for 2018