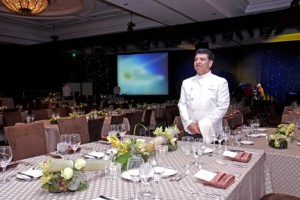 If managing food allergies was just about what we eat at home, life would be relatively easy. But we all have to eat at restaurants, business meetings and parties where we rely on others to prepare our food. It can be challenging.
Especially at a conference or business luncheon where many people are involved in the food service. Unfortunately, it's rare when event planners and chefs truly understand our needs. Too often, they're dismissed or thought of as just a passing fad.
As an event planner with food allergies, I understand both sides, and speak from experience when I share these suggestions on how to eat safely and eat well when you're not at home.
1. Speak up in advance.
Not 10 minutes before lunch, or even the day before. Communicate with event planners at least two weeks in advance. Menus are confirmed two to four weeks before the event so chefs can design recipes and order ingredients. When the chef has advance notice, planning menus that meet your needs is easier and can ensure a better quality meal than something thrown together at the last minute.
2. Be an advocate for yourself and others.


If you're not asked about food preferences or needs when you register or RSVP for an event, call the event planner directly. Other guests are probably struggling with allergies and dietary needs too. When you speak up, it's an opportunity to help the event planner and chef understand what being allergic means. Just because their own diets are not limited, they may not realize how real food allergies are.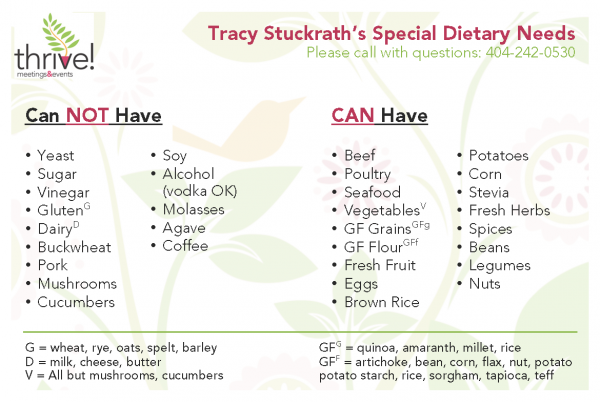 3. Talk to the chef directly.
If you have multiple allergies, ask the planner if you can call the chef directly, and do it on your own if the planner says no. Provide a list of what you can and cannot eat as well as favorite meals yo
u eat at home. Chefs want to feed you well and most feel you deserve the same quality meal as everyone else. Give them the chance to do so.
4. Introduce yourself to the staff.
Once you arrive at the event, introduce yourself to the event planner. And, then ask to be introduced to the chef, banquet captains and catering manager. Putting a face to a name – and an allergy – makes it more personal and real. And, they now know who to look for when serving meals.
5. Be prepared.
It's likely that you already bring your own food when you travel and research places you can eat outside of the hotel. Keep doing it. Chefs and caterers should know how to prepare meals without allergens. Unfortunately, not everyone does nor do they understand unintentional ways meals can be contaminated. Ask for a partial refund of your registration fee for having to buy your own meal outside of the conference if the planner or chef cannot or will not accommodate you. This may get their attention next time.
6. Call ahead to see if there's a refrigerator in your room or if you can get one.
It's comforting to know you can bring in certain foods. Or, some hotels will actually shop for you before you arrive and stock your minibar with foods you request. Be specific. It's also a great way to lighten your suitcase. Here's a recent article from CNN.com on a personalized approach to hotel minibars.
For those of us with food allergies, attending conferences, weddings and other special events can often be extra work. The good news is awareness is growing on how to feed us. But a lot of education is still needed. Remember, you're in charge of your own diet. Be sweet and kind, yet make it clear that an alternative meal is required. Be patient. Be prepared. And enjoy the path less taken since you're clearing it for others who will benefit from your efforts.
Do you have any other suggestions that have worked well – as a planner or as a food allergic event participant?